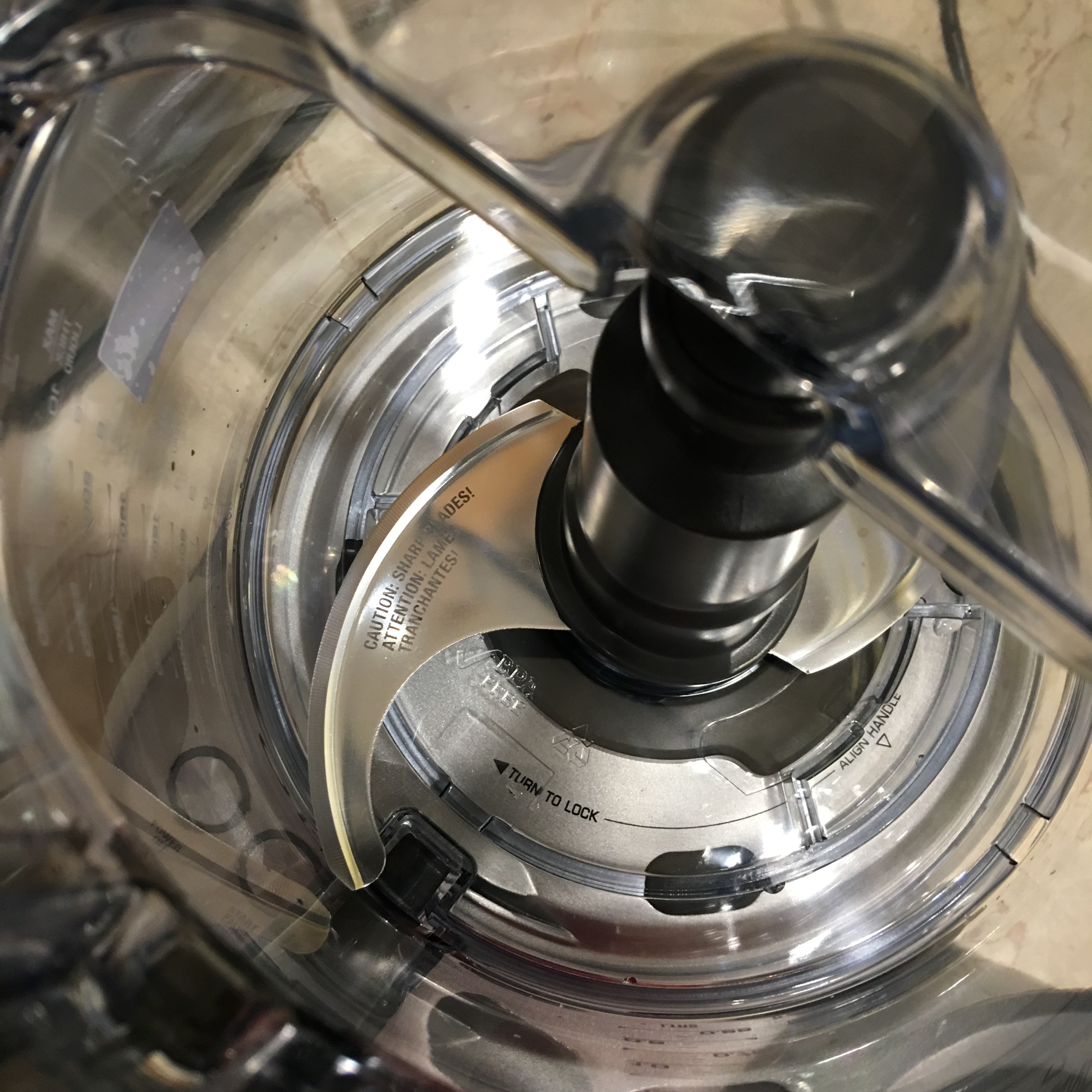 We have taken the plunge and purchased a Breville Sous Chef! Well, we did it a while back, but I'm getting around to posting the review now. You know how that goes… I'll give you the bottom line first: IT'S AWESOME EPIC AMAZING AND ALL OTHER GOOD THINGS!!!
Now that I'm done screaming with joy, on to more details. OH. Disclosure: I wasn't paid for this, given any discount, or given a free product. Yup, we forked over big bucks for this.
Let's start with the Cons, since there's only 2. First, you have to wash it by hand. I love my dishwasher. When it broke down several years ago, we declared a state of emergency here at the house. With that in mind, each time you use the Breville, it's suggested that you wash everything by hand. In fact, one piece isn't dishwasher safe. The manual does say that it's OK to put in the dishwasher from time to time. To skirt around this, I plan our usage of the Breville very well. If time saved + time spent hand washing isn't less than the time it takes to do things by hand, I'll save it for another project.
So, I've now taken to pre-dicing our organic onions all at once, as well as prepping loads of cauliflower rice, and shredding carrots for large batches of carrot cake (for the bakeshop).
My second complaint is limited to my scope of kitchen tools. It's not quite the same as some of the other things that I'm use to. What I really mean is that the size of items is different. Or in the case of the onions, you end up with a TON of onion juice, which in opinion effects the cooking. I'm still getting use to it, and changing things a little.
On to all of the Pros!
It's awesome. Oh, it's awesome. And did I mention that it's awesome? First, it saves you SOOOO much time. It also reduces the strain on your back and shoulders. As mentioned before, I like to plan my usage of the machine, to make sure I get the best of both worlds. I also have the kids help, as they love using machines like these.
I love that it makes cauliflower rice. Kid Two is SUPER fast at shredding cauliflower for the rice, but this is just so cool! It's also faster than him. This also does really well shredding carrots. However, if I had to do it again, I would cut the carrots into smaller chunks so the shreds won't be as long.
The best part: Paleo Dessert Cup Crusts. If you haven't seen them, check out the Paleo Dessert Cups we sell (freeandfriendlyfoods.com). The hardest part about making these is the crust. I love the Vitamix, really, I do. However, when it's time to make Paleo Dessert Cups, move over Vitamix, there's a new kid in town. On the Vitamix, it takes me about 30 minutes to make 4 batches of crust. It has to do with the fact that you can't double batch the crust very well in the Vitamix. It sticks, it's messy, and the Vitamix quits on you. OHHHH the Breville!!! I can do the same 4 batches in 3 minutes!!!!!!!!!! I know, right! I did try to do 6 batches once, but it kinda died on me and got stuck, so 4 is the magic number I will be sticking too. Not only that, but the consistency of the crust is much better, and it's closer to the original vision I had. I also have the ability to control how large the nut chunks are in the crust now too. I couldn't do that with the Vitamix.
There are features that I don't see us using: shredding cheese, which the dairy eaters are very upset about (hey, cross-contamination), making french fries (we have an industrial fry cutter mounted in our kitchen), and cutting meat (since I use this for Cottage Kitchen production).
Overall, if you have a business, large family, food allergies, or are simply in need of a food processor, I feel that this is a great option. I opted to buy this instead of the KitchenAid for three reasons: we have a Breville Juicer and I've been happy with it, I've never been excited about the attachments on our KitchenAid Stand Mixer, and the reviews written by others for the Breville were great. There was even one written by someone who had tried the comparable KitchenAid as well.
If you have any questions about this fine piece of machinery, let me know.