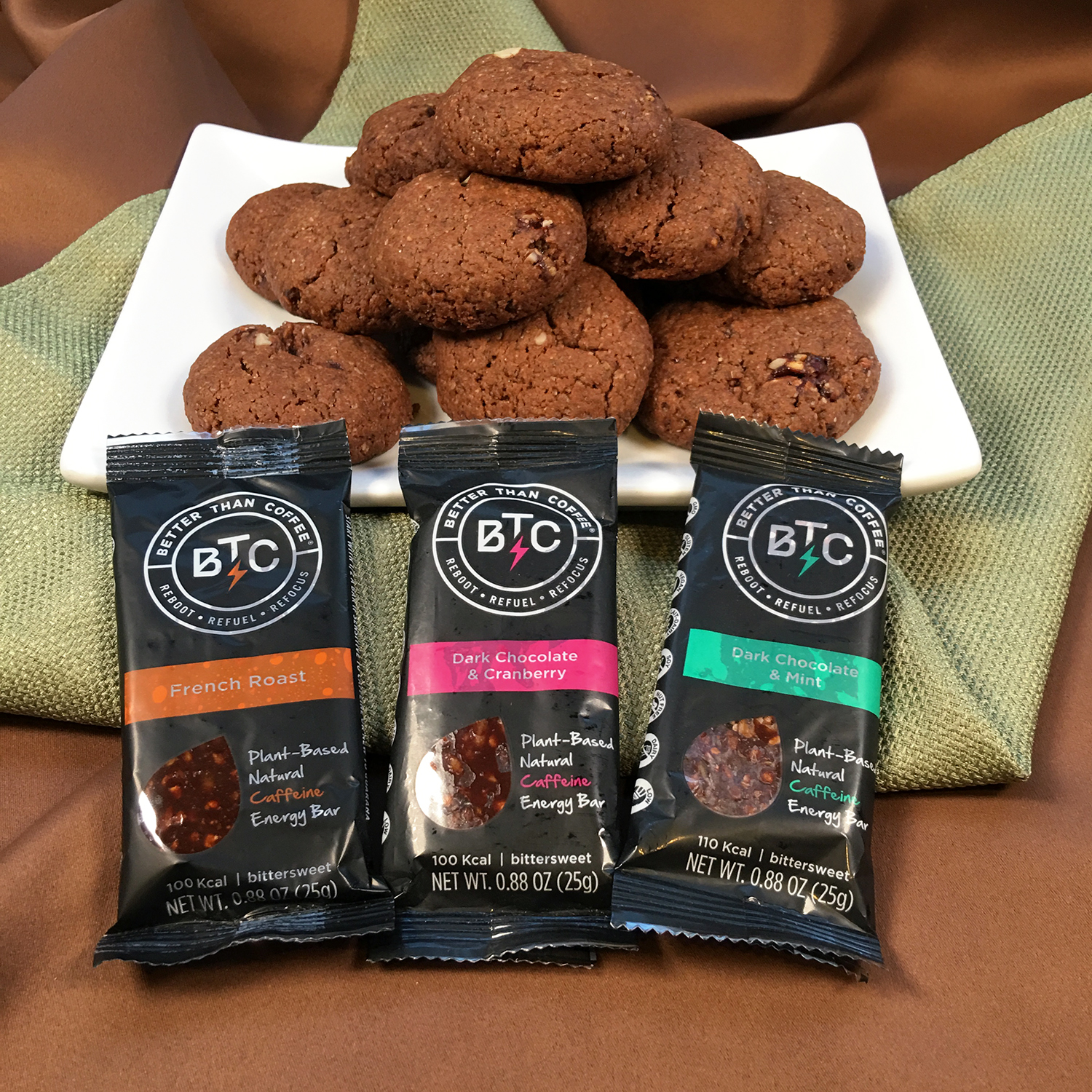 A few weeks ago during Monday Night Live, we shared with you a delicious way to incorporate Better Than Coffee (BTC) Bars into your cookies. The results are (I'm told) totally awesome, and clearly worth fighting over. You should have seen the kids… bickering over who got the last cookie… When will they ever learn…
Before we continue, I'd like to remind you that our kids (referred to in this post) are almost adults now (yup, they grow up that fast) and neither I or BTC are endorsing giving caffeine to children.
But back to these bars. Here's why we love them: they're adult and allergy friendly. A what-if scenario that we haven't had to think about in a very long time was something a bakery customer reminded us of: as parents without food allergies, they were concerned that their food allergic toddler would eat some of their crumbs. It meant they were very mindful of where they ate, and were always so quick to clean up after themselves.
Enter BTC Bars. When I first met the BTC team at Expo West, I loved everything about them. The flavors sounded amazing, and the company is committed to transparency and safety for their customers. Our family has sampled the flavors on offer, but we're not huge on coffee. However, add these bars to a cookie, and everyone comes running!
We made these cookies with several different flavors of BTC Bars, and the kids couldn't quite decide which flavor they enjoyed the most, so you'll have to decide for yourself. Let's get baking 🙂
Link to the Official BTC Bar Website  |  Get BTC Bars on Amazon
Allergy Status: Wheat/Gluten Free, Dairy Free, Egg Free, Soy Free, Peanut Free, Yeast Free, Nightshade Free, Vegan
Note: BTC Bars contain sesame, coconut, and legumes.
Ingredients:
Better Than Coffee Bars
8 ounces Dairy Free Butter
225g Organic Dark Brown Sugar
150g Sorghum Flour, superfine
125g Millet Flour, superfine
100g Organic Oat Flour
35g Organic Cacao
30g Arrowroot
5 TBSP Golden Flax Meal + 10 TBSP Water
1 TBSP Apple Cider Vinegar
3 tsp Baking Powder
2 tsp Organic Vanilla Extract
1/2 tsp Baking Soda
1/2 tsp Sea Salt
Directions:
Start by combining your flax and water, then set aside, allowing it to gel whilst you put everything else together. Next, in a stand mixer, using the paddle attachment, cream your butter and sugar together on medium speed. Once done, add in all of your other ingredients, including the flax gel. Mix on medium speed until a dough forms, and continue to mix for another 30 seconds.
Open your packages of coffee bars and cut them into small pieces, similar to a chocolate chip in size. Fold your bar bits into your cookie dough. You can use as many or as few of the bars as you'd like. The amount used will vary with personal preference and cookie size. We opted to divide our dough and try multiple flavors in one go.
Line a baking tray with parchment paper. Use a medium (or large) cookie dough scooper to portion out your dough. Roll your dough into a ball, then place it on your lined tray. Gently press down to your desired height. The cookies will spread a little, so be mindful of that when placing cookies on your tray.
Finally, bake your tasty treats at 325 for 13 – 15 minutes. Cool (a little) before serving, hopefully with a tall glass of safe milk.