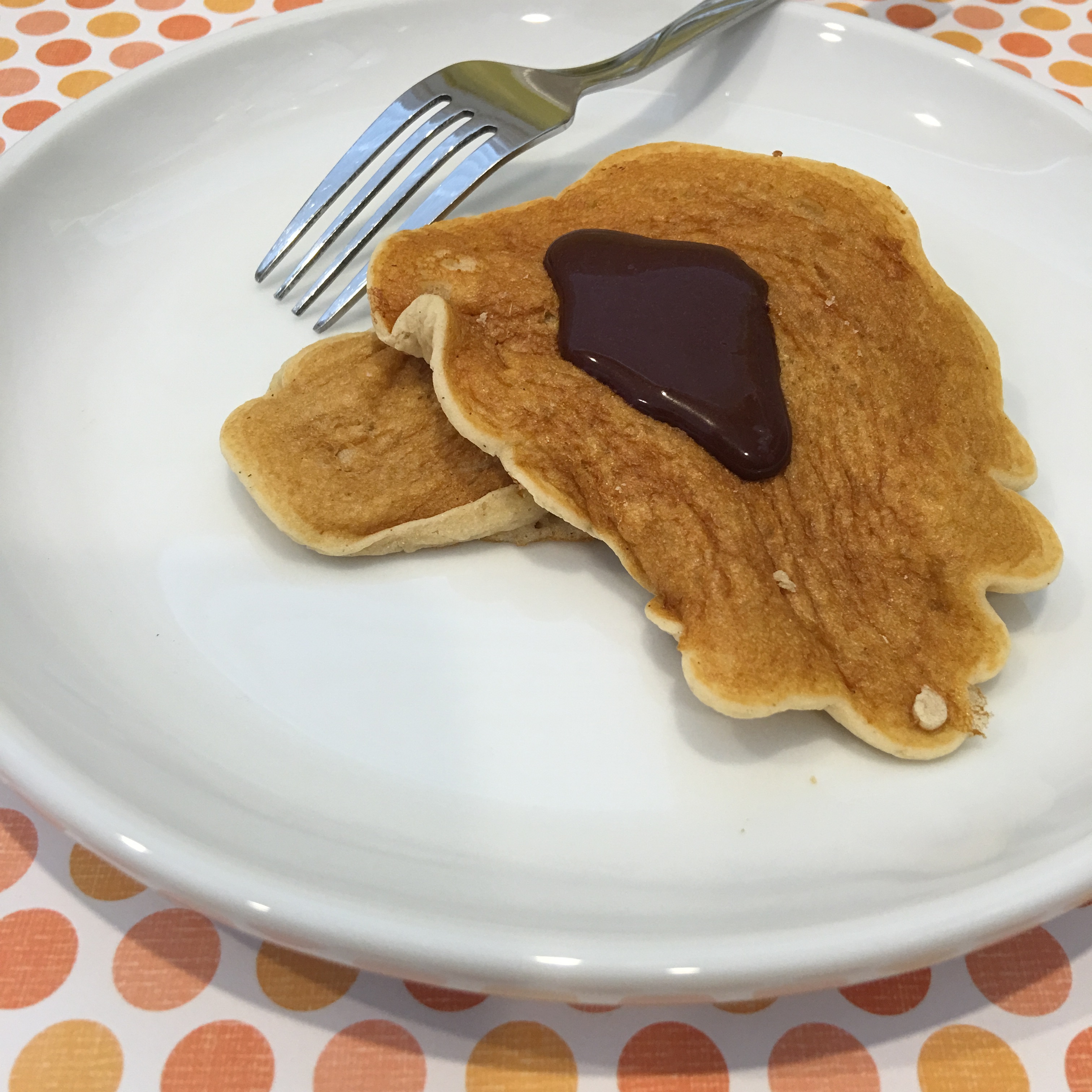 Can I ask for forgiveness now? I'm going to. Please forgive me. You see, the kids told me these were some of the best pancakes I had ever made. How cool is that??? Well, I didn't have a great spatula to flip them over with, and they crinkled, for lack of a better word. The photos aren't that great, and I haven't had time to remake the mix to take new pictures. Please, if you care about me, even just a little, forgive me for insulting your precious eyeballs. Mine are still recovering. And yes, I'm still thinking about a career in comedy. I'm thinking a TV show. What do you think?
But seriously, these pancakes are pretty amazing. I've always heard of buttermilk pancakes, but honestly, have only recently ventured into buttermilk in general. When you have a child with a severe dairy allergy, it's a huge scary word… butter AND milk??? Interestingly, I don't think I've ever tasted it, so I have no point of reference for this food, just the concepts that I've read about. Needless to say, all went well, tummies were happy, and smiles were expressed.
Allergy Status: Wheat/Gluten Free, Dairy Free, Egg Free, Soy Free, Nut Free, Peanut Free, Cane/Refined Sugar Free, Sesame Free, Legume Free, Low Histamine, Diabetic Friendly, Vegan, Yeast Free Compatible, Corn Free Compatible
*For Low Histamine, omit the chocolate sauce and enjoy the pancakes with maple syrup.
For Yeast Free and Corn Free: Use an alternative egg substitute.
Ingredients:
1.5 cup Organic Unsweetened Milk of Choice
6 tsp Organic Apple Cider Vinegar
3/4 cup Sorghum Flour
1/2 cup Potato Starch
1/4 cup Arrowroot Flour
1/2 cup Millet Flour
1/8 tsp Guar Gum
1/2 tsp Baking Soda
1 tsp Sea Salt
1 TBSP Baking Powder
2 TBSP Follow Your Heart Vegan Egg Replacer
1 TBSP Organic Vanilla Extract
Before you get started… Here are notes about substitutions, and how to use your own goods.
Buttermilk: It's essentially a milk plus an acid. If you can have dairy, buy actual buttermilk.
Eggs: Use two eggs, or another egg replacer of your choosing.
Flour: You can see that our blend is interesting. When you're dealing with gluten free goods, you need a combination of things to mimic what wheat flour does. In this recipe, we call for a total of 2 cups of flour, and the guar gum. If you have a go-to gluten free flour blend, use 2 cups of that. If you use something like cup-4-cup that already has the added binders (xanthan, guar, etc.) don't use the 1/8 tsp that we call for.
Directions:
Now that we have all of the business out of the way, let's make some pancakes!! It's really simple: combine all of your dry ingredients and mix them together. Add in the wet ingredients, and mix again until everything is nicely combined, and there aren't any lumps of dry flour hiding out. Heat a medium (or large) non-stick pan on medium heat (300). I used a 1/4 cup measuring cup to make most of the pancakes.
You'll notice the rolled pancakes at the end of the pictures. For these, I used a bit more batter, but spread it all over the pan (like a super thick crepe), and also drizzled some chocolate sauce on it while it was cooking.
For the Dark Chocolate Sauce:
1/4 cup Raw Organic Cacao Powder
2.5 TBSP Organic Unsweetened Milk of Choice
3 TBSP Raw Honey, on the runny side
Combine the ingredients together in a small mixing bow, and whisk until smooth. Drizzle on top of pancakes before serving, or use to make a crepe-like pancake while cooking. We tried it both ways, and the kids really seemed to enjoy the rolled pancakes.
Who's ready for pictures???