It's (Non-Traditional) Pasta (Sauce) Week! This is the first of five very special creations to be released. Do we have time for a story? Great. Gather round everyone. So, in the food allergy world, the Top 8 get most, if not all of the attention. I can completely understand this from a marketing and squeaky-wheel standpoint. However, I'm not called the Top 8 Chef. I'm called The Allergy Chef. My goal has always been to cater to everyone, and perhaps that mission may get the best of me someday, as you can't please everyone all the time. Nonetheless, that won't stop me from trying to create dishes that everyone can enjoy. I've recently heard from several people about their onion, garlic, nightshade, and "traditional" spice allergies. I had one person ask for ideas on how to not have bland pasta. My first answer was, truthfully, I eat plain food because that's all I can have. I then listed off many different ideas they could try, and they were thankful. It was that very conversation, and one other in particular, that lead me to create these recipes. It's so easy in the allergy world to meet the needs of most people, but I want to make sure that no one slips through the cracks around here. OK, story time is over. Pack up your blankets and pillows. We have food to cook.
Allergy Status: Wheat/Gluten Free, Dairy Free, Egg Free, Soy Free, Nut Free, Peanut Free, Yeast Free, Corn Free, Cane/Refined Sugar Free, Sesame Free, Legume Free, Diabetic Friendly, Paleo, GAPs, Vegan, Garlic Free, Onion Free
For Corn Free: Source safe ingredients. Be sure your tomato sauce doesn't have citric acid or any other additives (Yellow Barn and Bio Nature are good brands at the time of this writing). Make sure your produce is dirty. Anything pre-washed can pose as a new problem for you. Zucchini should not be waxed, and know where your raisins come from.
Ingredients:
15 ounces Organic Tomato Sauce
12 ounces Organic Zucchini, sliced & quartered
1 cup Organic Raisins
6 ounces Organic Carrot, sliced
6 ounce Organic Tomato Paste
3 TBSP Organic Extra Virgin Olive Oil
5 tsp Organic Lemon Juice
2 tsp Sea Salt
Directions:
Start by preparing your carrots and zucchini. I opted to peel the carrots before slicing them. Be sure to slice them very thin, as they don't cook for very long. It's OK if you mess up and have a few thick ones. I did 🙂 For the zucchini, I like to create several slices, then stack them, then quarter them. If you use this method, you'll need It does mean though that once you add them to the pan, you have to break apart the pieces that are stuck together.
Heat a large non-stick pan on medium-high heat (375) and add your oil. Once hot, add the carrots and zucchini. Allow them to cook, and let the zucchini brown a bit. After 10 minutes, add the other ingredients and cook for an addition 3 to 5 minutes. Turn the heat off and serve over what ever you'd like. You can use wheat pasta, gluten free pasta, rice, cauliflower rice, bread, toast, sweet potato toast, you get the idea. The goal is to create a delicious sauce that can be served over whatever is safe for you.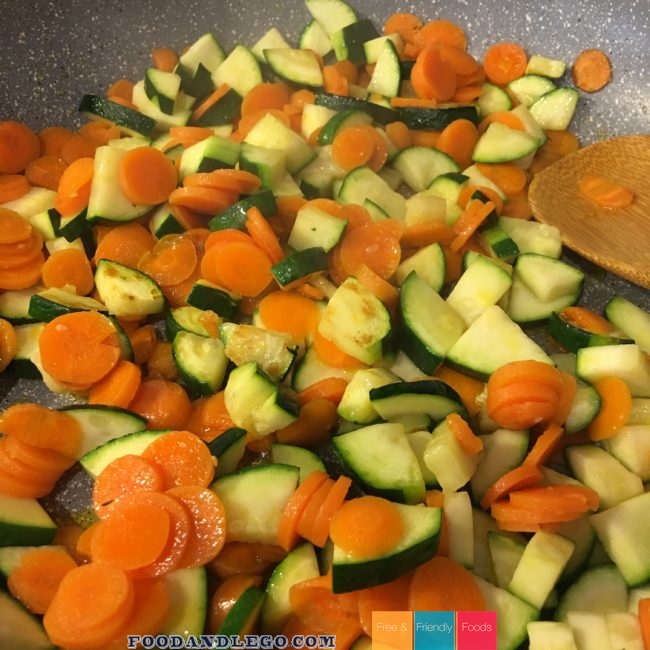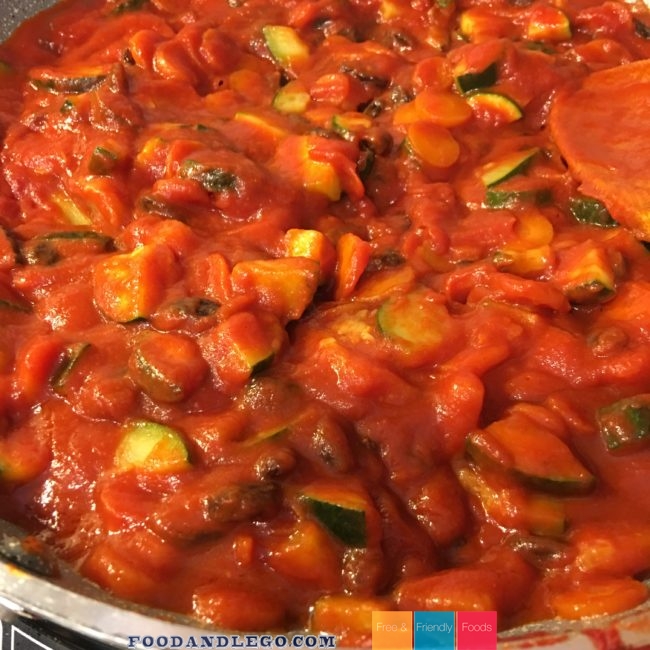 Our Corn Free Cookbook (also Gluten Free and Top 8 Allergy Free) Is packed with recipes and resources to help you thrive when living with a corn allergy, and/or multiple food allergies. Kathlena, The Allergy Chef, is a severe corn allergic, giving us the unique ability to write a book that's accurate. No corn derivatives, no xanthan gum, and all the details you need to enjoy life as a corn allergic.