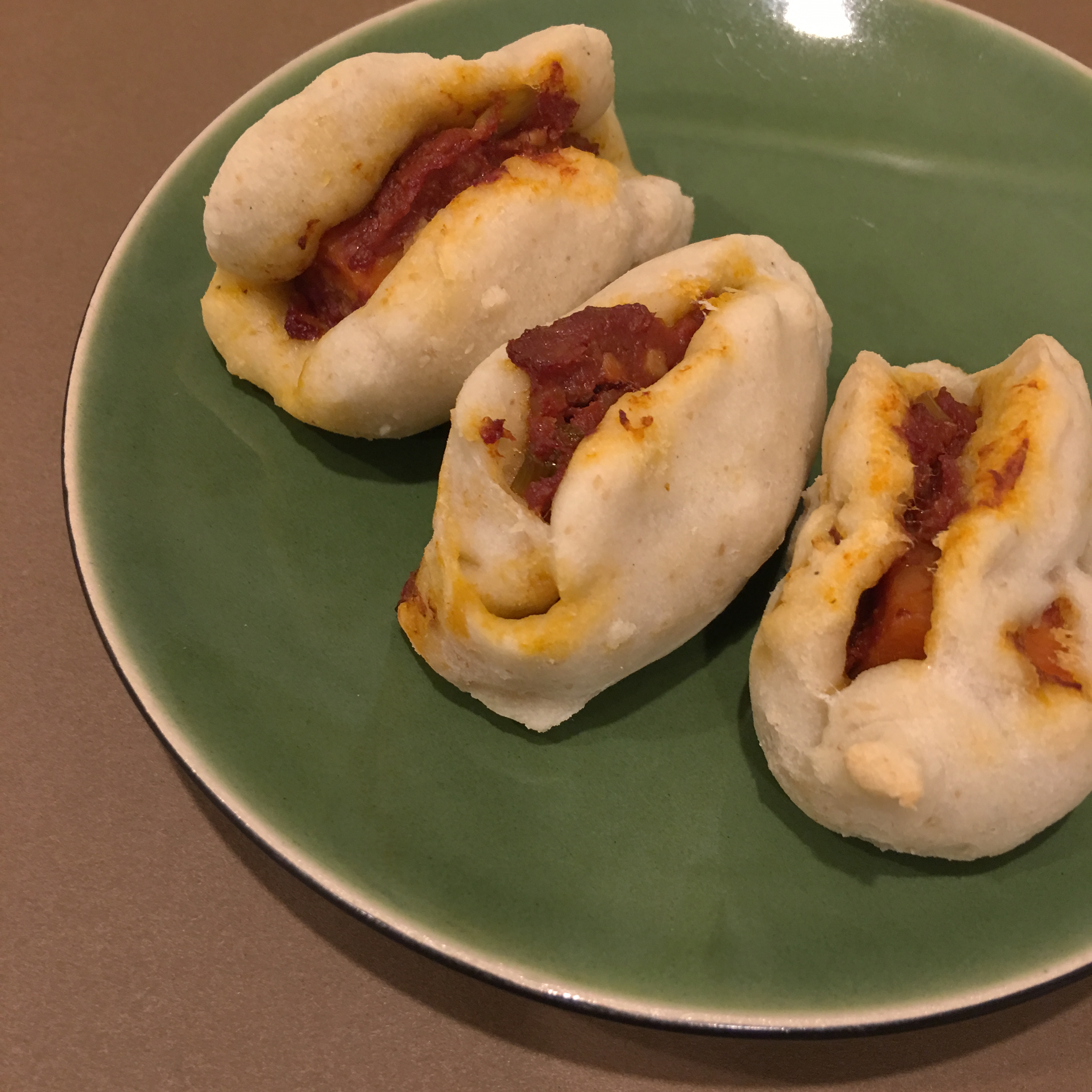 You know you're in love with the title… I was so tickled by it. Kid Three and I couldn't stop smiling. Then Kid Four says, hey! Maybe next time we should try putting little pieces of meat in them instead of carrots. lol. Silly, I tell her, those are pigs in a blanket, and you've had them so many times… Oh yeah, she said.
This idea stemmed from an Instagram conversation I had with @mshelley314 who showed me baked carrot hot dogs. We ended up talking about hotdog buns, but that's besides the point. So as I'm reading through the recipe, I realized I wasn't in love with the ingredients listed. I wanted to create something that was very friendly to many people. Plus, I didn't want to even think about having to create hotdog buns. Then I thought about pigs in a blanket, but carrots instead.
I thought the kids may not love them, but turns out, they did. Even Kid Four who wasn't hungry went back for extras.
Allergy Status: Wheat/Gluten Free, Dairy Free, Egg Free, Soy Free, Nut Free, Peanut Free, Sesame Free, Legume Free, Nightshade Free, Diabetic Friendly, Vegan,  Corn Free Compatible, Yeast Free Compatible, Cane/Refined Sugar Free Compatible, Paleo Compatible, GAPs Compatible
For Corn Free, Yeast Free, Cane/Refined Sugar Free, Paleo, and GAPs: Use a safe dough/bread product, or eat the carrot mix standalone.
Ingredients:
10 ounces Organic Carrots – If large, peel first. If baby, don't peel.
7 ounces Organic Tomato Paste
1 bunch Organic Green Onions, chopped
3 ounces Organic Cauliflower Rice (shredded cauliflower)
2 TBSP Organic Extra Virgin Olive Oil
1 tsp Organic Garlic, chopped
1/2 tsp Organic Balsamic Vinegar
1/2 tsp Sea Salt
Directions:
To prepare our carrots, I peeled them first. Then I cut them into small pieces. I aimed for the size of a mini sausage that's traditionally used in pigs in a blanket.
Heat a non-stick pan on medium heat (350) and add all of your vegetables & olive oil. Allow the mix to cook for 10 minutes. Add your balsamic in the last two minutes. Transfer the mix to a glass baking dish, then add the tomato paste and mix it well. Cover with foil, and bake at 425 for 45 minutes, or until the carrots are easy to pierce with a fork. The baking time can change depending on how thick your pieces of carrot are.
Line a large baking tray with parchment paper, and divide your pizza dough into at least 15 pieces. Roll each piece into a ball, then press flat. You want it to be large enough to wrap around a carrot piece. Once all of the pieces are flat, spoon on one carrot piece with a little sauce. Wrap each piece closed, and bake for 15 minutes at 425.