Product Reviews
now browsing by category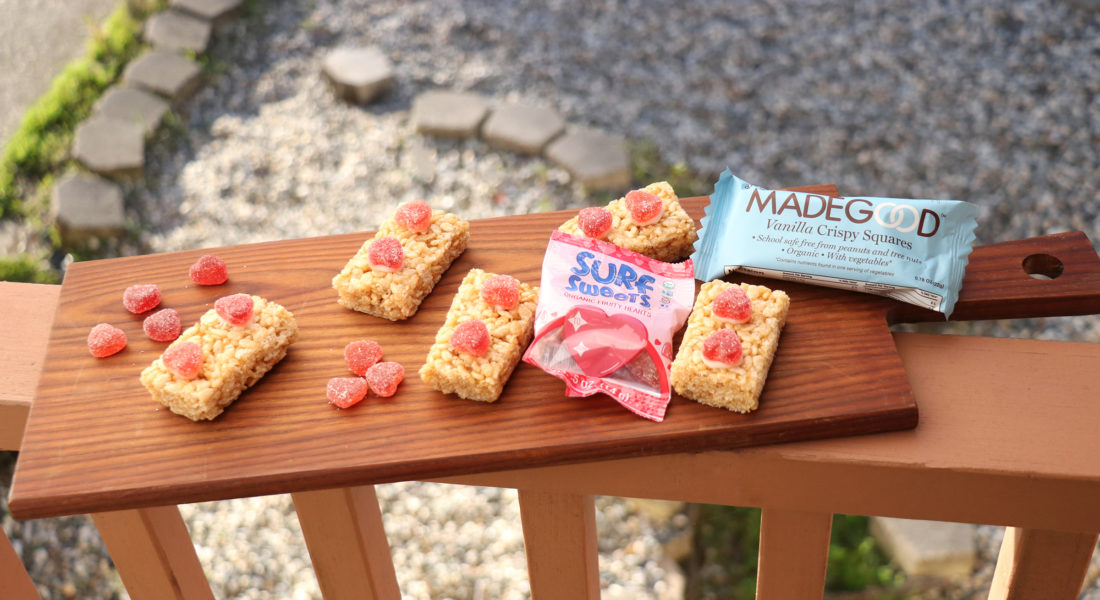 Valentine's Day, Food Allergies, and Special Diets
Valentine's Day, along with every other holiday can be hard enough without food allergies or a special diet, so here are some tips to get you through.
Treat Suggestions
Shortbread Cookies: Download our free Kit Card and make shortbread cookies. Rather than use Christmas decorations (like the card) make a pink glaze instead. Use heart cookie cutters and now you have an awesome V-Day treat.
Torrie & Howard Candies: Order some of these to use as a small way to show someone you care. Be sure to get cherry or pomegranate flavors which have red wrappers.
Wholesome Sweeteners (Previously Surf Sweets) Heart Candy: These are gluten free, top 8 free, vegan, and organic. You can get these at many specialty stores, and amazon.
No Whey Chocolates: They have seasonal treats available now, and if you call, you may be able to get free shipping.
Enjoy Life Foods: Everything from enjoy life is Top 8 Free and more. You can take their soft baked cookies and use a small heart cookie cuter to turn cookie rounds into V-Day hearts.
Zego Snacks: Pick up the strawberry or raspberry Zego bars and like the tip above, use a small heart shaped cookie cutter to show some love to someone special. Vanilla heart yogurt for breakfast is sure to make someone smile.
Make These Quick Snacks:
Pictured are Made Good Crispy Rice Bars topped with Surf Sweets Heart Gummies. I made a quick Vanilla Glaze to use as glue. For the glaze, I used a few Tablespoons of Organic Powdered Sugar and added a small amount of water until it was a glue-like consistency. The kids dipped the gummies in the glue, and stuck them on to the crispy treats.
The biggest reason I shared this treat with you: we made them in FIVE minutes. I know how busy life gets, so I wanted to make something that someone short on time can enjoy.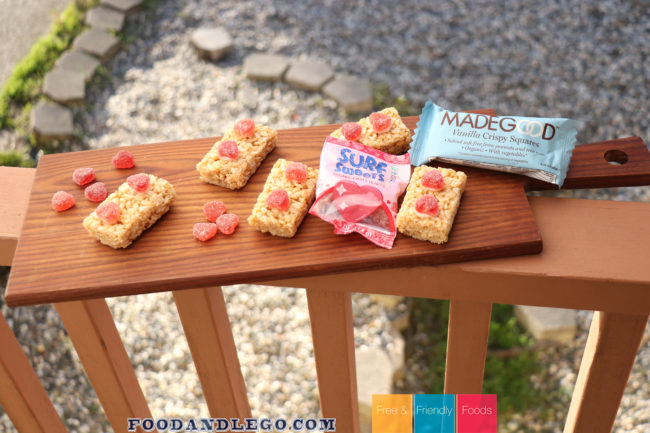 Do Things Your Way
Maybe food isn't the best option for you. There are so many other ways to show love on V-Day that don't involve food. LEGO bricks can be formed into the shape of a heart. Paper crafts and origami are also a great option. If you live near a beach, draw hearts in the sand, take pictures, and make your own custom cards. With a little creativity, the options are limitless on how to show some care and love.
Don't Forget the Health Factor
It's easy to get caught up in the sweets on Valentine's Day, but don't forget, there are other food groups to choose from. Smoothies and juices can include beets, goji berries, raspberries, and strawberries for a pink tint. Pink lady apples also make a great pink toned applesauce. If you want a fun dinner, consider homemade pizza, and form the dough into the shape of a heart. To make this easier, Wilton sells a heart shaped cake pan you can purchase to make your shaping much easier.
No matter how you chose to spend Valentine's Day, make sure it's stress free and full of love.
Other bloggers who have shared great guides:
Celiac and the Beast's Gift Guide