So I decided to try something TOTALLY different tonight, and the results were very interesting. I've included reviews from the kids at the end of the post for your enjoyment. I will share this upfront: we all agreed that the sauce is going to need some work, however, they all felt that it was still beyond delicious to eat, just more runny than expected. I asked them about serving the mix as a pasta instead, and everyone still wanted it as is, as a pizza.
A little more full disclosure: This is a long read, and a very involved recipe. However, it's worth every bit of time. 🙂
Chicken Apple Maple Bacon Pizza with Bell Peppers and a Honey Cream Basil Sauce. Gotta love those long fancy titles…
Allergy Status: Wheat/Gluten Free, Dairy Free, Egg Free, Soy Free*, Nut Free*, Peanut Free, Yeast Free*, Cane/Refined Sugar Free*, Sesame Free, Legume Free*, Diabetic Friendly, Paleo Compatible, GAPs Compatible
*For Yeast and Cane/Refined Sugar Free, choose the appropriate crust.
*For Soy, Nut, and Legume Free, choose your dairy free substitutes carefully.
For Paleo & GAPs: Notes are below with each section.
Ingredients For the Bell Peppers:
4 Organic Bell Peppers, your choice of colors, diced
5 TBSP Organic Extra Virgin Olive Oil
1/2 TBSP Organic Maple Sugar
Wash and dice your bell peppers. Heat a large non-stick pan on medium high heat (375). Add your oil, and once it's heated, add the peppers. Mix them around from time to time, and allow them to brown slightly. This should take 15 – 20 minutes. In the last minute of cooking, add your maple sugar, and mix well. Drain off any excess oil in a small colander and set aside. This portion is Paleo and GAPs friendly as is.
Chicken, Apple, & Bacon Ingredients
20 ounces Organic Chicken Breast, cubed
2 Organic Golden Delicious Apples, cubed
8 TBSP Dairy Free Butter
3 ounces Bacon Bits
2 TBSP Organic Maple Sugar
1 tsp Sea Salt
2 tsp Organic Dried Parsley
1/2 tsp Organic Dried Basil
Heat a large non-stick pan on high heat (425) (I reused the bell pepper pan). Add the chicken first, and allow it to cook for about one minute. You're really aiming to have a short sear, to add a little crisp to parts of your chicken. Add in the apple and butter next. As the butter melts, continue to mix everything together. When the chicken is mostly cooked, add in the other ingredients, and mix again. You'll notice the butter will be somewhat absorbed by the ingredients. Once done, remove from heat and set aside.
Paleo & GAPs: Use a safe butter such as ghee, or coconut oil. Use fresh, no-sugar added, bacon instead of bacon bits, and cut into small bits.
Ingredients For The Honey Basil Cream Sauce:
8 TBSP Dairy Free Butter
1.5 cup Organic Unsweetened Milk of Choice
3 TBSP Raw Organic Honey
2 tsp Sea Salt
1 tsp Organic Dried Basil
3 TBSP Potato Starch
3.5 ounces Organic Tomato Paste
Start with a small or medium pot on medium heat (275). Add the butter and milk. As the butter melts, add the honey and seasonings. Once the butter has completely melted, mix for another 30 seconds, then turn the heat down to med low. Stir in the tomato paste. Once it's well incorporated, add in the potato starch, 1 TBSP at a time, whisking non-stop the entire time. The sauce will thicken as you whisk.
Paleo: You can make your cream sauce using safe butter such as ghee. Be sure to use a legal milk, and arrowroot instead of potato starch.
GAPs: Use a tomato base for your sauce. Use extra tomato paste to add thickness, but you will also need more salt. For the creamy effect, add in fresh safe milk and coconut oil if tolerated. If not, a standard red sauce with honey and basil will get the job done.
Crust Notes:
There are several crust options, depending on what your needs are.
Gluten, Dairy, Egg, Nut Free: Wholly Wholesome is one of the best options. It's sold in the freezer section.
Yeast Free: There's one that's sold in the freezer section that's rice and potato only. Also consider Paleo options.
Paleo: Cappellos is a new one that's rather interesting, and is sold in the freezer section. Simple Mils sells one in a box that you add things to, and of course, there's cauliflower crust that you can make yourself.
GAPs: Make a cauliflower crust, or a base that uses almond flour.
For The Assembly:
Cover a large baking tray with parchment paper. This will make the release much easier. I have yet to experiment with pizza stones, pizza pans, and cast iron. Roll out your crust/dough of choice. Ladle on 2 – 3 spoons of sauce. I used a small ladle for this. Spread the sauce all around and add your safe cheese of choice. Top with the chicken mix, and bell peppers. Bake at 425 for 17 – 20 minutes, or according to the instructions on your crust.
Cheese Notes:
For our dairy free pizza, we tried something new: Daiya Smoked Gouda Style block of cheese, and we shredded it ourselves. It was a mistake. Unlike the cheese shreds they normally sell, this one became more of a soup, rather than traditional melted cheese. According to Kid Two, it was still delicious, but as you'll see in the pictures, the texture was very non-traditional.
For the dairy eaters, I used a combination of Organic Sharp Cheddar, Organic Mild Cheddar, and Organic Mozzarella cheeses. There were no complaints.
For Paleo and GAPs: Use what's safe for you. Paleo Leap has a great article on cheese substitutes. There are a lot of cheese options for GAPs. Be sure you shred it yourself, as pre-shredded cheeses can have additives.
Tasting Reviews From The Eaters:
Kid Two (GF, DF, EF, Beef/Bovine Free) ~ I could have used a little less bacon, and even though the cheese melted funny, I really liked the pizza.
Kid Three (Low/No Sugar) ~ It was a bit wet and drippy, but I loved it. If I could change anything, I would make the sauce more pasty like what we normally do.
Kid Four ~ Seriously, this was the best pizza I've ever eaten. I went back for seconds.
The Papa (Coconut, Macadamia) ~ Eat it with a fork and you won't have to worry about it falling apart. It's not a traditional pizza, and it doesn't cut very well, but it's WELL worth it because it tastes delicious. The combination of flavors is really nice.
And now, the moment you have been waiting for: Pictures!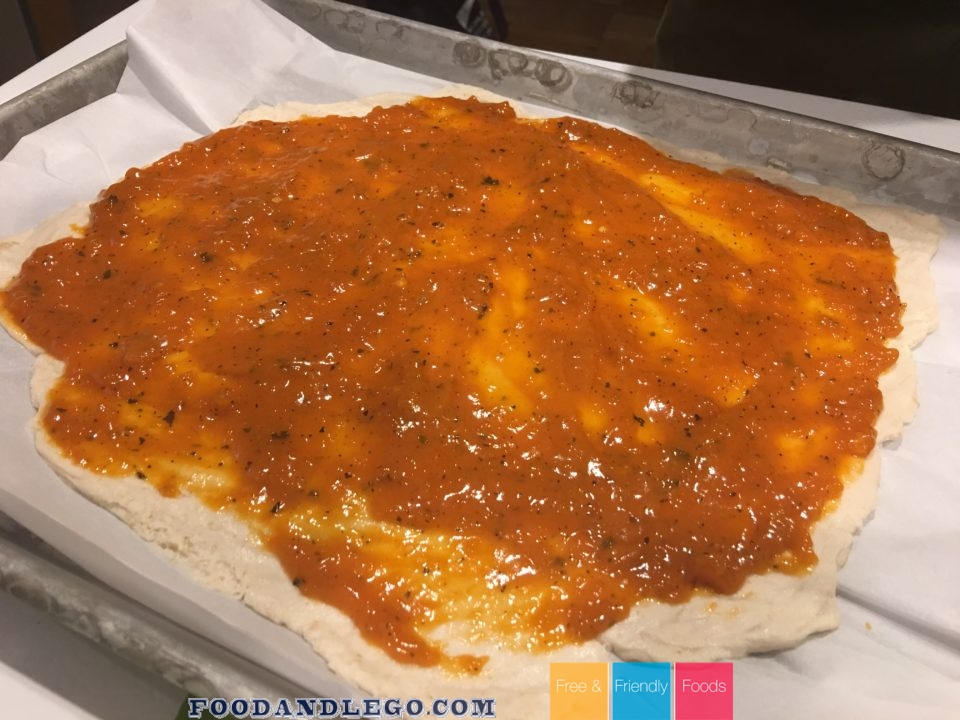 Two shots from the dairy pizza prep: