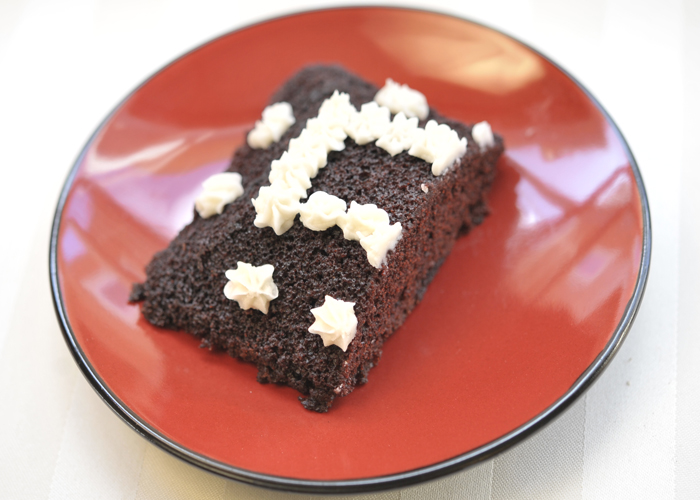 Chocolate Cake
Remember failed chocolate cake? This one was better. To be honest, it still had that strange after taste to it, but, not nearly as pronounced. The Winter 2012 edition of "The Best of Fine Cooking" magazine was a full featured magazine on chocolate. Now, although one of the kids has a chocolate allergy, I don't. I told him to man up (and I made him something else). Pages 52 and 53 feature a chocolate cake that looks really good. If you only have one allergy, I encourage you to adapt only what you need, and go for it!
In celebration of March 16th (3:16) we made a cross cake. It's just taken me a while to post it. Here's what you'll need:
1 1/2 cups All purpose flour
6 Tablespoons Organic chocolate cocoa powder
1 teaspoon Baking soda
1/4 teaspoon Sea salt
1 cup Organic white sugar
1/4 cup Organic extra virgin olive oil
2 teaspoon Dry egg mix/substitute (or 1 egg)
4 teaspoons Organic vanilla sugar
1 cup + 2 Tablespoons water
To make the cake, simply mix the ingredients together. I first mixed all the dry items together, and then added in the wet ingredients. Bake this in the oven at 325 until you can insert a toothpick or skewer and it comes out clean. Since we used the Wilton cross pan, it did take longer to cook (than the suggest 32 – 34 minutes).
Overall, it was very easy to make, however, the odd taste is still there. I'm going to guess it's the baking soda, or maybe even the dry egg mixture. Who know. Some day, I will figure it out.
If you have multiple allergies like me, I feel this is an acceptable cake, but still not the best. I'll keep working on it.