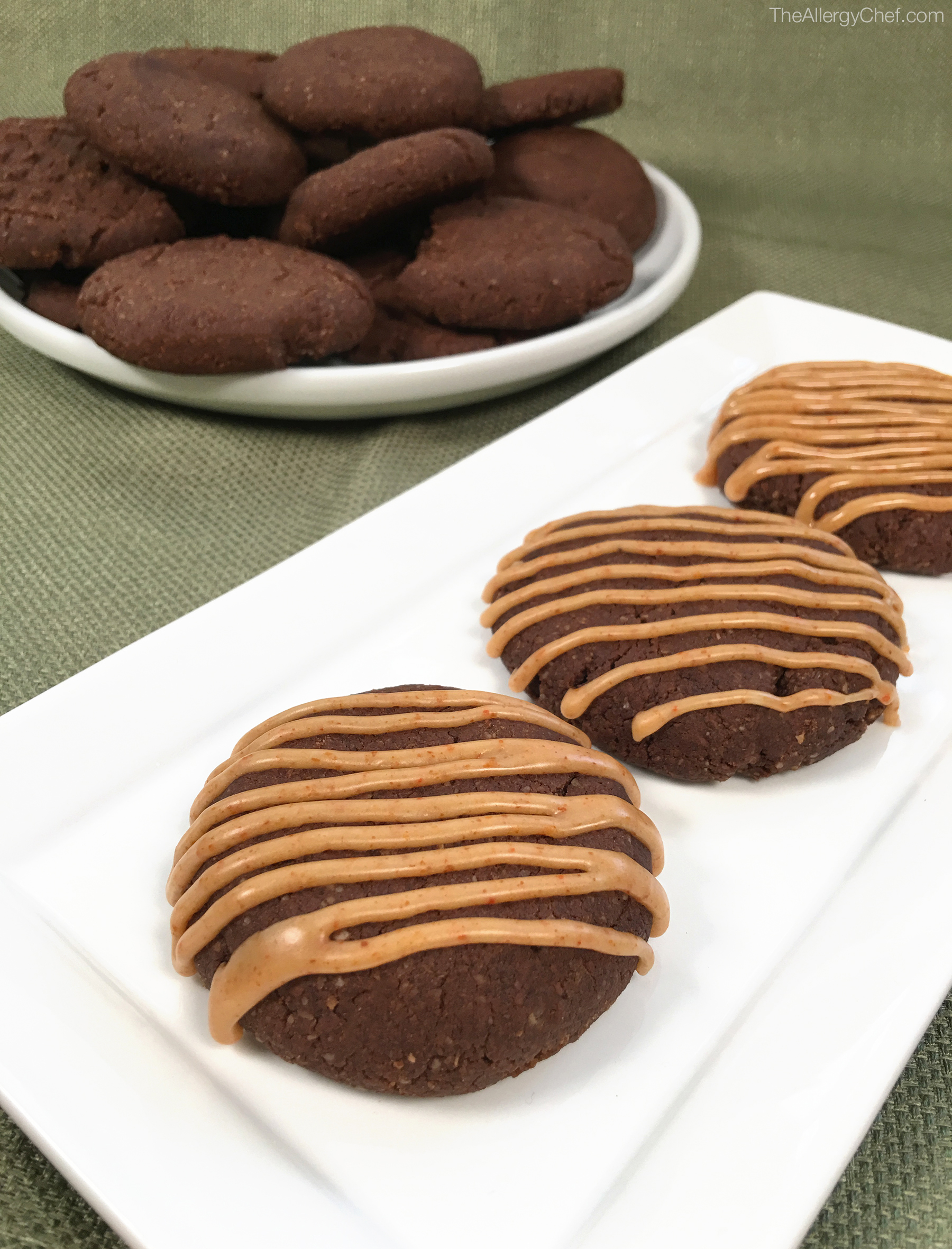 Is it me, or does everyone else feel like it was just Christmas? Yet here I sit, getting ready to face Cinco de Mayo. Oh where does the time go? This year May 5th will be quite special. Well, there's also May 4th. It's a big Star Wars "holiday" (May The Fourth Be With You) and the kids like to celebrate. Back to the 5th. This year the Celiac Disease Foundation will be having their National Conference in Pasadena, and I'll be speaking. They asked me about doing a demo, and since it's Cinco de Mayo, of course there's a tie in. So if you live in the SoCal area, be sure to come by. Here are the Conference details.
For this cookie, I opted to have the spice in the glaze. Knowing that there will be children at the event, I wanted to be sure they would enjoy the cookie as well. If you plan to serve this at an adult party, or one where everyone looooveees spice, be sure to add extra cayenne in the cookie batter.
Allergy Status: Wheat/Gluten Free, Dairy Free, Egg Free, Soy Free, Nut Free, Peanut Free, Yeast Free, Sesame Free, Legume Free, Vegan, Corn Free Compatible, Cane/Refined Sugar Free Compatible
For Corn Free: Use Spectrum Organic Shortening instead of dairy free butter.
For Cane/Refined Sugar Free: Use 3/4 cup Organic Maple Sugar instead of dark brown sugar. Create a glaze by combining Organic Maple Butter and Cayenne Pepper.
Ingredients:
8 ounces Dairy Free Butter, very soft
1 cup Organic Dark Brown Sugar, packed
1 cup Organic Oat Flour
1/2 cup Sorghum Flour
55g Raw Organic Cacao
4 TBSP Golden Flax
2 tsp Organic Vanilla Extract
1/2 tsp Baking Soda
1/2 tsp Sea Salt
Directions:
Start by adding your butter and sugar to your mixing bowl and cream together. Scrape down the edges of your bowl and mix again. Next, add the cacao and mix well. Add in everything but the sorghum and oat and mix together. Finally, add the sorghum and oat and mix until a dough forms.
Use a medium cookie dough scooper (1.5 TBSP) to portion your dough. Place the dough balls on a baking tray lined with parchment paper. We tested these cookies pressed flat, slightly pressed flat, and left almost completely as a dough ball. They all came out perfect, and there was very little difference in taste. Press the dough down as much you'd like.
Bake at 325 for 13 minutes. Makes 25 amazing and delicious cookies 🙂
Oat Flour Note:
All oat flours are not created equally. We use oat flour from GF Harvest, which uses the Purity Protocol, and they're also corn free. Seriously, they're an amazing company and we love them to bits. A friend and I once compared our oat flours and they were day and night. I say all of that to say this: if your dough doesn't quite come together (too crumbly), add a little water or milk of choice.
Glaze Ingredients:
1 1/3 cup Organic Powdered Sugar
2 tsp Organic Ground Cayenne Pepper
7 tsp Water
Directions:
Combine all of the ingredients together in a measuring cup or small mixing bowl. When it's smooth, transfer to a disposable decorating bag and pipe glaze on your cookies. You can see that I went for a controlled even look, however, you can use a fork and drizzle by hand for a fun look.