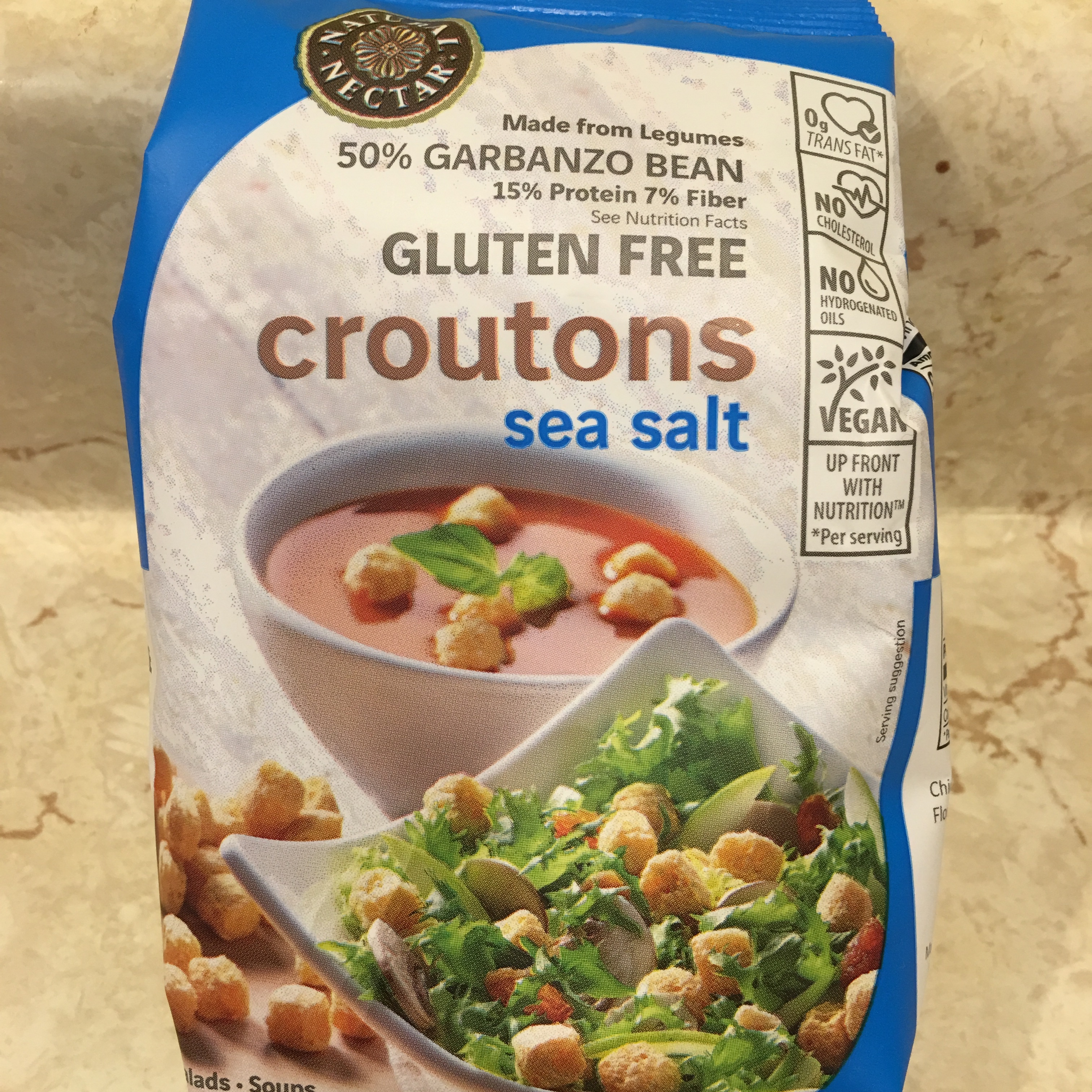 If you're allergic to corn, keep on scrolling. This review isn't for you. In fact, I made the kids handle these with the utmost care because of the corn starch in it. I Didn't need to have a corn bomb going off in the house…
Now that I've got my corn grumbles out of the way, on to the very positive review. The kids really enjoyed these, but I found their reasoning to be somewhat hilarious. Also, we were not paid for this review, or given the product for free.
From our Food Allergic Kid
They looks like corn puffs, and it gives me a false sense of what it should taste like. My mind is playing tricks on me.
On their own, they're tasteless, which isn't that great.
As a person who normally can't have croutons, they taste pretty good when combined with salad.
I really really really like the crunch.
From our Low/No Sugar Kid (who can have wheat)
I like them better than the regular croutons we buy because they have less flavor than the regular ones.
I don't really know what the flavor is.
I really like the crunch from these.
They are also smaller and softer than a regular crouton.
What's the verdict?
I thought it was really funny that the reason they enjoyed these was because they lacked flavor. I buy the wheat eaters different kinds of organic croutons from time to time, thinking they're going to love it because of the fancy name and flavor profile. Turns out, all they really wanted was something crunchy. That just cracks me up. It's like when the box is better than the toy.
I'm very uncomfortable with the amount of corn in this product, however, it's still a keeper in my book. As long as safe handling happens, I can live with it, especially because they're for the allergic kid. I will say though, the price is pretty high for the amount that you get. I felt like I was serving up rations to make sure everyone got enough. Yet, at the same time, I realize supply and demand on the manufacturing end.
Bottom line: these are a winner if your options are limited. They add a great amount of crunch without drowning out the flavor of your salad. Enjoy!