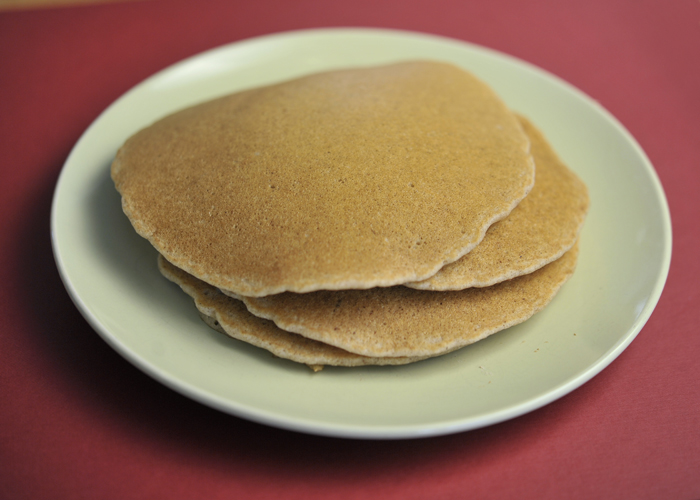 That's right, you read correctly. Egg Nog Pancakes have landed at the table. Now, I must warn you, these are delicious, and the texture is just right. I also found that they taste great without any syrup. The syrup in all honesty made it taste a bit funny….
So, here are the instructions, and yummy pictures. To be honest, editing these pictures was very difficult. I sorta wanted to eat the screen. I call these "wannabe" egg nog pancakes as there is no actual egg nog involved, however, when you don't have the luxury of drinking egg nog, you'll take what you can get.
Allergy Status: Gluten/Wheat Free, Dairy Free, Egg Free, Soy Free, Nut Free, Peanut Free, Yeast Free, Corn Free, Legume Free, Sesame Free, Nightshade Free, Vegan
Need help with food allergies and special diets? Check out our RAISE Membership Platform. There, you'll gain access to The Allergy Chef, Allergy Seminars, Corn Free Courses, Recipes Galore, and MUCH more.
Ingredients:
1 1/4 cup All Purpose Flour
4 TBSP Organic white sugar
4 twists of salt (from salt grinder)
2 Tablespoons Organic spectrum shortening
1/2 teaspoon Baking soda
2 teaspoons dry egg substitute (or 1 egg)
3/4 cup Milk, milk substitute, or water
1 teaspoon Organic vanilla sugar (I have a homemade one)
1/2 teaspoon Organic cinnamon
1/2 teaspoon Organic nutmeg
Directions:
Mix all of the dry ingredients together in your Kitchenaid (or by hand if you'd prefer). Be sure to scrape the edges down and mix again to ensure things are well mixed. Add in the shortening, and the milk/water/substitute.
Either on a flat griddle, or skillet on the stove, heat to medium heat. I personally didn't use any non stick spray, and it worked out well. Using a 1/3 cup scooper, I poured the mix onto the heated surface. After bubbles have formed, flip over the pancake, and when it's done, enjoy!!
Makes 6 pancakes.
I have to say, I was sooooo delighted to have the first pancake. What was even more surprising was that The Papa and the kids all liked them too. For something made of almost nothing, it tasted great.