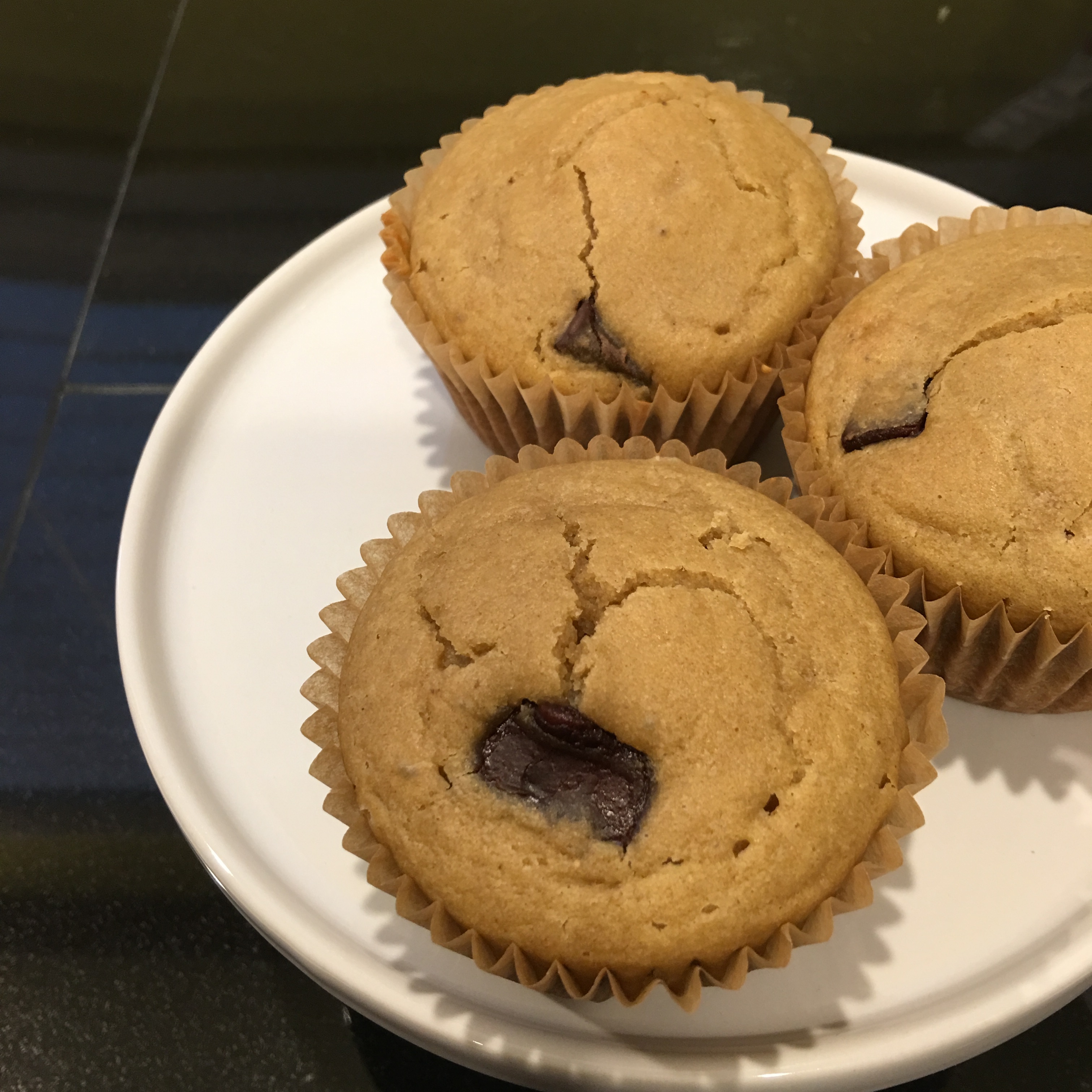 Have you seen these in a store near you lately? I was in the City a few months ago and saw these, read the ingredients, and was very pleased because it wasn't full of junk. However, I didn't feel compelled to purchase it since we already have a go-to recipe of our own. Time goes by, and it hits me. Duh! You're The Allergy Chef. You owe it to the internet to buy this and make the kids eat it so you can write about it on the blog. So, that's why we're here today. Full disclosure: We weren't paid or given this product in exchange for a review. However, it was on sale at the store, if that counts for anything. (yes, still working on my comedy routine)
Allergy Status: Gluten Free, Wheat Free, Dairy Free, Egg Free, Soy Free, Nut Free, Peanut Free, Vegan
In addition to the muffin mix, I also used this as an opportunity to use their mega chunk chocolate chips. In general, I don't use these  often, as the kids seem just happy with the mini chocolate chips that Enjoy Life makes.
Let's start with a little back story. The preparation. I made these on a morning where we had somewhere to be. Truthfully, it was LEGO destination, which is important around here. So, I was a little pressed for time, and I remembered, I had this box!! I preheated the oven, and followed the instructions on the box. It came together SOOO fast, which was perfect for us that day. I also mixed in the mega chunks that I've had on hand for a while. I was saving them for the perfect time, such as this one.
After I baked them (and took the pic), I served them to the kids. Before I get to that part, let's talk about sugar. There was too much for my personal preference, considering we have a low/no sugar kid. The downside for him was that he only got to have one muffin with his vegetables, unlike everyone else. I did save one for him for later, as he knows it's all about distribution of sugar grams. On to the taste.
No one had a bad word to say about these muffins. In fact, they had their faces full and could barely talk about them, hehe. The Papa really liked them, and he often doesn't like gluten free muffins. The kids were all very happy. Our main allergy kid could only tell me that they were great, before asking for more. The crumble rate, and texture were just right. I think chocolate chunks put these over the edge and made them super winners here in the house. The kids even bagged the extras to take as a snack that day.
My final thoughts: if you can afford it, this is a great product. In our case, I don't plan on buying them again. If I didn't hav ea kid that required low/no sugar, I would probably keep a few on hand. If I didn't know how to make this sort of thing on my own, I would order these by the case. For the price you pay, it's really not bad when you think about price per muffin. In a store, you may pay up to $3 for ONE gluten free, vegan, muffin. With this, you get 12 for about $5.50. That's a steal. I'm sure they would also freeze well if you were to give it a try.
Enjoy!