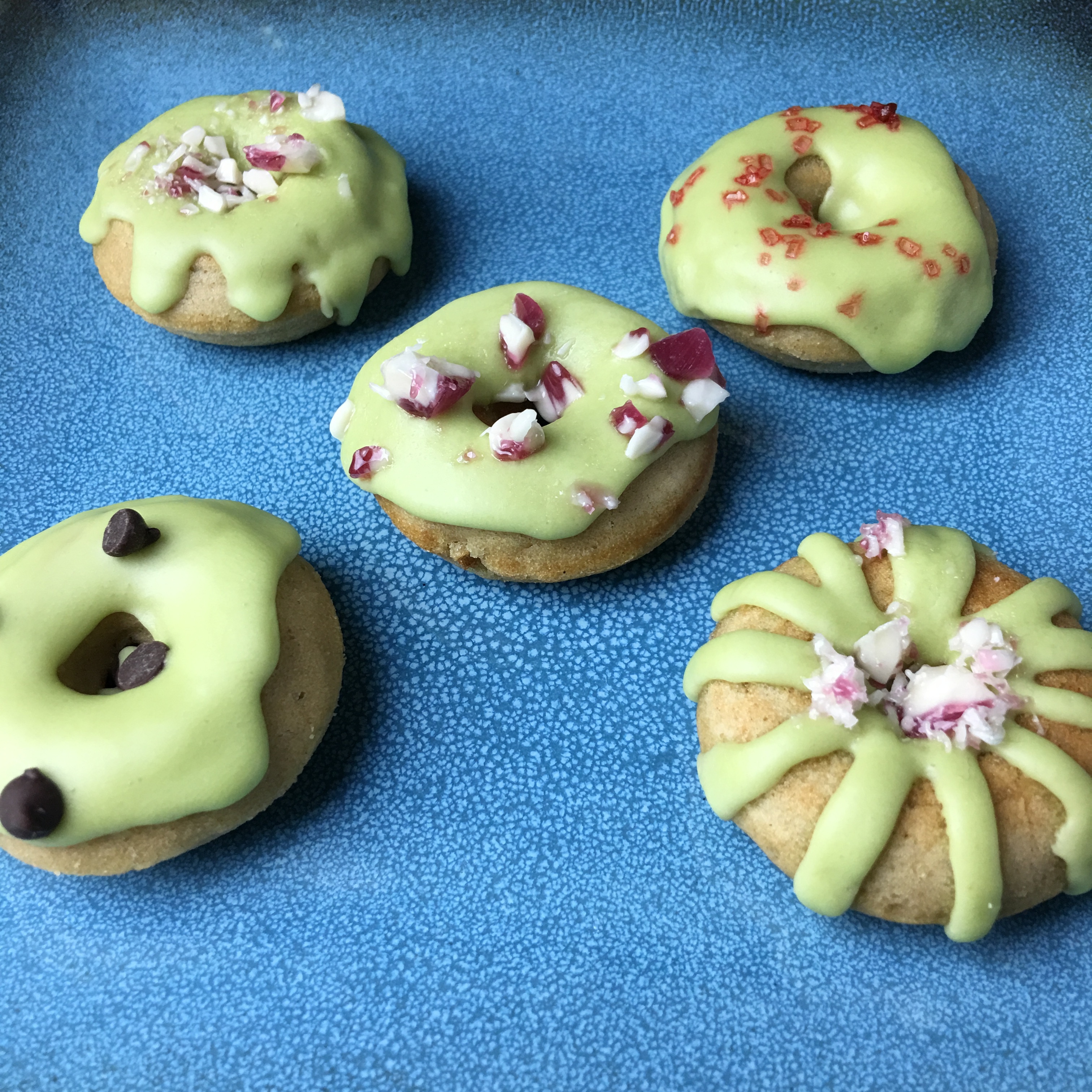 We teamed up with List at Mummymade.it. You can also see her on Instagram, she's @mummymadeit. Before I jump into things, I have to say, it's been quite fun connecting with her online. In fact, the internet is quite amazing like that. For years, it seems like we've been on our own little island, and now that we're try to help people, we're connecting with SO many people who are on the same mission. Here's what really gets me about Lisa: the health factor. The things she makes without cane sugar will blow you away. So, we thought it would be fun to each share a donut, and cookie with you, with a holiday theme. This week, she has created gorgeous Gingerbread Donuts. I personally can't wait to give the recipe a go!
On our side of the globe, we decided to do something totally unconventional. We've created quick pancake donuts. A while back, I was reading how people are using boxed mixes to make all sorts of things, including donuts. Well, there aren't many allergy free mixes available on the market. However, Enjoy Life has recently release a whole line. When they first came out, I decided to pass since we have so many pancake recipes around here. I thought, why am I buying a box of something? Although, thinking back, I should have so the kids and The Papa could make them faster for themselves, lol.
However, when these went on sale, I grabbed a few to try. A while back we shared the muffin mix results with you. The kids loved them. So I thought, what if…
The best part about these is that they sat out for 2.5 days, and everyone snacked on them as they walk ed by. No one ever reported that they had gone stale or dry, which is a huge plus. Kid Two said they really do still taste like pancakes. Kid three says they taste like donuts. I'll let you be the judge.
Allergy Status: Gluten Free, Wheat Free, Dairy Free, Egg Free, Soy Free, Nut Free, Peanut Free, Vegan
Ingredients:
1 Box Enjoy Life Pancake Mix
Olive Oil + Water (as per the box)
Non-Stick Spray for cooking
1/4 cup Water
3 tsp Organic Vanilla Extract
For the Glaze:
Organic Powdered Sugar (4 cups/1 bag)
5 – 8 TBSP Water
Natural Food Coloring (we use India Tree, but you can make your own)
Sprinkles (India Tree and Color Garden both make natural versions)
Chocolate Chips
Organic Candy Canes
Here's the best part of this: It's easy. We wanted to test it out to see if it's something that would be really fun for little kids, and we found that it's fast paced enough, yet easy enough, to be a great hands on holiday activity.
Start by mixing your water, oil, and pancake boxed mix together. I opted to add an additional 1/4 cup of water to have a thinner texture, as well as vanilla, in hopes to mask the pancake flavor. Perhaps if we had added an additional flavoring agent, such as peppermint, or even a little cacao powder, Kid Two wouldn't have been thinking pancakes.
Once you have your mix ready, cook your donuts as your normally would. We have a little Baby Cakes donut maker that has served us well for years. After making a mountain of donuts, mix your glaze. Combine the sugar and water. Start with 5 Tablespoons, then add in the rest as needed, 1 tablespoon at a time. You will know how thick or thin you like your glaze. I used the full 8 Tablespoons.
Finally, it's time to decorate!! Pipe glaze on to your donuts, then top with sprinkles, crushed candy cane, and chocolate chips. Have FUN!!