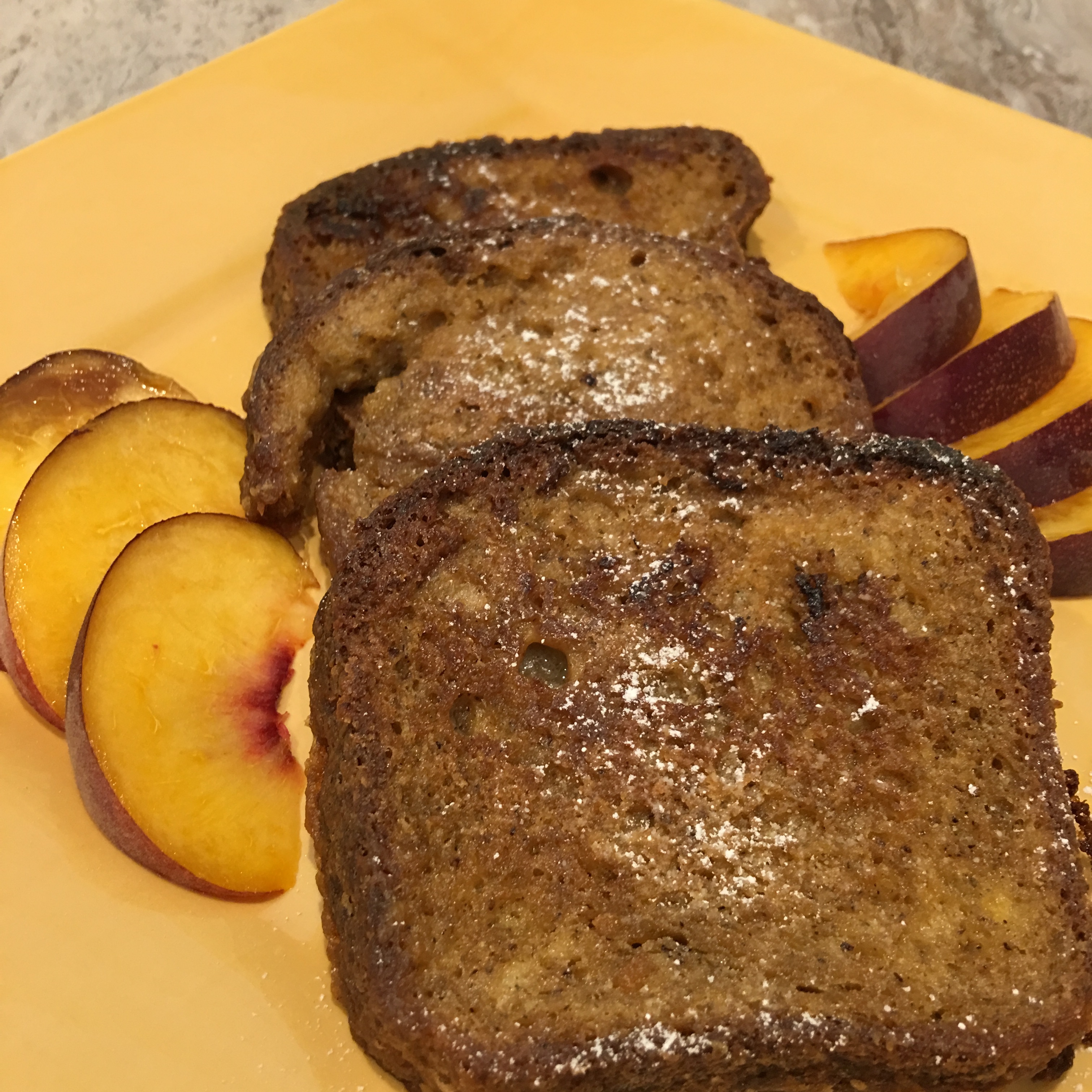 There are times when I sit and think about all of the things I kind of miss, in theory. I love the idea of a sticky, gooey, yet crispy in the right places French Toast. I use to make those for the kids, but they were so young they couldn't truly appreciate it. Then there was the wheat allergy, no big deal, we can still rock French Toast. Then there was the egg allergy. I haven't even thought about this in years. Enter Follow Your Heart Egg Substitute. It's really cool, and well-engineered. I recognize that it's a series of gums, and there's probably a good dose of corn derivatives in there too. However, they were able to make it smell like (slightly rotten) eggs! It's nothing short of a kitchen miracle.
When I first saw the product, I didn't bother, thinking it would be super corny and just be another reason to have to wear the mask. Then one day, I got brave enough to read the package, and they claimed that it made "Eggs" and I had to really think about it. I took the plunge and bought a pack, and sat on it for a while. I do that with corny things sometimes, like, do I reeeaalllyy need to try this product on the kids? Well I'm glad I did because they hated it. No really, they did. I followed the instructions, and they were like NOPE. I won't lie, it looked a bit strange as well. Yet, I give HUGE kudos to F.Y.H. because they did a great job on the product.
So then, why didn't I toss it and call it a fail? Potential!! Every product (and font) has a least one perfect use. We found it. In fact, this product has two perfect uses: as an egg replacer in cake, and as an egg replacer in French Toast!!! Needless to say, we keep several packs on hand at all times. I would hate to run out of these now 🙂
My final thoughts before sending you on your way: This was the first time that Kid Two was able to have French Toast in years, and he was totally over the moon in love with it. Enjoy!!
Allergy Status: Wheat/Gluten Free, Dairy Free, Egg Free, Soy Free, Nut Free, Peanut Free, Cane/Refined Sugar Free, Sesame Free, Legume Free, Nightshade Free, Low Histamine, Diabetic Friendly, Paleo, GAPs, Vegan
The dip ingredients are quite universal. You will all need to purchase or bake the bread that's right for you.
Dip Ingredients:
2 TBSP Follow Your Heart Egg Replacer + 4 TBSP Water
2 tsp Organic Maple Butter
1 tsp Organic Vanilla Extract
1/2 tsp Organic Ground Cinnamon
dash Organic Ground Nutmeg
pinch Sea Salt
If you CAN have Eggs: Use 2 organic eggs and leave out the replacer and water. Everything else is the same.
If you CANNOT have FYH: The real goal of this French Toast recipe is to have golden crisp bread that's delightfully seasoned. Another simple combo to create an egg replacer is a flour/starch of your choice + nutritional yeast + water.
Cooking Ingredients:
Safe Butter of Choice (we used Earth Balance Dairy Free)
Safe Bread of Choice (We used Happy Campers)
Directions:
Start by preheating your oven to 375, and line a large baking tray with parchment. You will be baking the bread after you pan fry it. To prepare your dip, start with the egg replacer and water (or eggs). Mix with a fork, or small whisk, then add in all of the other ingredients, and mix until smooth. At this point, you have two choices: soak all of the bread at once in a large baking dish for about 10 minutes OR dip the bread quickly before adding it to the pan.
I've read that soaking is a great option. First, we didn't have that kind of time. Second, I hesitate soaking gluten free breads, as you never know what you're going to get. In the end, I'm glad I didn't. Back to the cooking.
Preheat a large non-stick pan on medium-high heat and add your butter. I used several tablespoons, as I wanted these to be really rich. Place your bread into your dip mix, and using a fork, flip it over so both sides are coated, then transfer to your hot butter. Do this quickly for several slices of bread. Allow the bread to cook on both sides, until it's browned slightly. Transfer to your baking tray and bake at 375 for 8 minutes. Be sure to slice fruit and dust with powdered sugar for a picture perfect dish 🙂