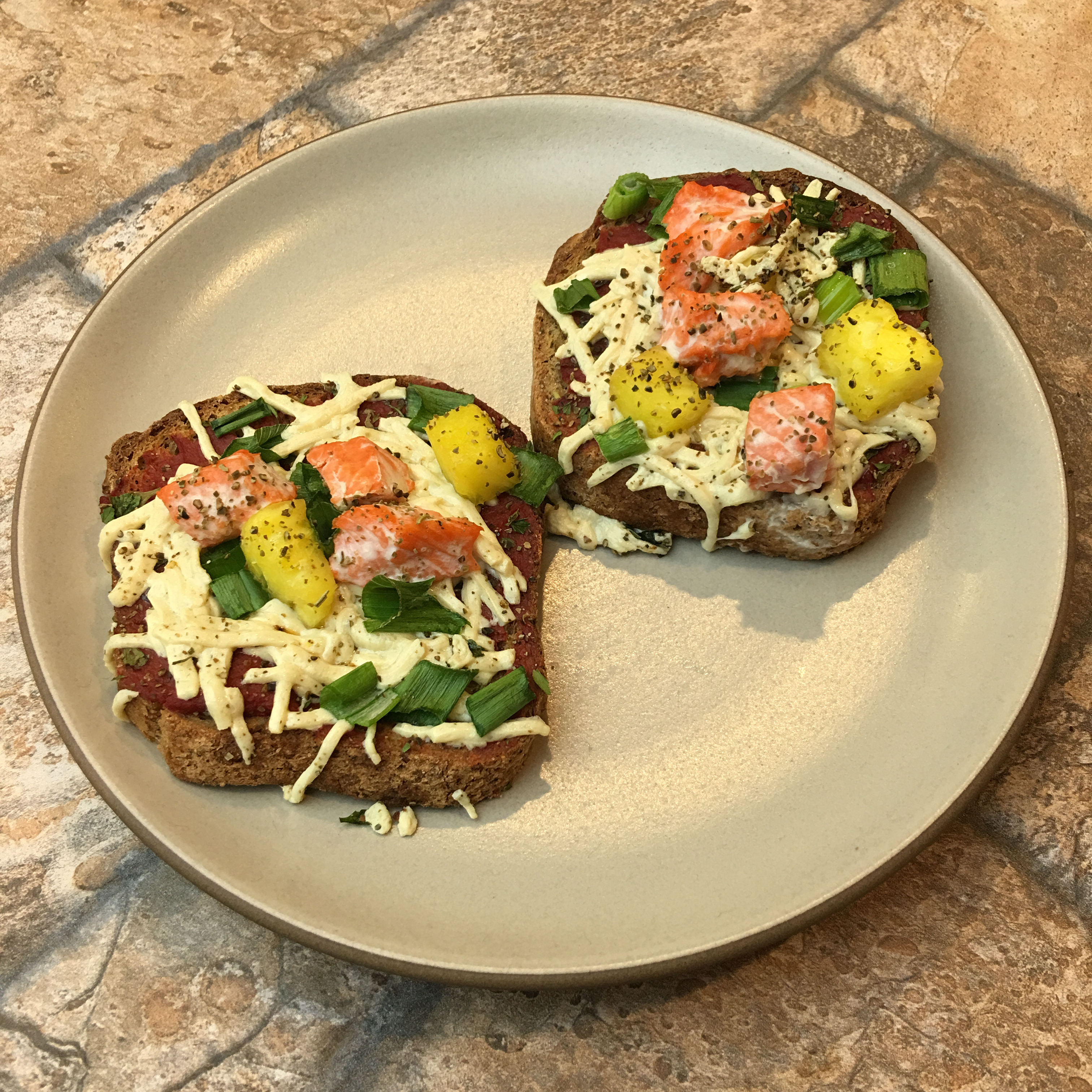 What do you do when there's no pizza dough thawed? You make Pizza Bread! We've gone through a lot of gluten free bread options like many others I'm sure. As of late, we've settled on Happy Campers Gluten Free Bread. You'll notice in the pictures that not all slices are created equally in presentation, however, that hasn't stopped Kid Two from enjoying it. You may recall that we've talked about this bread in the past. He doesn't love it, and isn't super excited about sandwiches, but really likes having it when it's made into something fancy such as garlic bread, cheese bread, open tuna sandwiches/melts, and of course, pizza bread. Oh! And French Toast too. We use to use Udi's, until we learned about his egg allergy, then simply went cold turkey for a very long time. We knew there were a few others, the brown rice bread, Ener-G bread, and more, but none of them ever came close to a traditional bread. Yet, I am SO thankful there are companies out there trying!
Happy Campers makes a few flavors, but we get the simple one. The quality of the ingredients is great, however, the size of the bread is rather small. It's the price we pay… figuratively and literally. One of these days, I really am going to try my hand at bread making. Until then, it's Happy Campers. On to the Pizza Bread.
Allergy Status: Gluten Free, Wheat Free, Dairy Free, Egg Free, Soy Free, Nut Free, Peanut Free, Cane/Refined Sugar Free, Diabetic Friendly
Ingredients:
Happy Campers Gluten Free Bread
Organic Tomato Paste
Sea Salt
Organic Dried Parsley
Organic Dried Oregano
Braggs Organic Sea Kelp Sprinkle
Daiya Dairy Free Cheese
Organic Pineapple, small cubes
Wild Salmon, medium cubes
Organic Green Onion, chopped
You'll notice that nothing is measured. That's because this is a sprinkled recipe. You know, where you put a little of this and a little of that. Start by spreading tomato paste on your bread, like you would butter. You can make it as thick or thin as you'd like. Sprinkle on salt, parsley, and oregano. Next, add your cheese, then top with salmon cubes, pineapple, and green onion. Finally, sprinkle a little Braggs Sea Kelp Sprinkle and boom! You're ready to cook.
Bake the Pizza Bread in the oven at 425 until the salmon is cooked. It's OK if it's a little under cooked because you'll want to finish it off with your broiler on high. This will melt the cheese a bit more. This may not be the prettiest meal you've ever made, but it will be mighty tasty. Enjoy!!