We shared this amazing recipe on RAISE a couple of weeks ago, and wanted to share here as well 🙂 I have an awful confession to make: It's taken me more than 18 months to share this amazing gluten free recipe. Normally, something like that wouldn't get to me, as we literally have hundreds of recipes we haven't shared yet (working on it, I promise). However, this gem is nothing short of AMAZING! If any of you grew up with banana pudding as a child (the kind with the Nilla cracker/cookies) you'll know how magical the taste is. It dawned on me one day that one of our kids (actually all of them) had NEVER been graced with the flavor. After realizing it, and seeing how many wheels I'd have to reinvent, I put it on a back burner. Over a year later, enter Condensed Coconut Milk. At the time, it was a new product. Simultaneously, Home Free Treats also came out with a new cookie. By their powers combined, I was able to recreate something that, well, I will forever be in love with. People ask what foods I miss, and usually, I don't miss any. This dear friends is one dish I'd love to go back into my childhood and eat. So, without further story time, I present you with gluten free, dairy free, vegan, allergy friendly banana pudding!!!
Allergy Status:
Wheat/Gluten Free, Dairy Free, Egg Free, Soy Free, Peanut Free, Yeast Free, Sesame Free, Legume Free, Nightshade Free, Allium Free, Vegan
Before you send the Sugar Police after me, I would like to say, in my own defense, this is SO a dessert and should be eaten in moderation 🙂
Pudding Ingredients:
21 ounces Organic Condensed Coconut Milk
1/2 – 3/4 cup Organic Sugar (to taste)
1/4 cup Superfine Sorghum Flour, packed
1/4 cup Organic Oat Flour, packed
2 tsp Organic Vanilla Extract
1.5 tsp Xanthan (cabbage derived)
1/4 tsp Sea Salt
Pudding Directions:
For this recipe, you'll need to use a double boiling method. Given the amount of ingredients, the easiest way to do this is to bring a pot of water to a boil, and use a large glass bowl as the top section of your "double boiler". Once your water is boiling, add the condensed milk and sugar to your glass bowl and whisk together. When the sugar has completely dissolved, add in all of the other ingredients and whisk like mad. A thick pudding will form. Once formed, remove from heat and set aside for assembly.
Banana Ingredients:
3 TBSP Dairy Free Butter
2 large Organic Bananas
3 TBSP Organic Dark Brown Sugar
1 tsp Organic Vanilla Extract
Banana Directions:
Peel your bananas and cut them into small pieces. I like to cut them in half lengthwise, then into three long strips, then into small cubes. Once cut, heat a pan on medium heat and melt your butter. Once melted, add your bananas. Cook for 10 minutes, stirring regularly to prevent burning. Next, add the sugar and vanilla. Continue to cook and stir regularly until you have a glorious heap of caramelized bananas. Set aside for assembly.
You'll Also Need:
Home Free Treats Vanilla Cookies
2 large Organic Bananas
Chocolate of Choice (optional)
To Assemble:
I opted to build this like a parfait, rather than the traditional method. In a large freezer baggie, crush your cookies. See the photos for the size you're aiming for. Layer in your pudding, cookies, and caramelized bananas. Alternate layers as you see fit. Top off with drizzled melted chocolate and fresh banana slices. Once you have your parfaits assembled, technically, you can eat them warm. I'd personally suggest you chill them in the fridge before serving. The kids loved them both ways, and me, all I could do was eat the memory of banana pudding in my head. One day dear friends, I'll figure out a corn free version of this 🙂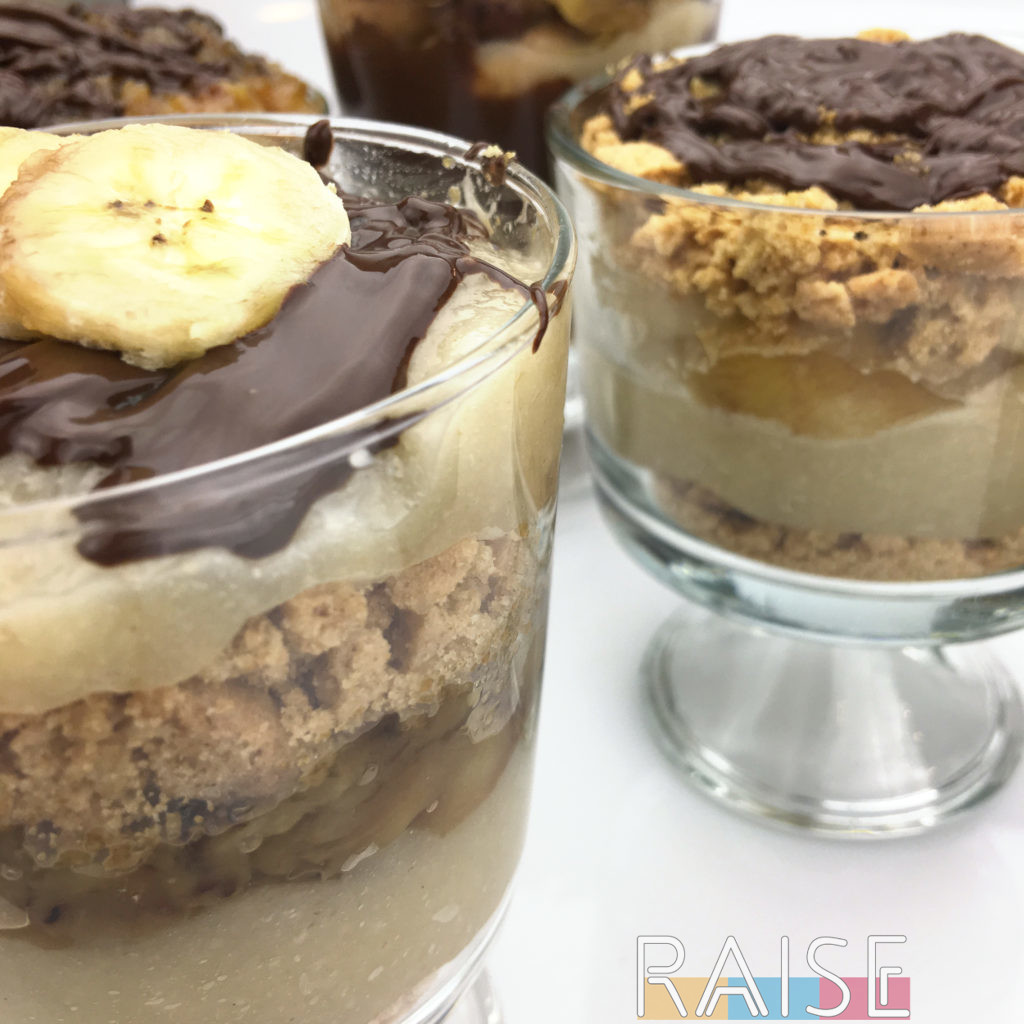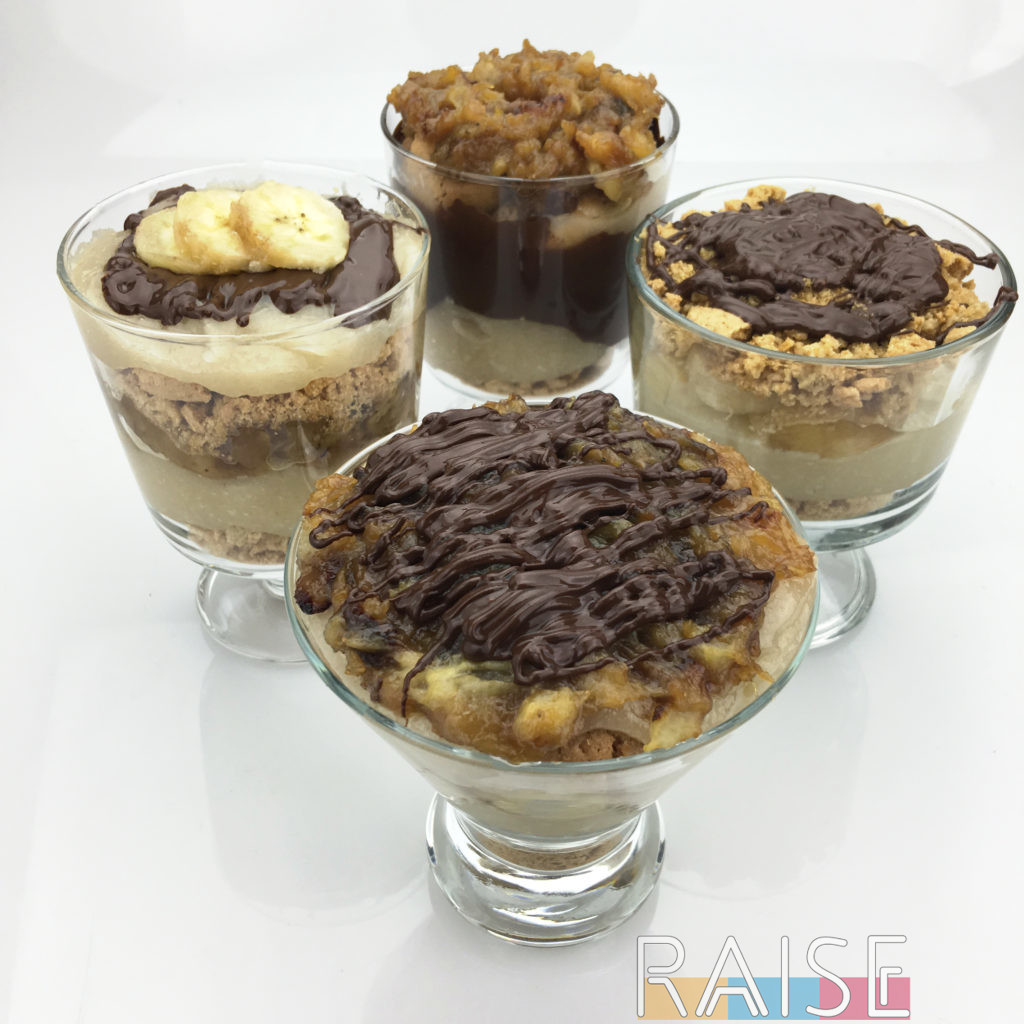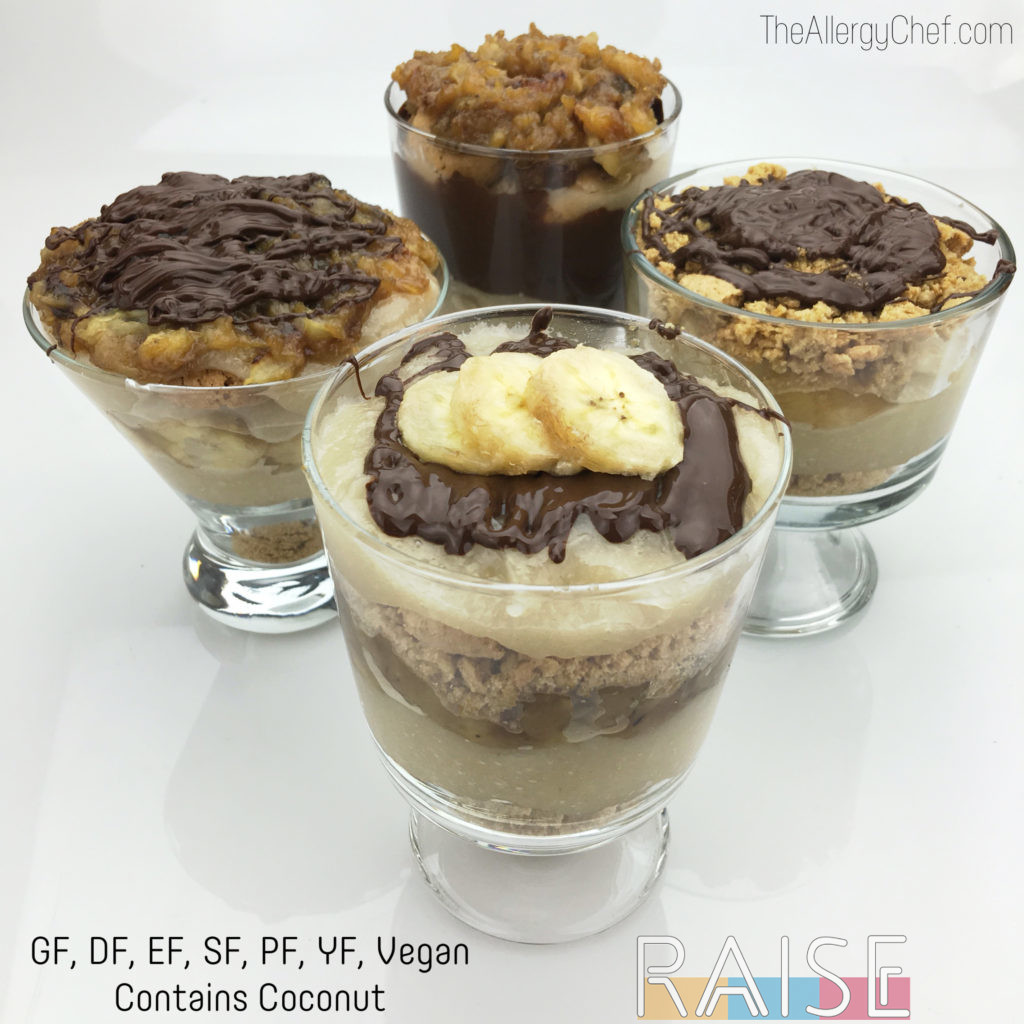 Our Corn Free Cookbook (also Gluten Free and Top 8 Allergy Free) Is packed with recipes and resources to help you thrive when living with a corn allergy, and/or multiple food allergies. Kathlena, The Allergy Chef, is a severe corn allergic, giving us the unique ability to write a book that's accurate. No corn derivatives, no xanthan gum, and all the details you need to enjoy life as a corn allergic.