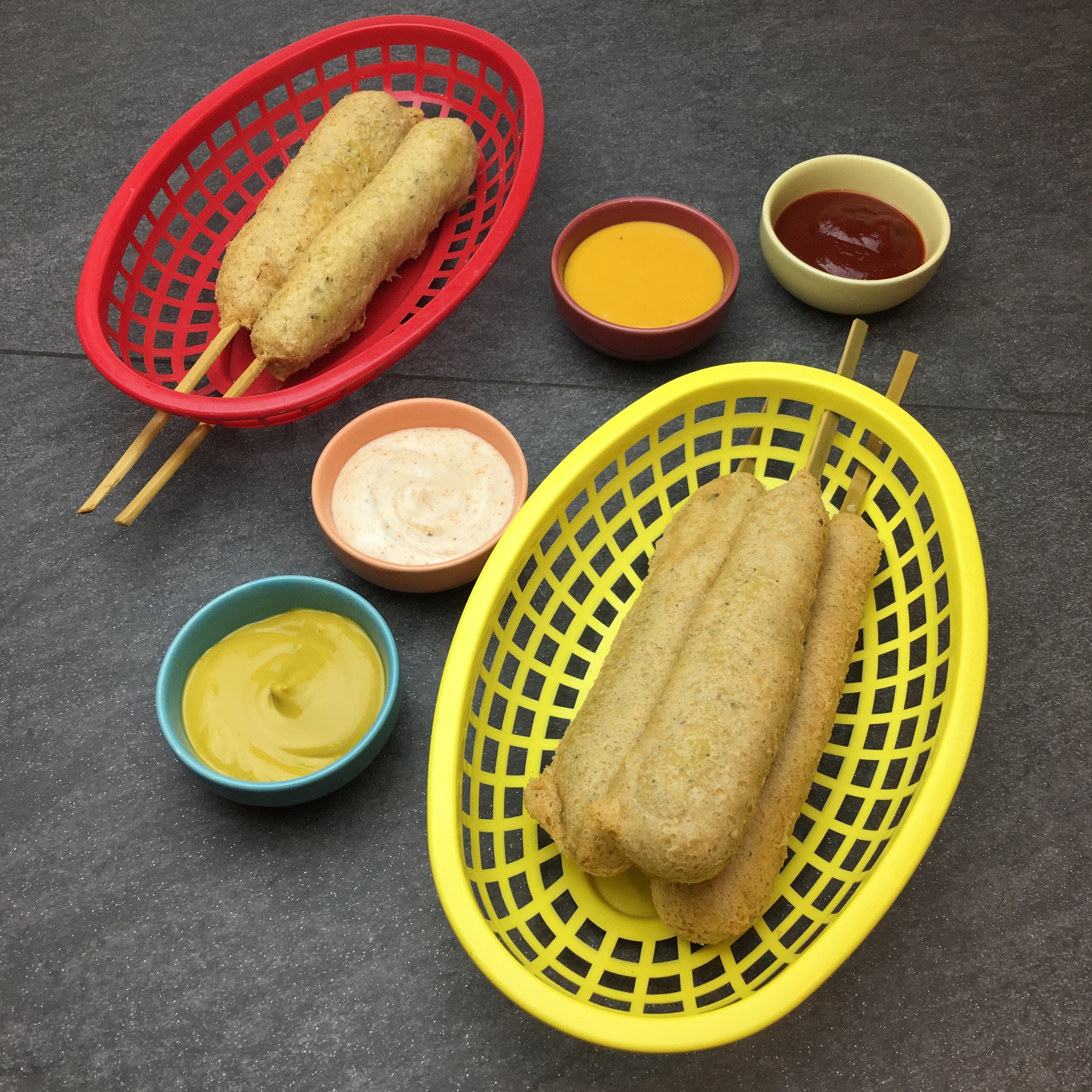 Recipe: Gluten Free, Beef Free, Corn Free, Corn Dogs!!!
Do you hear that friends???!!! It is truly the sound of success!!!! You see, back in the day, before we knew about the wheat allergy, the kids would often eat corn dogs. There's a gluten free one made by Applegate, but, it's beef based. So, our allergy kid hasn't had corn dogs in may years. So, on day, I was online and saw a Tasty Video, and that's when it hit me. I could make him a corn dog. It was like the clouds above had opened and angels were singing. I kid you not, there was so much singing and dancing and giddy all around joy in the kitchen when we made these. In addition to this post, we're working on a video for the Youtube Channel 🙂
Allergy Status: Wheat/Gluten Free, Dairy Free, Egg Free, Soy Free, Nut Free, Peanut Free, Yeast Free, Cane/Refined Sugar Free, Sesame Free, Legume Free, Nightshade Free*, Low Histamine, Diabetic Friendly, Corn Free Compatible
*The Hain baking powder uses potato starch instead of corn starch.
For Corn Free: Source safe ingredients. You may need to shape safe meat into a hot dog shape for frying.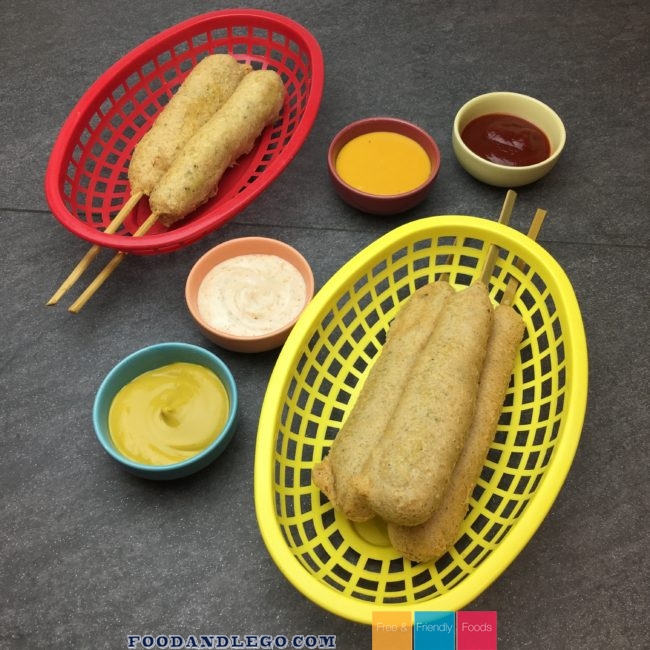 Ingredients:
1 cup Sorghum Flour
1 cup Millet Flour
1/2 tsp Xanthan (Authentic Foods, cabbage derived)
1 tsp Sea Salt
pinch Organic Ground Black Pepper (to taste)
1 tsp Organic Dried Parsley
4 tsp Baking Powder (Hain brand)
2 cups Organic Milk of choice
3 TBSP Follow Your Heart Vegan Egg replacer + 7 TBSP water (For CF, use any safe egg substitute that you like)
You Will Also Need:
Organic Oil for Frying (we used Extra Virgin Olive Oil)
Skewers
Optional: a few tablespoons Organic Maple Sugar. The Papa says that the maple gives it a more traditional taste. However, if you do this, you'll need to add a little more liquid to reach the desired consistency.
Directions:
Start by cutting your skewers to size if needed. Ours were too long for the pan. Next, place them in the hotdogs, then freeze them for up to 20 minutes. Although this step isn't totally necessary, you may have better results given the free-from nature of this recipe. While the hotdogs cool, combine all of your dry ingredients, then mix in the wet ingredients. Once mixed, pour your batter into a tall glass. In a large non-stick pan, heat your oil for frying. We set ours to 375. Dunk and completely cover your hotdogs in the batter, and place them in the hot oil. Allow them to cook for several minutes on both sides, until golden brown. When you remove them from the oil, place them on paper towels to soak up excess oil. HOW COOL IS THIS?!
Want to make some sauces? Here's how.
We used organic ketchup and organic mustard as two sauces. The light red sauce is vegan mayo with organic smoked paprika, a touch of maple sugar, and sea salt. Our cheese sauce is Daiya cheese heated with a splash of milk, and a dash of pepper, melted into a sauce format.
PICTURE TIME!! Can you tell I'm so excited about this????