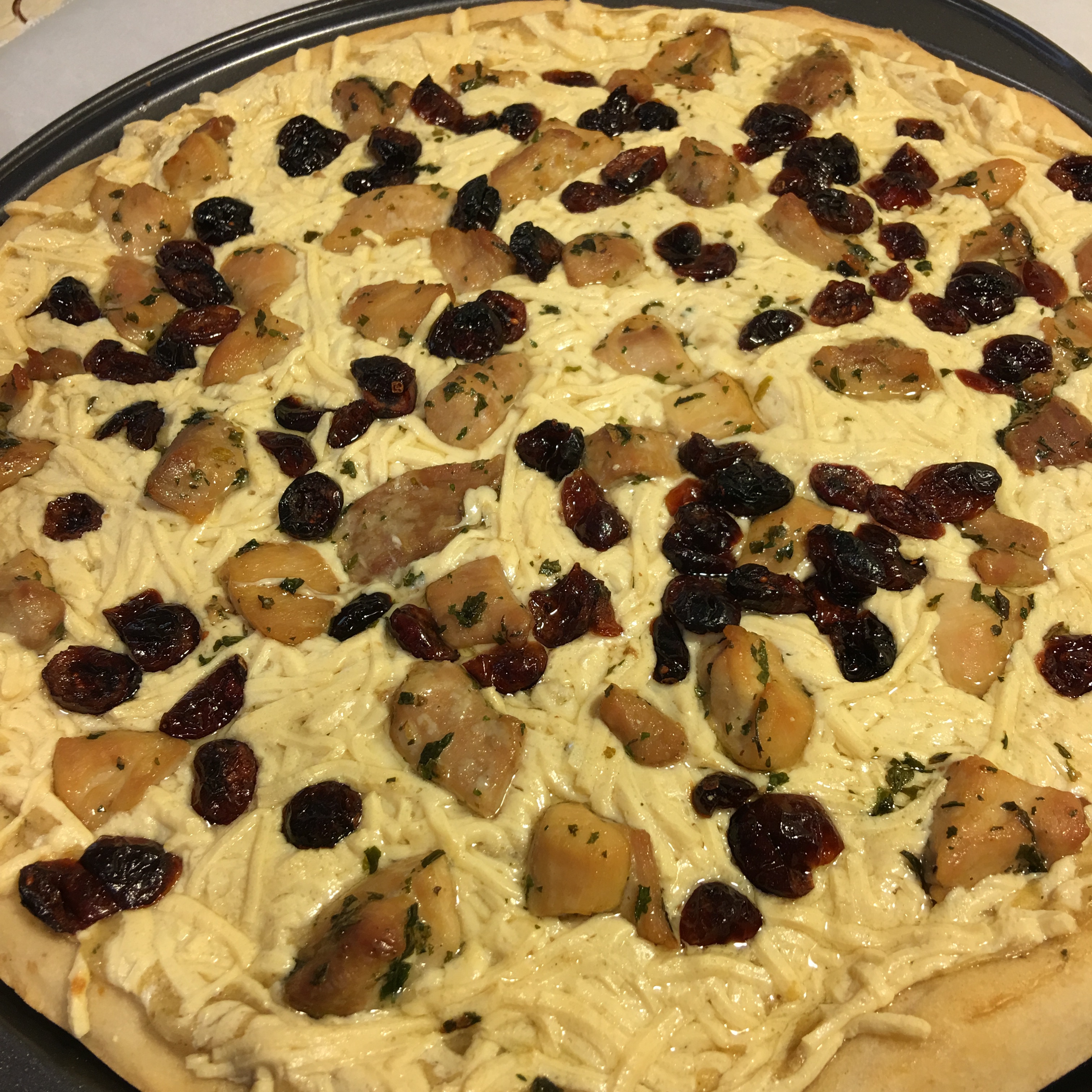 It's Friday! I don't know about you, but I always have this "happy let's party" vibe on Friday mornings. I usually end up making pizza to celebrate. The kids have come to love Friday lunches, and for good reason. Have you seen the other mashed potato creations this week? There were Mashed Potatoes Done Two Ways, and Potato Soup. Well, with the soup leftovers, we made pizza. Kid Two asked me while we worked on the soup if it would be a good idea to ass mashed potatoes to a pizza. Then he said, never-mind, too many carbs. I thought about, and said that because our soup was a little on the pasty side, rather than runny, we could try to use it as a sauce. When ever the kids come up with an idea like this, I try to encourage them by finding a way to make it work. I think it's something all Food Allergy Parents should try to do, assuming they don't already. Allergy Kids are just that – kids. They have to live a long lengthy lifetime, so it's good to train them young to think outside the box. If we can give them a joy for cooking, baking, and all things kitchen related, it will allow them a greater sense of independence when they're older, and will also help make sure they don't go hungry. Or get caught in the dreaded trap of being bored from eating the same few meals again and again.
Allergy Status: Gluten Free, Wheat Free, Dairy Free, Egg Free, Soy Free, Nut Free, Peanut Free, Diabetic Friendly
A little note: a lot of our recipes are cane/refined sugar free. The Wholly Wholesome Pizza Dough has a small amount of cane sugar. If you're GF, DF, EF and need a pizza dough without cane sugar, you can get the Sunny Day Foods Rice/Potato dough, or opt to make your own.
Ingredients:
1 Wholly Wholesome (Top 8 Free) Gluten Free Pizza Dough
7.5 TBSP Organic Potato Soup
1 bad Daiya Dairy Free Cheese, White
16 ounces Organic Chicken Thigh
3 TBSP Dairy Free Butter
1 tsp Sea Salt
2 TBSP Organic Maple Sugar
2 tsp Organic Dried Parsley
dash Organic Sage
Organic Cranberries (optional)
If you haven't got any leftover Mashed Potato Soup, make some of that first before making your pizza. Cut your chicken thigh into bite sized pieces. I choose to trim the excessive fat as well. Heat a medium non-stick pan on medium-high heat. Add your butter, and once melted, add your chicken thigh pieces. After the first minute, add in all of your seasonings. Cook for a total of five minutes. The chicken will be underdone, and that's OK, because it's going to finish cooking when the pizza is in the oven.
Roll out your pizza dough. If you don't have a nice pizza pan, I strongly suggest you get one. We use to think it was no big deal to bake pizza on baking sheets. Boy were we wrong. Once we got the pan, not only did the pizzas look MUCH better, but Kid Two says they taste better, and the crust/dough behaves differently. We opted to get one that has the holes in the bottom "for better baking". He likes it the same on the pan with holes, and the one without.
After you roll your dough, add the potato soup as the sauce, and spread it all over. Next, add your cheese evenly to the top. Add the cooked chicken and cranberries. Bake for 18 – 20 minutes at 425. If you would like the cheese to brown and be more bubbly, bake for 16 minutes, and finish with your oven's broil setting, but keep a close eye on it. Enjoy!!