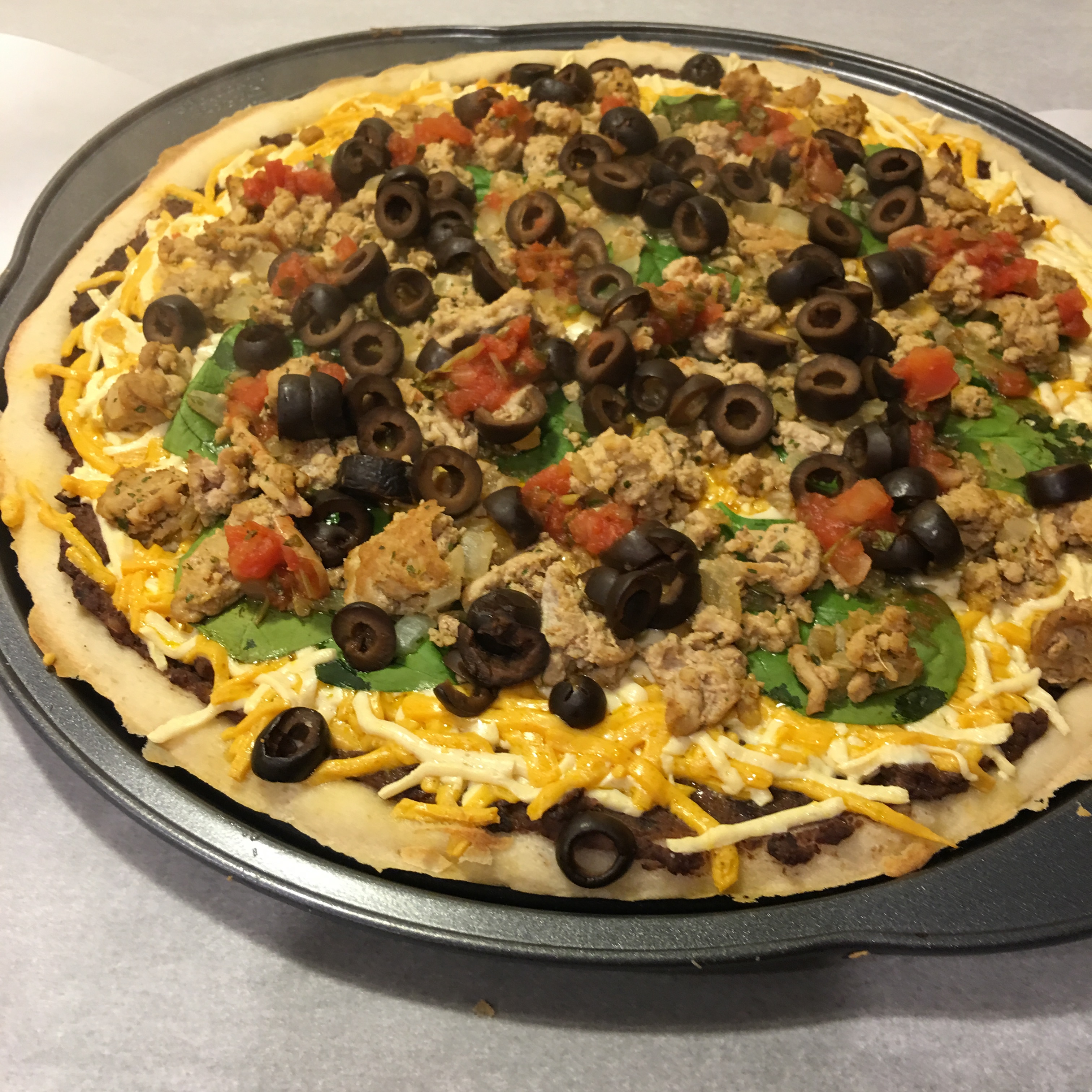 Do you ever find yourself just saying things that sound totally bizarre to your kids (if you have any)? I do it all the time. "Hey guys! What do you think about making *insert something strange-sounding here*" They pause and think, and either agree with enthusiasm, or go straight for the nooooooooooo. This was one of those times. This time, I got a huge green light. We often make tacos around here, but without shells, because of corn. The kids will eat them on tortillas/wraps, and everyone is happy. We also make what we call Taco Boxes for lunches and road trips. This pizza idea however was totally new, but I figured, it's like a super giant taco! In the end, it turned out to be one of their favorite new pizzas that I've made, so here it is.
Allergy Status: Gluten Free, Wheat Free, Dairy Free, Egg Free, Soy Free, Nut Free, Peanut Free, Diabetic Friendly, Yeast Free Compatible, Refined/Cane Sugar Free
For Yeast Free and Cane Sugar Free: Use a home-made pizza dough, or use Nature Highlights Rice & Potato Pizza Dough. Wholly Wholesome uses a small amount of cane sugar in the dough, and it is a yeast based dough.
Before we start, I want to let you know that there's enough beans and meat here for two pizzas.
Beans:
2 15 ounce cans Eden Organic Refried Black Beans
4 TBSP Organic Maple Syrup
3/4 tsp Sea Salt
Heat a medium pot on medium heat, and empty the contents of the cans into your pot. Make sure you get the liquid bit at the bottom of the cans. Add your maple syrup and salt, and stir. It's very hard and chunky at first, but then it will get easier. Once the beans are smooth and hot, turn off the heat and set aside.
Meat:
10 ounces Organic Onion, diced
1.5 pound Organic Ground Turkey
1.5 tsp Simply Organic All Seasons Salt
1 tsp Organic Dried Parsley
Heat a large non-stick pan on high heat, and cook your meat. I don't add oil or butter. Break the turkey into small pieces as it cooks. When it's about half way done, add your seasonings. Continue to cook until the meat is fully cooked.
Additional for Assembly:
Cheese of Choice (we use Daiya Dairy Free Cheese Shreds)
Spinach
Sliced Olives
Salsa
Start by rolling out your dough. We have a nice pizza pan with holes on the bottom. As I've shared before, the pan makes a HUGE difference. If you plan on making lots of pizzas for yourself, please, I beg of you, for all that's good, right, and true in the world, please get a nice pizza pan. OK, once your dough has been rolled, spread the beans as you would a normal sauce. Next, add your cheese. We opted for a blend of yellow and white mainly because Kid Two loves the yellow cheese more than the white. I also figured it's more traditional with a taco. Finally, load up on all of the other toppings. Bake at 425 for 19 minutes, and enjoy!!