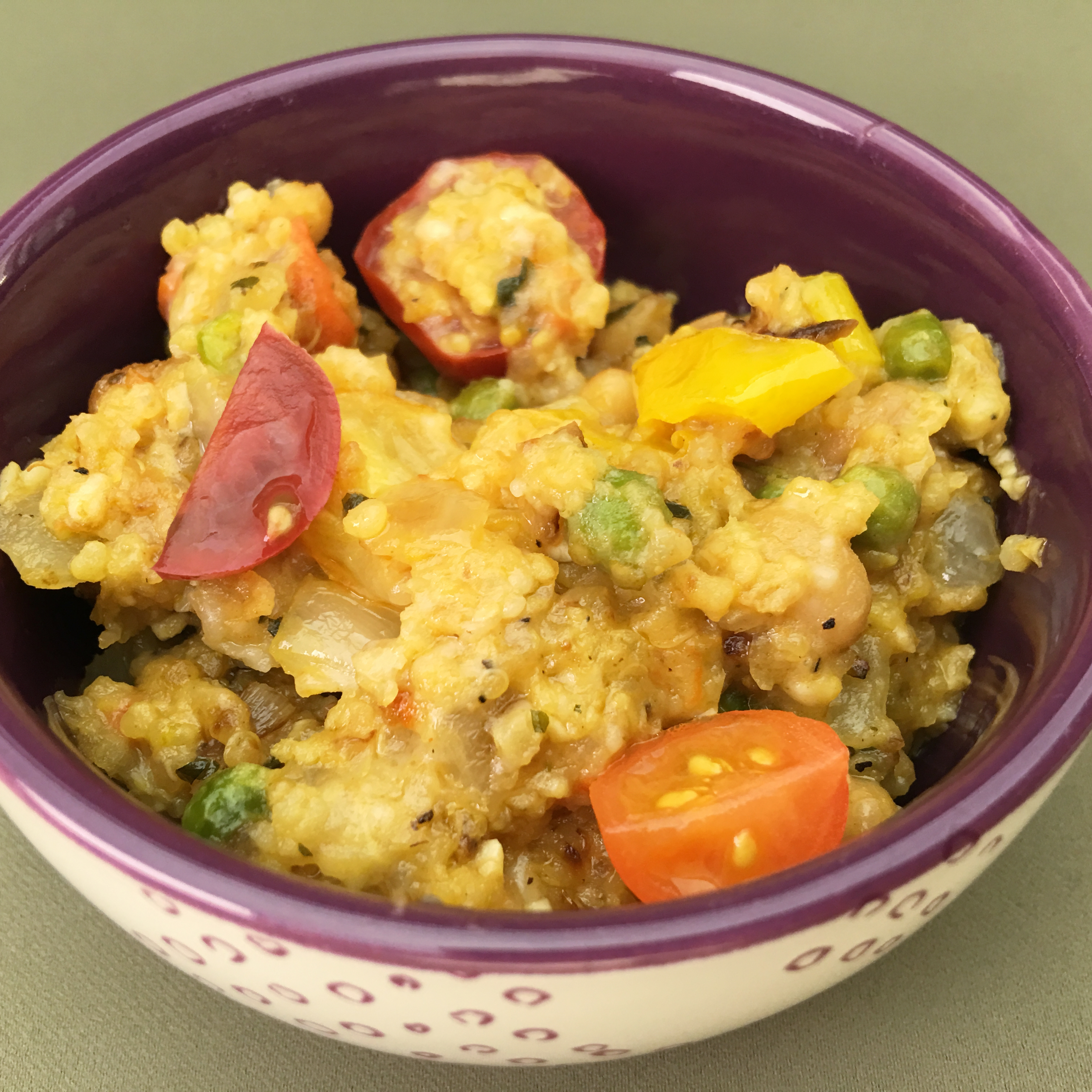 Can I just start by saying how much I LOVE Hilary's Eat Well? If you have food allergies, are vegan, corn free, top 8 free, diabetic, or low-histamine, this is a company you need to know all about. They have a wide range of products (and the ranch dressing is bomb dot com) for people to choose from. During the Food Allergy Awareness Expedition, we had the pleasure of visiting the Hilary's factory and they gifted us so many products, including the Millet Medleys, which was new at the time.
Once we were back home (and very settled), I started thinking about all of the cool ways you could use the new products. I decided I wanted to create a breakfast recipe, which in my opinion really highlights the convenience of the new line. Breakfast can be a tough meal to create, especially if you follow a special diet (or are short on time), so the more recipes we can pull from- the better.
Here's what I love the most about this recipe: it uses whole food ingredients, and is very clean. It's the kind of meal you can serve up quickly, and smile knowing that you've delivered nutrition to your family.
Allergy Status: Wheat/Gluten Free, Dairy Free, Egg Free, Soy Free, Nut Free, Peanut Free, Cane/Refined Sugar Free, Diabetic Friendly, Vegan
Legume Note: The FYH has chickpea miso. Vio Life is also vegan but contains coconut. However, the Hilary's Millet Medley contains white beans and peas. If you want to make something similar without legumes, visit the Hilary's Medley page to get an idea of the ingredients so you can make a version that's safe for you.
Ingredients:
2 ounces Dairy Free Butter
6 ounces Organic Onion, diced
2.5 tsp Organic Garlic, finely chopped
1/2 pint Colorful Grape Tomatoes, halved
2/3 container Follow Your Heart Dairy Free/Vegan Parmesan Cheese
1 Hilary's Traditional Herb Millet Medley (Blue Pack)
A note on the cheese
If you haven't tried the Vio Life, give it a try if you can. I personally like that the ingredient list is significantly shorter on their product when compared to FYH. However, we have a coconut allergy in the house, so it isn't a product we can use regularly. Those in our household that can have dairy seem to enjoy the FYH Parm, and our kids that can have dairy also enjoyed the Vio Life.
Directions:
On medium heat, melt your butter in a non-stick pan, and add the onion. Cook for 5 minutes with minimal stirring. Next, add the Hilary's pack and garlic. We did not thaw the Millet Medley. Stir as needed, and when the Millet Medley is mostly cooked, add the tomato halves and Parmesan. Mix everything together as the cheese melts and boom, breakfast is ready.