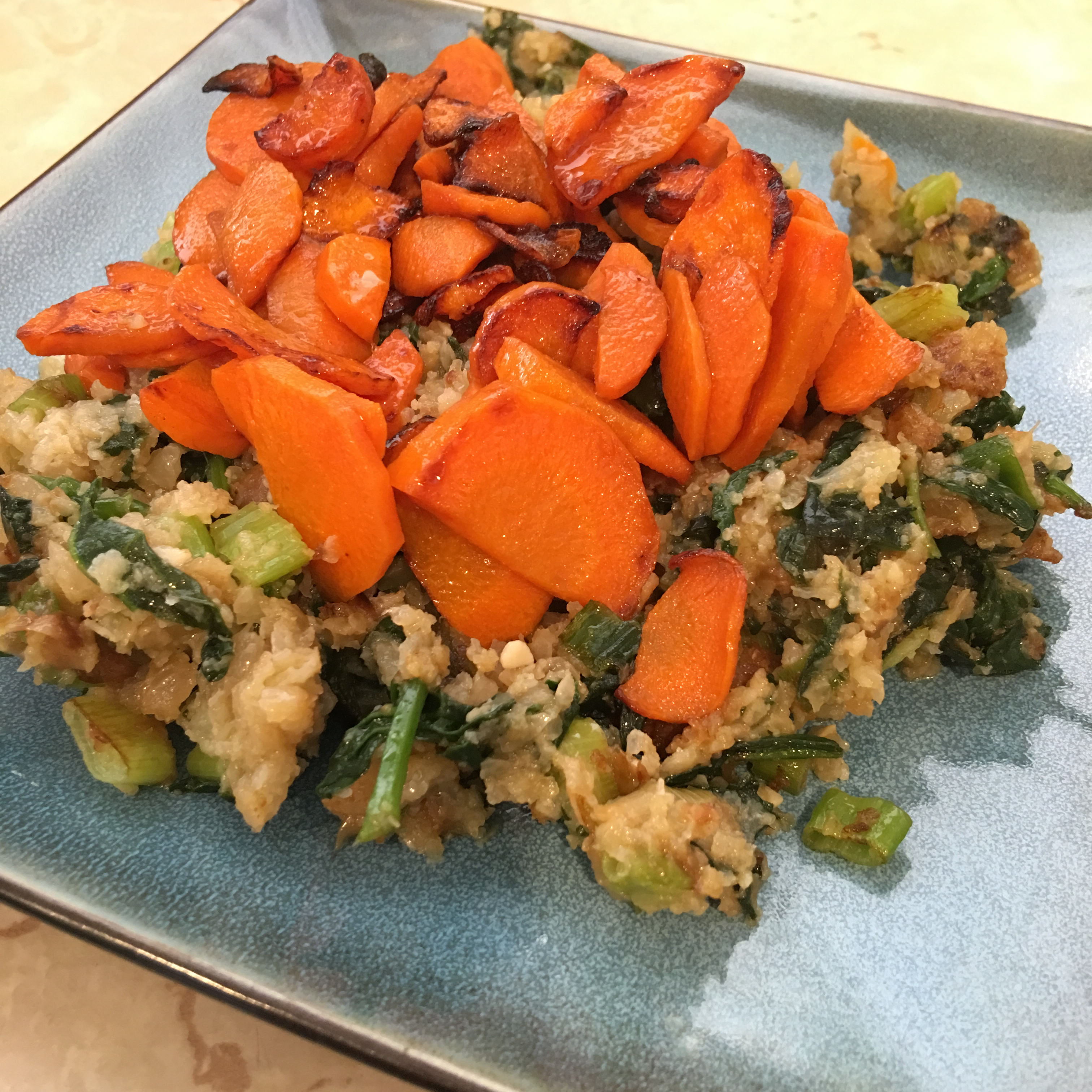 Organic Carrots & Cauliflower Cookup Recipe
In need of a quick healthy lunch? This should meet your needs. Kid Two and one of the cousins were need of a nice lunch, and I needed to take a picture of something… anything. So I made them this. The Cousin is trying to go Paleo right now, so I've been showing them how to come up with different, quick, easy meals to make while away at college. This one went over well, and came together quickly, exactly what's needed when away from home.
Allergy Status: Wheat/Gluten Free, Dairy Free, Egg Free, Soy Free, Nut Free, Peanut Free, Yeast Free, Corn Free, Cane/Refined Sugar Free, Sesame Free, Legume Free, Nightshade Free, Diabetic Friendly, Paleo, GAPs, AIP, Vegan, SCD Compatible, Low Histamine Compatible
For SCD & Low Histamine: Omit the balsamic vinegar.
Ingredients:
1 large Organic Carrot, peeled and sliced thin
1 TBSP Organic Extra Virgin Olive Oil
1/8 tsp Sea Salt (plus a little pinch if you'd like)
1/2 tsp Organic Balsamic Vinegar (or more if you love balsamic vinegar like The Cousin)
Directions:
Heat a medium non-stick pan on medium heat (375). Add your oil, then your carrots. Cook for about 2 minutes before adding the balsamic and salt. Continue to cook until the carrots have browned a little bit. It took use about 5 minutes, but that's with an induction cook-top. Remove the carrots and set them aside so you can reuse your pan for the next step.
For the Rest of the Mix:
2 TBSP Organic Extra Virgin Olive Oil olive
3 TBSP Organic Caramelized Onions
1/4 – 1/2 bunch Organic Green Onions
Handful Organic Spinach
Organic Cauliflower, shredded as rice, enough for 1 – 2 people
1/4 tsp Sea Salt (plus a little extra pinch)
Directions:
Heat your non-stick again on medium heat. Add the oil and once heated, add all of the other ingredients. Mix well. This process takes approximately 10 minutes. When you've reached the desired denseness (mainly of the cauliflower rice) serve and top with your delicious carrot mix. You can also use frozen cauliflower rice, and the cook time will vary.
Meal Prep Idea:
The is a very versatile dish. If you're into meal prep, you could make the rice base, quite a bit of it, and portion it out into containers. Then make several different vegetable tops. If it were me, I'd do a Balsamic Carrot, Buttered Beets, Steamed Broccoli, and Peas & Carrots variation. You could easily and quickly have a whole week of meals!!! OK, well, you enjoy this, I'm going to go make lunch for the week. 🙂