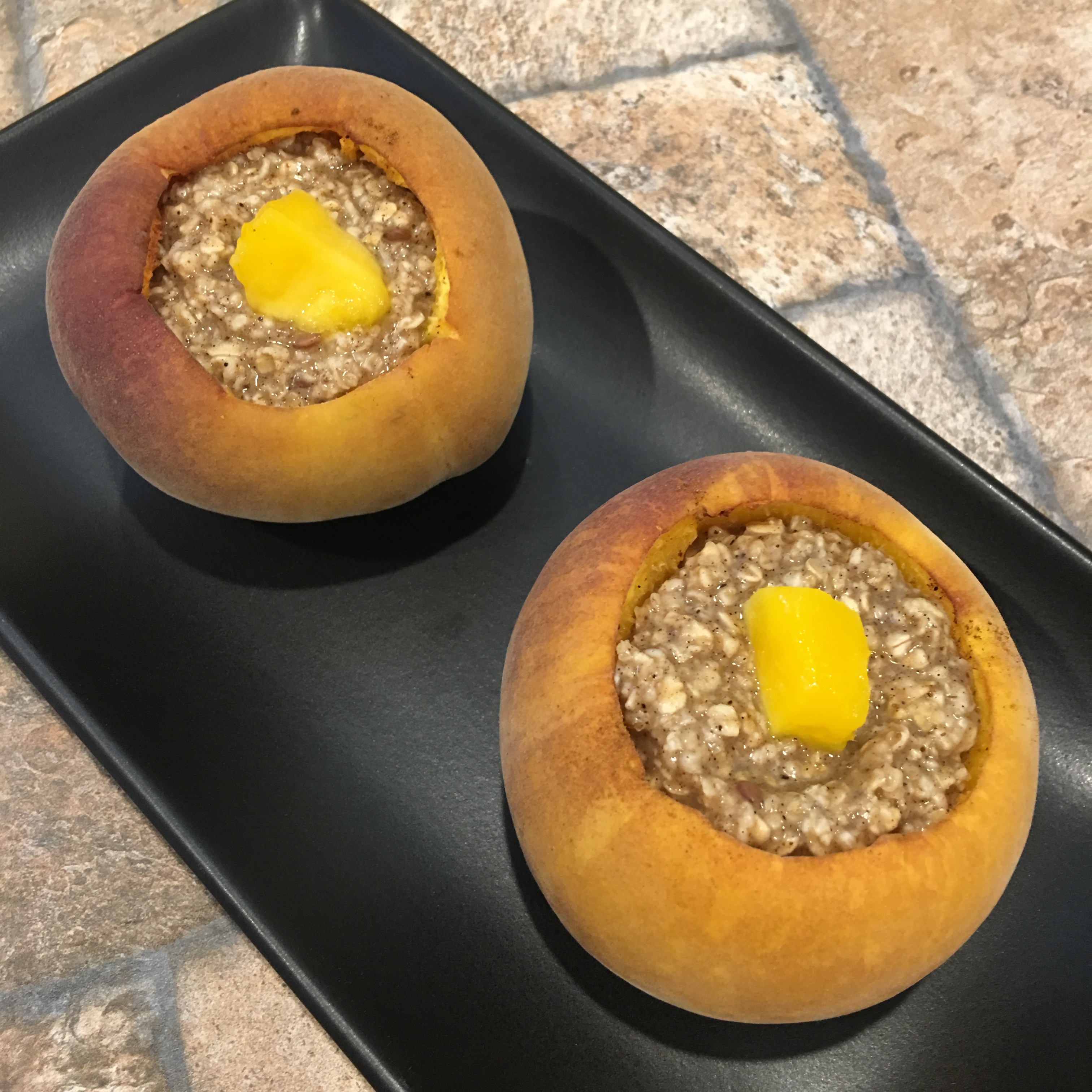 RUN TO THE STORE!!! It's just about the end of the peach season. Please, I beg of you, if you're not allergic to peaches (like me), buy some. No. Buy lots. Prep them, bake them, freeze them, make sorbet, just stuff yourself silly with peaches. Can you tell I miss eating peaches? You know the ones… they're ripe, soooo soft, but cold and juicy… I may go cry a little bit. While I do that, you read this recipe 🙂 One of us should enjoy the peaches, right? Funny thing about that, the kid who hates oatmeal the most ate one and a half of these stuffed peaches, oatmeal and all, hehe.
Allergy Status: Wheat/Gluten Free, Dairy Free, Egg Free, Soy Free, Nut Free, Peanut Free, Yeast Free, Cane/Refined Sugar Free, Sesame Free, Legume Free, Nightshade Free, Diabetic Friendly, Vegan, Corn Free Compatible
For Corn Free: Start with oats from GlutenFreeOats.com, rather than instant.
Oatmeal Ingredients:
2 packs Nature's Path Organic Gluten Free Instant Oatmeal
1.25 cup Boiling Water
3/4 tsp Organic Raw Ground Vanilla
2 TBSP Organic Maple Sugar
Peaches:
2 Huge Organic Peaches
Small amounts of Organic Ground Cinnamon and Ground Nutmeg for rubbing into the peaches
Directions:
Start by removing the stone of the peach. I used a paring knife and grapefruit spoon to do this. I cut into the peaches with the knife, then went through again with the grapefruit spoon, but with the spoon, went in at an angle, as if I were scooping out the stone (that I couldn't see). It may take you a few attempts to go deep enough to get round the bottom of the stone, but be careful, as you don't want to go through the entire peach. Once the stones have been removed, go through again with the grapefruit spoon to "clean out" the peach. FYI: I did not cut the tops off of the peaches.
Next, rub the seasonings inside the peaches. It's OK that they will mostly sink to the bottom. Place the peaches into a glass baking dish, and bake. After the first 20 minutes in the oven, check your peaches regularly. You'll have to use your best judgement based on the size of the peaches. Bake at 350 until the peaches are soft, and easy to pierce with a fork on the inside. This will vary based on how thick your peach is. I baked two for 45 minutes (we had huge peaches).
When you think the peaches are almost done, prepare your oatmeal. I opted for instant because it's what we have for the kids. However, this would work well with any kind of oatmeal, cream of wheat, or similar product. Once the peaches are out of the oven, fill them with your prepared oatmeal, and enjoy. I topped ours with a little piece of mango just for fun 🙂