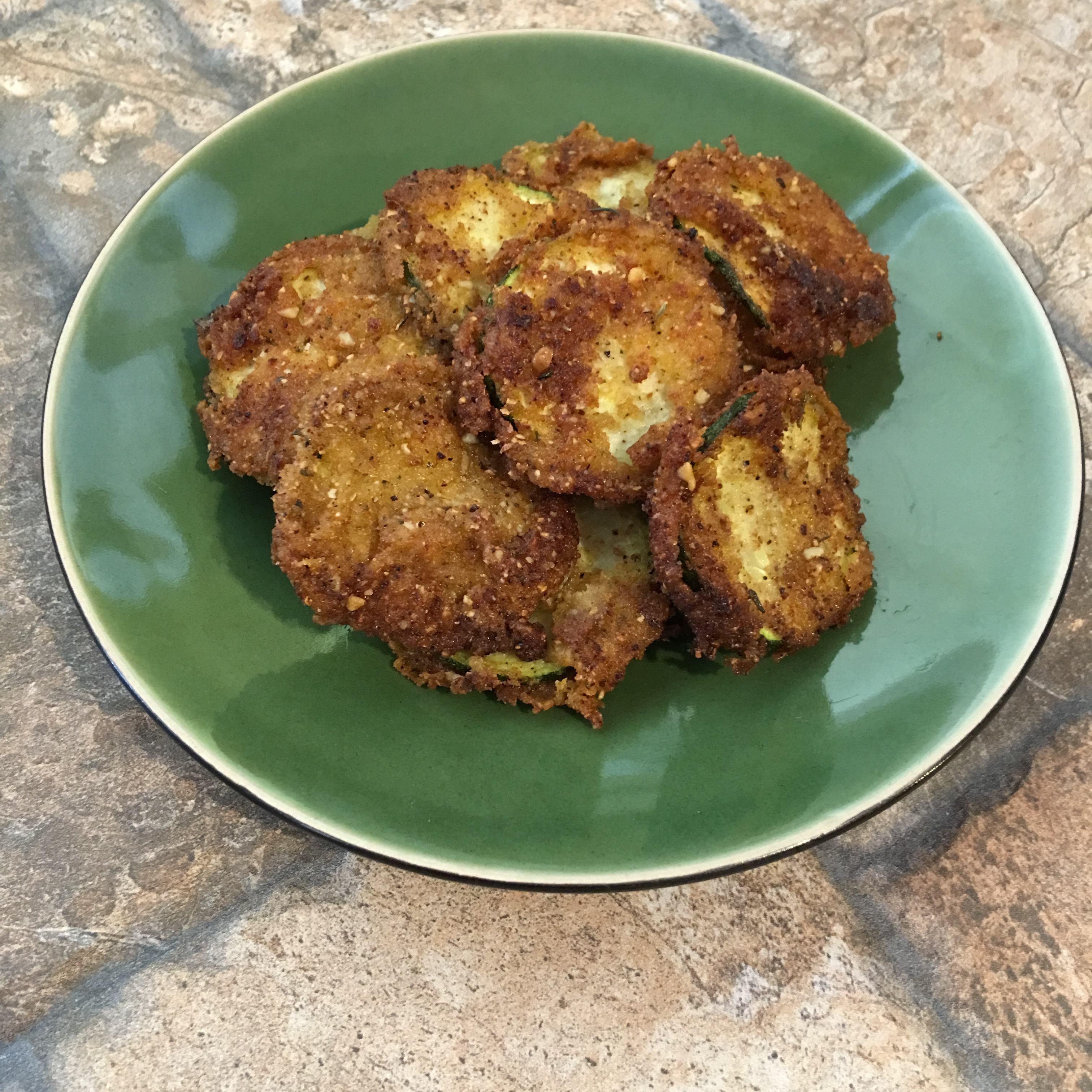 This was our first time making a fried vegetable, and it was SO upset! Here's why: As soon as I had the first few slices ready, certain people who will remain unnamed walked by, and ATE THEM ALL! Then, they said, what? They tasted so good I couldn't stop eating them… As if to compliment me… I hadn't even gotten a picture yet. Sigh. You see the crazy life I have to live? Needless to say, everyone really wanted to have the last bite. They were also more than willing to eat the few that were a little overcooked. I will say, I felt like these required a lot of work, so maybe it's great for one person to chow down on. Making them for a large crowd may be a little trying to one's patience, yet, truly a labor of delicious love. I will try making these again however, but next time I'll see if there's a faster way to get these done.
Before we get into things, let's talk strict Paleo first. For these to be egg free, we used a vegan egg replacer, which doesn't claim to be Paleo. It's essentially gums working together to make a binder. If you are strict Paleo, or AIP, you will need to use an egg or egg replacer that you're comfortable with. I will add that you may not even need the egg at all. I think water could do the same job, as you only really need something to hold the tigernut flour in place.
In addition to the egg, there's the question of cheese. Some Paleo eaters enjoy cheese, while others don't. Here's a link to a great site with Paleo cheese alternatives you can make at home. See? Everyone wins!!
Allergy Status: Gluten Free, Wheat Free, Dairy Free, Egg Free, Soy Free, Peanut Free, Cane/Refined Sugar Free, Vegan, Paleo Compatible, AIP Compatible, GAPs Compatible, Nut Free Compatible
For Nut Free: Don't use Parma! Vegan Parmesan Cheese. Instead, use a dairy based cheese, Follow Your Heart DF Parmesan Cheese, or another alternative of your choosing.
For Paleo & AIP: See the notes above about eggs and cheese.
For GAPs: Use coconut (or almond) flour.
Ingredients:
Organic Sliced Zucchini
Organic Olive Oil
2 TBSP Follow Your Heart Vegan Egg Replacer
6 TBSP Water
3 TBSP Organic Tigernut Flour
1/2 tsp Sea Salt
2 tsp Parma! Vegan Parmesan Cheese (contains nuts and yeast)
1/2 tsp Simply Organic All Purpose Seasoning (or your favorite spice blend)
1 tsp Organic Onion Granules
The amount of zucchini you decide to make will determine the amount of oil you will need. The batter ingredients were able to make about 2/3 of a zucchini. I used one cup of organic extra virgin olive oil for frying.
Start by slicing your zucchini. You can make it as thick or thin as you'd like. We made medium-thin slices. In a shallow dish, mix the egg replacer and water together, and set aside. Alternatively, you can use an egg, or the water alone. Next, in a separate shallow dish, mix the dry ingredients together with a fork.
Preheat your olive oil on medium heat (350 – 375). Dip your sliced zucchini into the liquid dish (get both sides wet), then transfer it to the dry mix dish, again, coating both sides. Place it in the olive oil, and cook for 1 – 2 minutes on each side. The thickness of your slice will impact the cooking time. When done, drain on a paper towel, and enjoy.