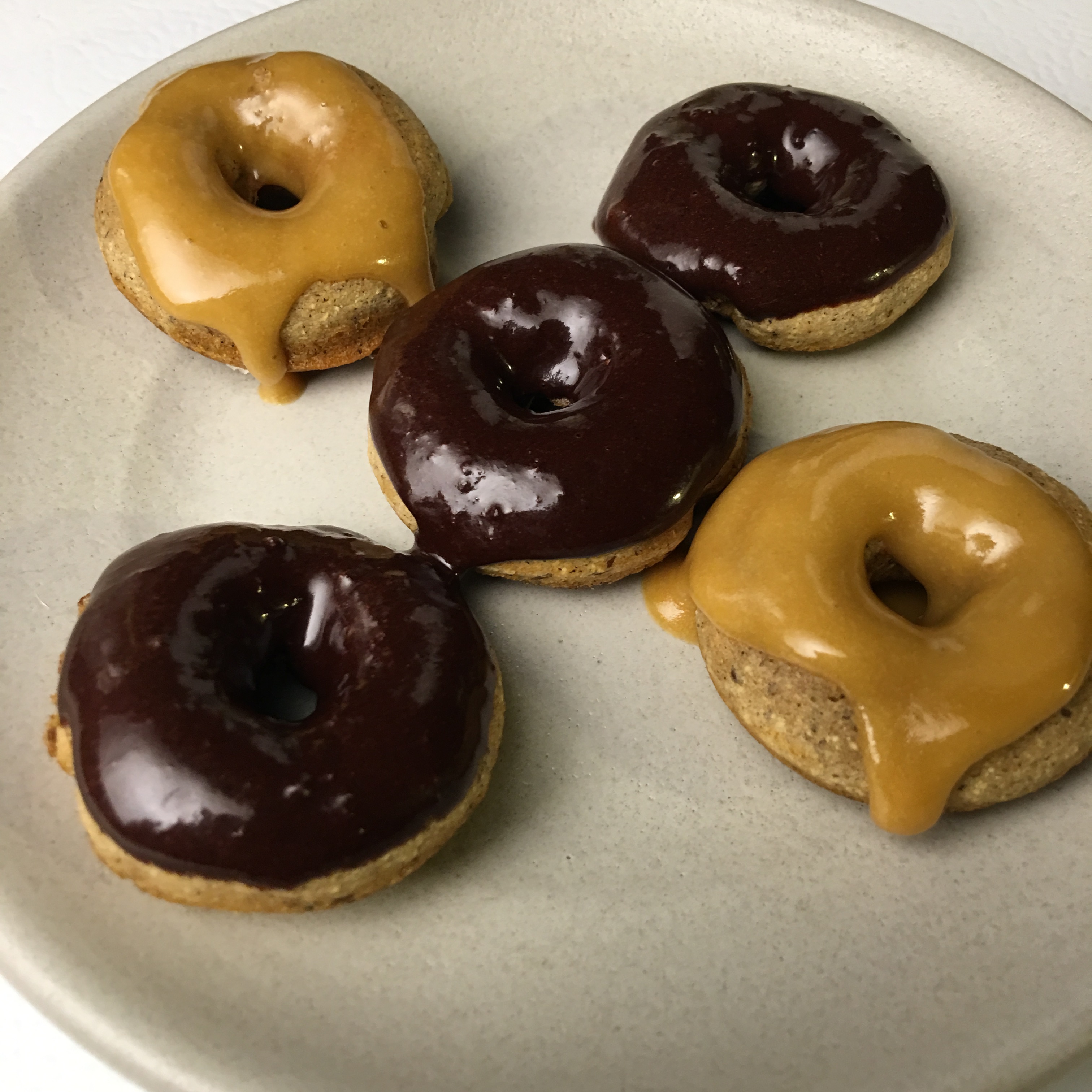 Yes, all of those exclamation marks are me screaming at the top of my lungs. VIIIICCCTOOOORIEEEEEEE!!!!
Yet at the same time, it's a little bit of a "how sad" moment. Here I am dealing with diets that heal, and I can do is get giddy over a doughnut… Oh well. Guilt moment gone and back to happy. Anyone on restricted diet can tell you, it's hard. Sometimes, you just really wan to break free and have that ice cream or cake. Well, now there are doughnuts. The best part is, this recipe is NUT FREE. So many Paleo & GAPs diets call for nuts, where it's not allowed on AIP. Not only that, but there are folks like me that are allergic to many nuts, and can't tolerate the rest. So, here it is.
Now, before you read this, please remember that it's a doughnut. It's a "sugary" treat, and not meant for consuming everyday. I say this because there may be some people who are a bit shell shocked by the amount of maple sugar used. Remember, it's a yummy doughnut 🙂
Fun question: Do you like to spell it as Donut or Doughnut?
Allergy Status: Wheat/Gluten Free, Dairy Free, Egg Free, Soy Free, Nut Free, Peanut Free, Yeast Free, Corn Free, Cane/Refined Sugar Free, Sesame Free, Legume Free, Nightshade Free, Low Histamine, Diabetic Friendly, Paleo, Vegan, GAPs Compatible, AIP Compatible
For AIP: Omit the Flax, use either gluten free vanilla extract OR fresh vanilla bean pod scrapings
For GAPs: Use a combination of coconut and almond flour instead of cassava, tiger nut, and arrowroot.
Ingredients:
1/2 cup Otto's Cassava Flour
1/2 cup Organic Tiger Nut Flour (NOT a nut, a tuber)
2/3 cup Organic Maple Sugar
2 TBSP Flax Meal
1 tsp Organic Raw Ground Vanilla
1/2 tsp Sea Salt
1/2 tsp Baking Soda
1/4 cup Arrowroot
12.5 TBSP Water
Chocolate Glaze:
1/4 cup Raw Organic Cacao
1/4 tsp Raw Organic Ground Vanilla
1/4 tsp Sea Salt
8 tsp Organic Maple Butter
2 ounces Water (or more for desired consistency)
*Skip the Chocolate Glaze if you are AIP or Low Histamine
Maple Glaze:
Organic Maple Butter
Directions:
Combine all of the doughnut ingredients together in a stand mixer using a wire whisk. Transfer to a piping bag to make it easier to pour into your doughnut maker. If you have a safe non-stick spray, be sure to use it. If not, your treats may be a little torn, but trust me, that's a-OK.
For the chocolate glaze, combine everything into a small mixing bowl and whisk until smooth. For the maple glaze, all you need to do is open a jar 🙂 For both glazes, we opted to put them into a shallow bowl and dunk the doughnuts in. You could also use a piping bag for controlled decor, but the glazes are runny in nature.