Paleo Gingerbread Cookies (Recipe Challenge)
This was a good challenge for us… we hate gingerbread. It's just not our thing. Don't get me wrong, we've done the gingerbread men, and the kids will eat it, because, sugar. There's also Mary's Gone Crackers Ginger Snap cookies that they tolerate, when I put them on top of cupcakes. So, here's the cool thing: we LOVED these cookies. I mean, we ate them… ALL. In one night. The Papa was begging me to make another batch so he could have more, and there was coconut in them. I'm like, dude… you can't have these… he says, I'm fine, and I don't care. They're that good! It's in moments like these I know that having a TV show of our own would be hilarious.
This request came in from Instagram. A nice person was in need of a good cookie, and I really hope this brings him, and many more of you plenty of gingerbread joy.
Allergy Status: Gluten Free, Wheat Free, Dairy Free, Egg Free, Soy Free, Nut Free, Peanut Free, Corn Free, Cane/Refined Sugar Free, Paleo, Vegan, AIP Compatible, GAPs Compatible
For Corn Free: Be sure to source safe ingredients.
For GAPs: Use honey instead of molasses, and a combination of almond & coconut flour.
For AIP: Omit the flax. You may want to consider adding 1/2 a banana to help bind the dough together, or use an egg if you can. Also use safe vanilla.
Ingredients:
2 TBSP Flax + 4 TBSP Raw Water (egg substitute)
1 1/8 cup Cassava Flour
3 TBSP Organic Virgin Coconut Oil (very soft, or partially melted)
2 tsp Raw Organic Ground Vanilla
1/2 tsp Sea Salt
1 tsp Organic Ground Cinnamon
3/4 tsp Organic Ground Ginger
3 dashes Cloves
2 dashes Organic Black Pepper (optional)
1/2 tsp Baking Soda
6 TBSP Raw Water
7 TBSP Organic Maple Sugar
1.5 TBSP Organic Molasses
Start by combining your flax and water, and set it aside to gel. If you can have eggs, skip this and use 1 egg instead. Combine the other ingredients together, and mix well until they are incorporated. Add in your egg and mix again. Once you have a formed dough, use a small cookie dough scooper (2 tsp) to portion it out. Line a tray with parchment paper for your cookies. We tried these as dough balls, and baked flat. Each one had its own characteristic. We really liked the dough balls, but we also liked the flat ones for other reasons, so go with both 🙂 Bake at 350 for 10 minutes.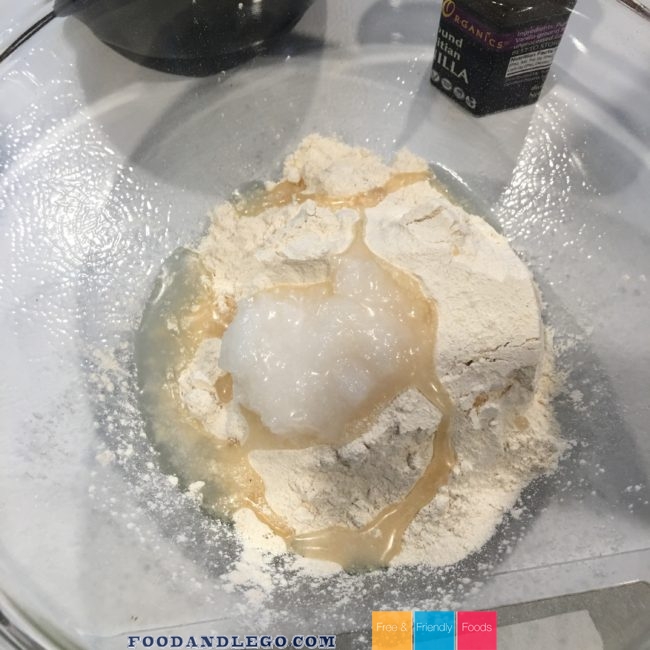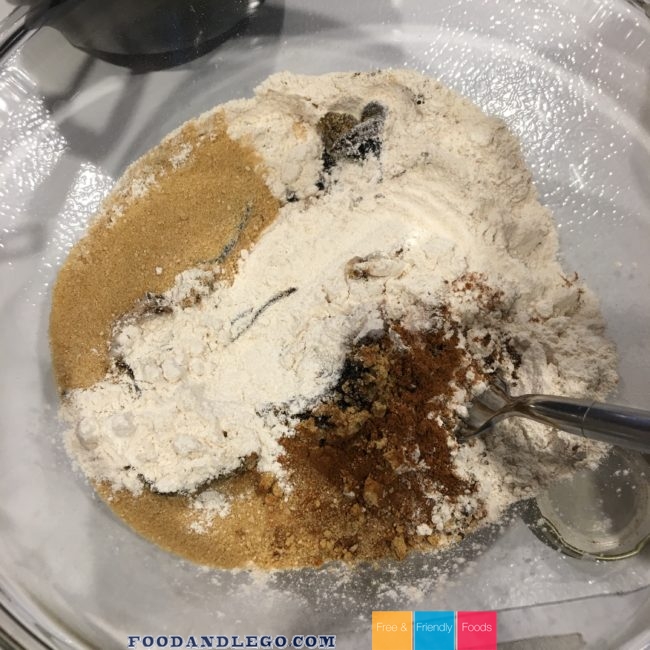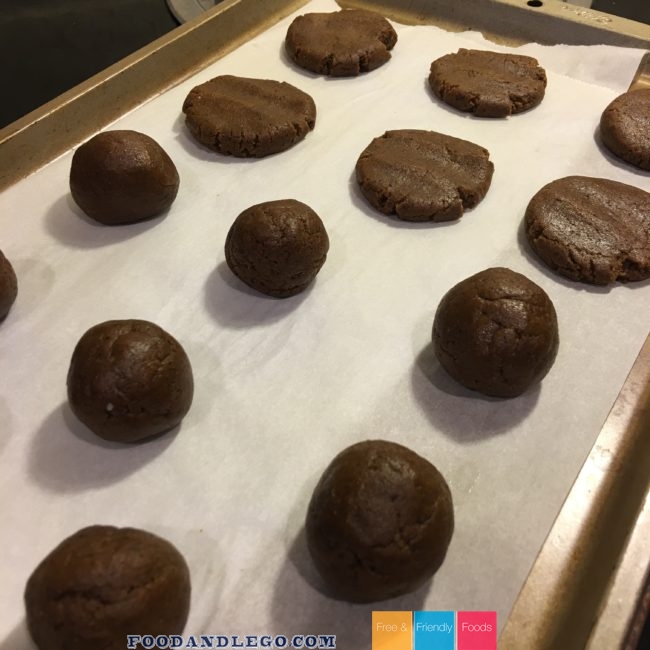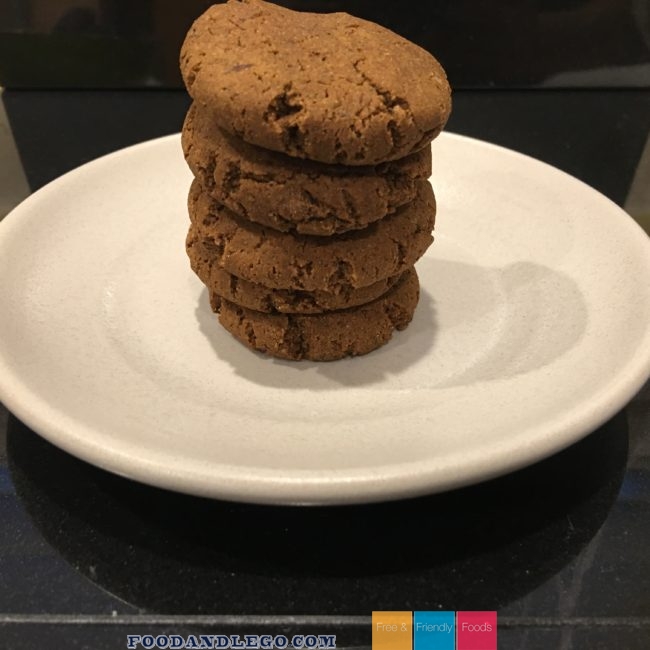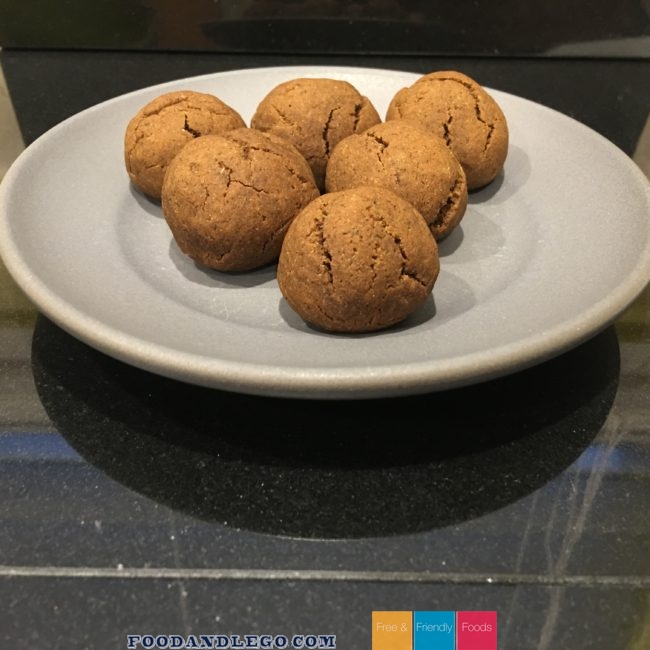 The Allergy Chef
October 1, 2016
AIP Compatible, Cane Sugar Free, Cookies, Corn Free, Dairy Free, Egg Free, GAPs Compatible, Garlic Free, Gluten Free, Nut Free, Onion Free, Organic, Paleo, Peanut Free, Soy Free, Vegan, Wheat Free, Yeast Free
Autoimmune Protocol (AIP), Desserts & Sweet Treats, GAPs Diet, Gluten Free & Dairy Free, Gluten Free Vegan, Holiday Recipes, Nut Free Paleo, Paleo, Paleo - Vegan, Recipe/Ingredient Challenge, Recipes, Top 8 Free, Vegan
6 Comments »