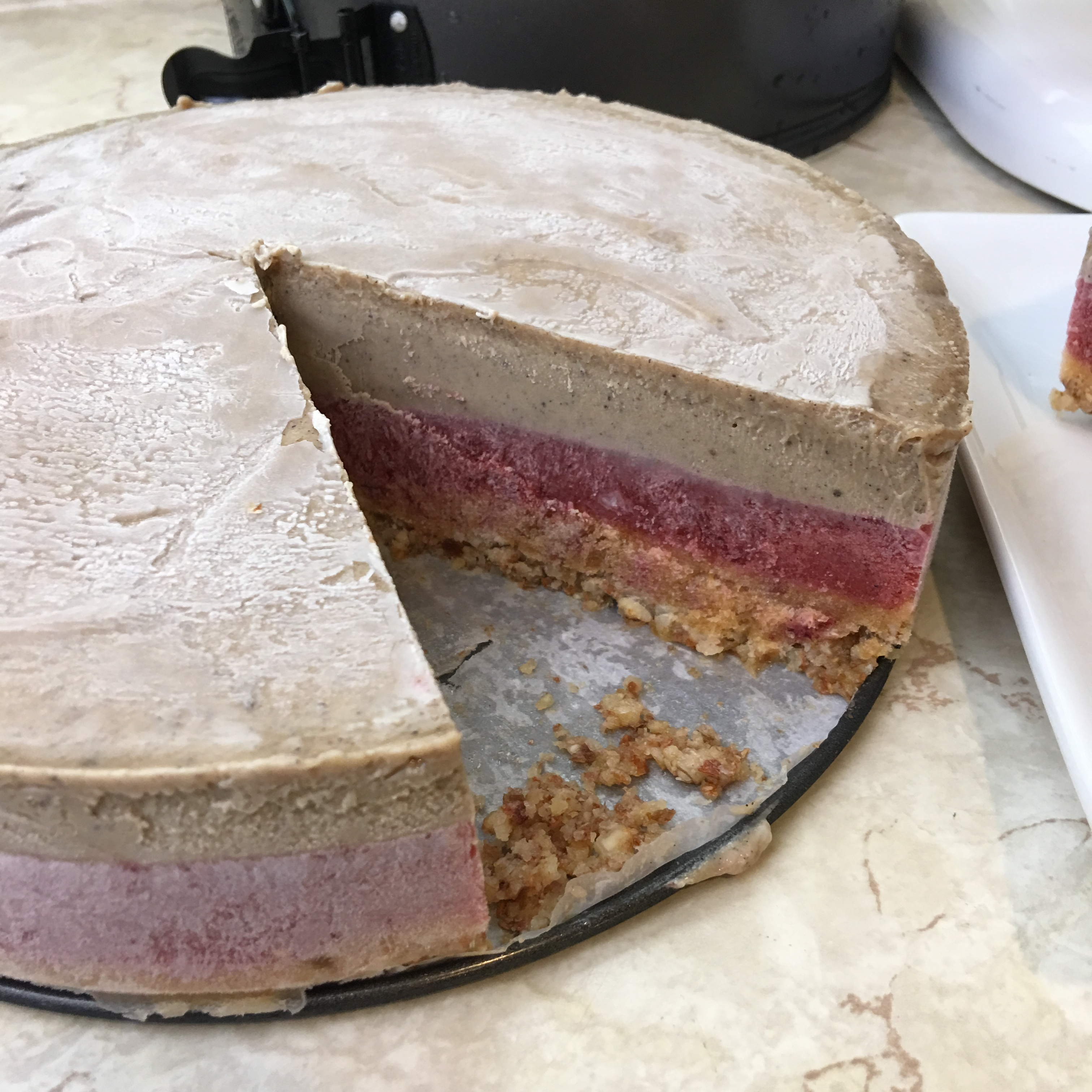 [Jump to Recipe] As I think about reasons to take the time and make something like this, here are some things that come to mind:
Celebrating a special occasion, such as a promotion at work.
It's someone's birthday.
You want to practice making these sorts of things.
It's your hobby.
I think we can all agree that it's usually the final item on the list that gets the best of us. Well, now you can have your cake/pie and eat it too. Officially, I think I have to call this a tart? Maybe a pie? An icebox cake? NO!!! Let's call it what it is: delicious.
You'll love this. Kid Three eats it, and was like OH MAN this is good. I figured he was just saying that because he can't have sugar and these are the sorts of treats I give him. Then Kid Four eats hers (even though it had melted a little because we forgot to tell her it was there) and she's like…. THIS IS THE BEST CAKE EVER. She then licked her plate clean and begged for more. I think it's safe to say this is a keeper. I hope you like this as much as everyone else does.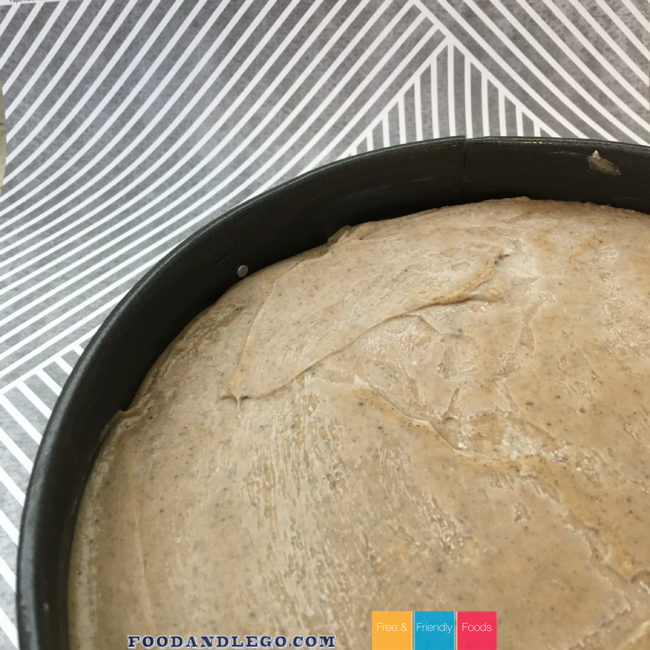 Allergy Status: Wheat/Gluten Free, Dairy Free, Egg Free, Soy Free, Peanut Free, Yeast Free, Corn Free, Cane/Refined Sugar Free, Sesame Free, Legume Free, Nightshade Free, Diabetic Friendly, Paleo, GAPs, Vegan
*Remember, for corn free, you must source safe ingredients.
Ingredients:
Special Tools: Spring-form Pan
Crust
1 cup Organic Almonds (raw and/or sprouted if possible)
6 Large Organic Medjool Dates
1/4 cup Water
Nectarine Layer
4 Really Ripe Organic Nectarines
Blend them in your Vitamix or blender.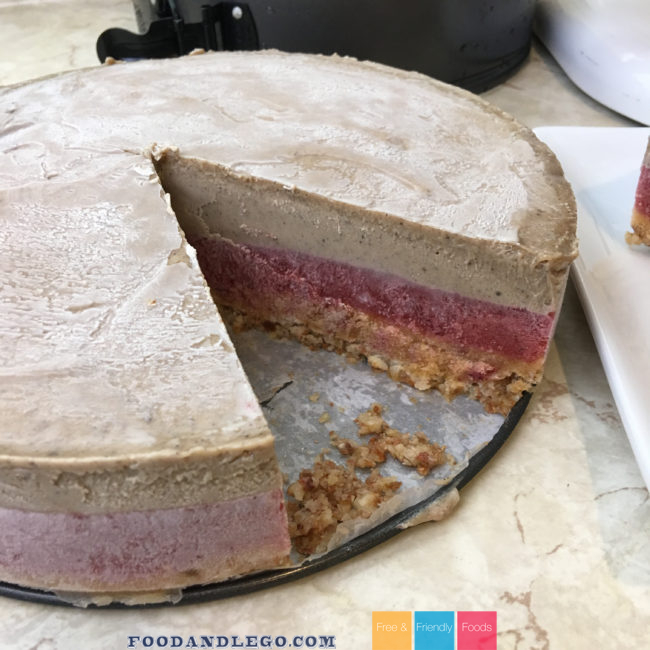 Strawberry Layer
17 ounces frozen Organic Strawberries
2 ounces Organic Maple Syrup
1 tsp Raw Organic Ground Vanilla Bean
Blend it in your Vitamix until smooth. I let the berries thaw for a bit first.
Creamy Top Layer
3 cups Raw Organic Cashews
2.5 tsp Raw Organic Ground Vanilla Bean
5 ounces Organic Maple Syrup (you can use less if you want, just add more water)
6 ounces Water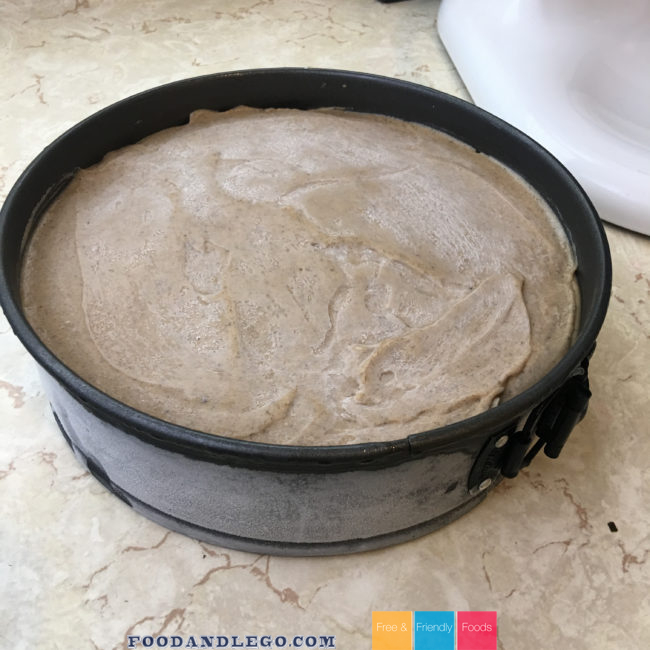 Assembly
Start by making the crust, then pressing it flat into your pan. I opted to line the bottom with parchment paper so the release would be easier. You can add the nectarine or strawberry layer second. Some thought it would be better with the strawberries as the second layer. Either way, blend the fruit, then pour it on top of the crust. Use a spatula or spoon to distribute it evenly, then place in the freezer for up to an hour. Remove the pie from the freezer, and gently add the next layer, then put back in the freezer for another 30 minutes. Remove the pie again, and carefully add the cream top layer, and spread it around and try to have the top as smooth as possible. Return to the freezer, and freeze overnight.
In our case, I did the (fresh) nectarine layer first, which i why it stays in the freezer for an hour. If you opt to do a frozen fruit layer first, it will require less time to set, and you can add your next layer sooner.
Here comes the pinnable image, and loads of progress pictures 🙂