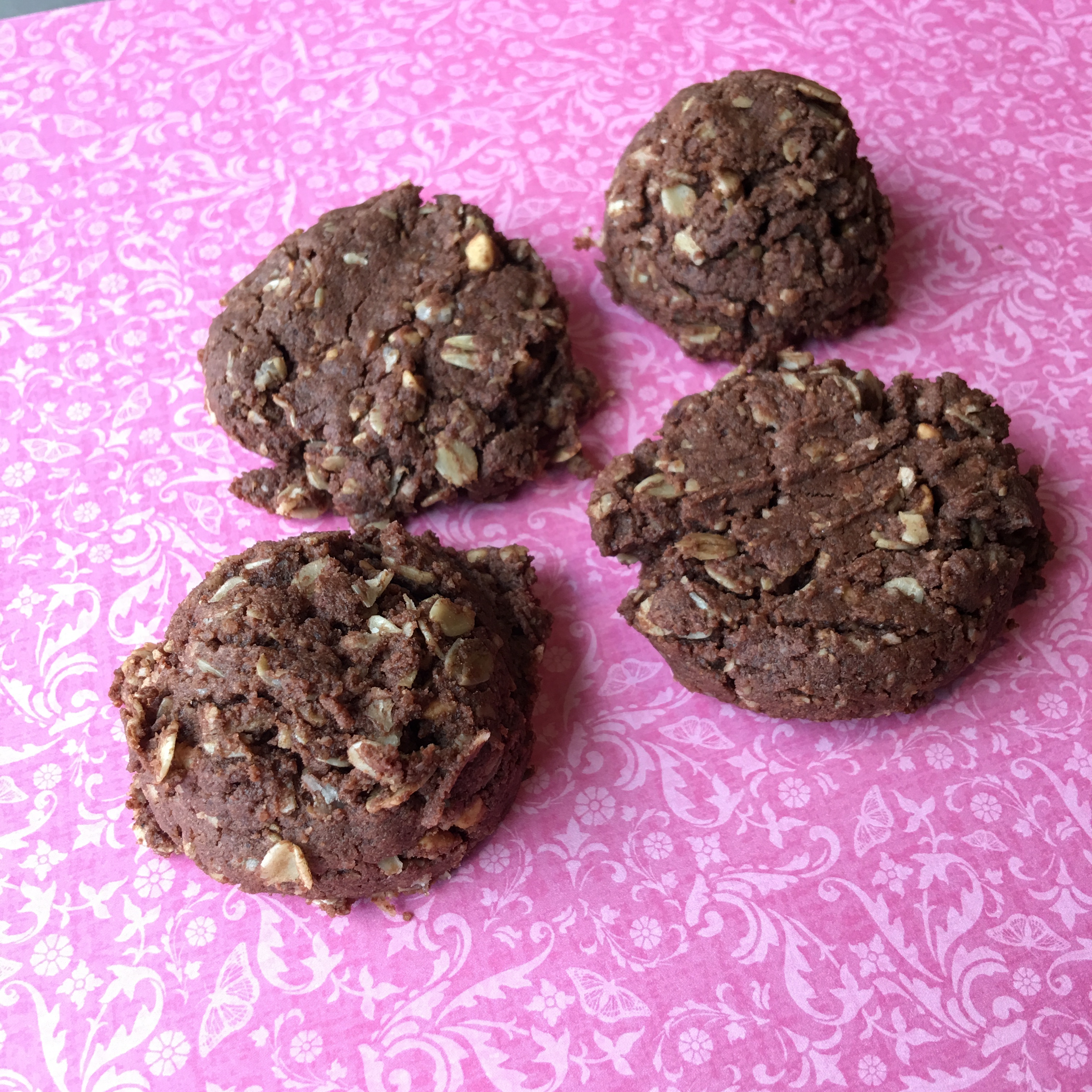 Kid Two and I were talking about making something like this since it was going to be Day 3 (on his 4 day rotation). We were having a good old chit-chat, and one thing lead to another, and the idea of these cookies came about. We pondered, what would happen if we made an oat cookie? Not an oatmeal cookie because we already made that. Something with oat… what could we make? He seemed to have a good time coming up with ideas with me.
When the dough was ready, The Papa wanted to call these energy bites. In fact, he felt these were awesome before they were baked, and thought that with a little more "glue", uncooked, they would be perfect little energy balls. I then proceeded to tell him about the fact there was a ton of sugar in them since they were cookies. NOT healthy energy bites. haha.
Overall, these are very interesting cookies. When I first made them, as always, I had no patience, and had to see what was up right away when the first came out of the oven. Well, they fell apart. In fact, I was ready to toss the whole lot and start over, but got distracted. Fast forward 15 minutes, and The Papa says "HEY! You can pick it up!" I turned in shock and excitement. He even poked at the cookie to see if they would fall apart. Turns out with these, the cooling is just as important as the baking.
OK, on to the recipe and photos.
Allergy Status: Wheat/Gluten Free, Dairy Free, Egg Free, Soy Free, Nut Free, Sesame Free, Nightshade Free, Vegan
Ingredients:
8 TBSP Dairy Free Butter, room temp.
12 TBSP Organic Crunchy Peanut Butter, no salt added
3/4 cup Organic Light Brown Sugar
3/4 cup Organic White Sugar
2 cups Gluten Free Old Fashioned Oats
1/2 cup Organic Raw Cacao Powder
4 TBSP Organic Unsweetened Milk of Choice
1 TBSP Organic Vanilla Extract vanilla
1 TBSP Baking Powder
3 tsp Follow Your Heart Vegan Egg Replacer, no added water, just the powder
1 tsp Sea Salt
1/2 tsp Baking Soda
Directions:
In your stand mixer with the paddle attachment, combine the peanut butter and butter together on low-speed. Scrape down the edges and mix again. Add in both sugars, and cream together. You'll probably need to scrape down the edges again during this process.
Next, add in everything but the oats and milk. Mix it all well together, then add the oats and milk, and continue to mix until a dough has formed.
Line a large baking tray with parchment paper, and portion out scoops of dough. I used a medium cookie dough scooper. When baked, the cookies don't change shape, so however you put them on your tray is how they will come out in the end. We tried mounds and flattened cookies and they were both well received.
Bake at 325 for 14 minutes, then allow the cookies to cool on the tray for 15 minutes before moving, unless you want to have cookie crumbles as a topping or garnish for later use.