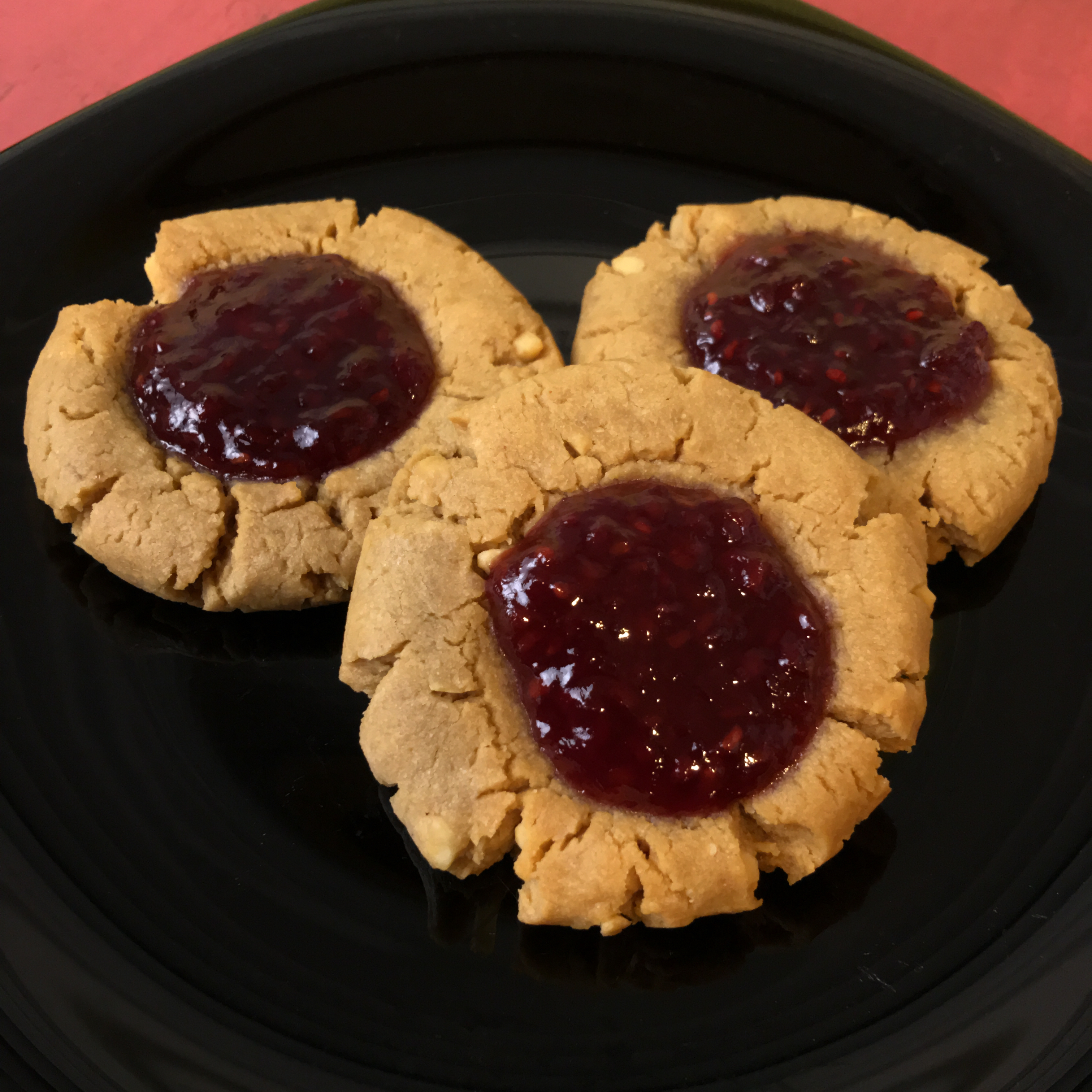 After having success with the Peanut Butter Dough Ball Bites, I decided to go all in and try something else. As a kid, I LOVED peanut butter and jelly. But here's the thing: I only ate them separately. If you were to make me a sandwich, I'd take it apart. Lick the jelly off the bread, then lick the peanut butter off the bread, then eat the bread, careful to eat the lower right corner last. Yes, I know I was a weird little kid. Point is, I love the idea of PB & J.
About 2 years ago, I discovered Inna Jam, and to my surprise, it didn't make me sick. It has got to be the only jam I've found without extra junk and they source their fruit from a few safe farms that I can eat from. It's worth the $10 + price tag, especially Peach. Oh the joy. I digress.
I normally don't like baked cookies (both Kid Two and I are much more dough people). However, these were great. I had first thought about just making more dough balls and using the jam as a dip, but I thought I'd go wild and try something else. The Papa loved these, and he's like, wait, these are Grain Free? Let me have another one! I can also testify to their goodness, especially after they've cooled completely and the next day too. And yes, I did eat 2 for breakfast 🙂
Allergy Status: Wheat/Gluten Free, Dairy Free, Egg Free, Soy Free, Nut Free, Yeast Free, Corn Free, Cane/Refined Sugar Free, Sesame Free, Nightshade Free, Diabetic Friendly, Vegan
Ingredients:
9 TBSP Once Again Organic Crunchy Peanut Butter (3 large cookie dough scoops)
6 tsp Organic Maple Butter
4 TBSP Otto's Cassava Flour
3 TBSP Summit Spring Water
1/2 tsp Celtic Sea Salt
Jam or fruit topping of choice. I suggest something grape, raspberry, or strawberry based to stick with the peanut butter and jelly theme.
Directions:
Combine all of the ingredients into a small bowl, and mix really well with a fork. I started with 1 TBSP of the water and mixed as much as possible, then added more water. Use a medium cookie dough scooper (1.5 TBSP) to portion the dough, then roll into neat little balls. Place your dough balls on a small tray lined with parchment paper for baking. Press the dough balls flat into thick circles. Use a 1 TBSP spoon to create a small dip/cavity for your jam.
You can add the jam before or after baking. I preferred my cookies with the baked jam. The Papa preferred his with the jam added after. The biggest difference in my opinion was that the baked jam creates a "coating" after it cools and it sticks in place. The added-after jam will remain runny.
To store the extras, I covered them with foil and left them on the counter top. When we ate them the next day, they had softened just a little. If you can tolerate milk (of any kind), I beg of thee, please enjoy a glass for me when you eat these.