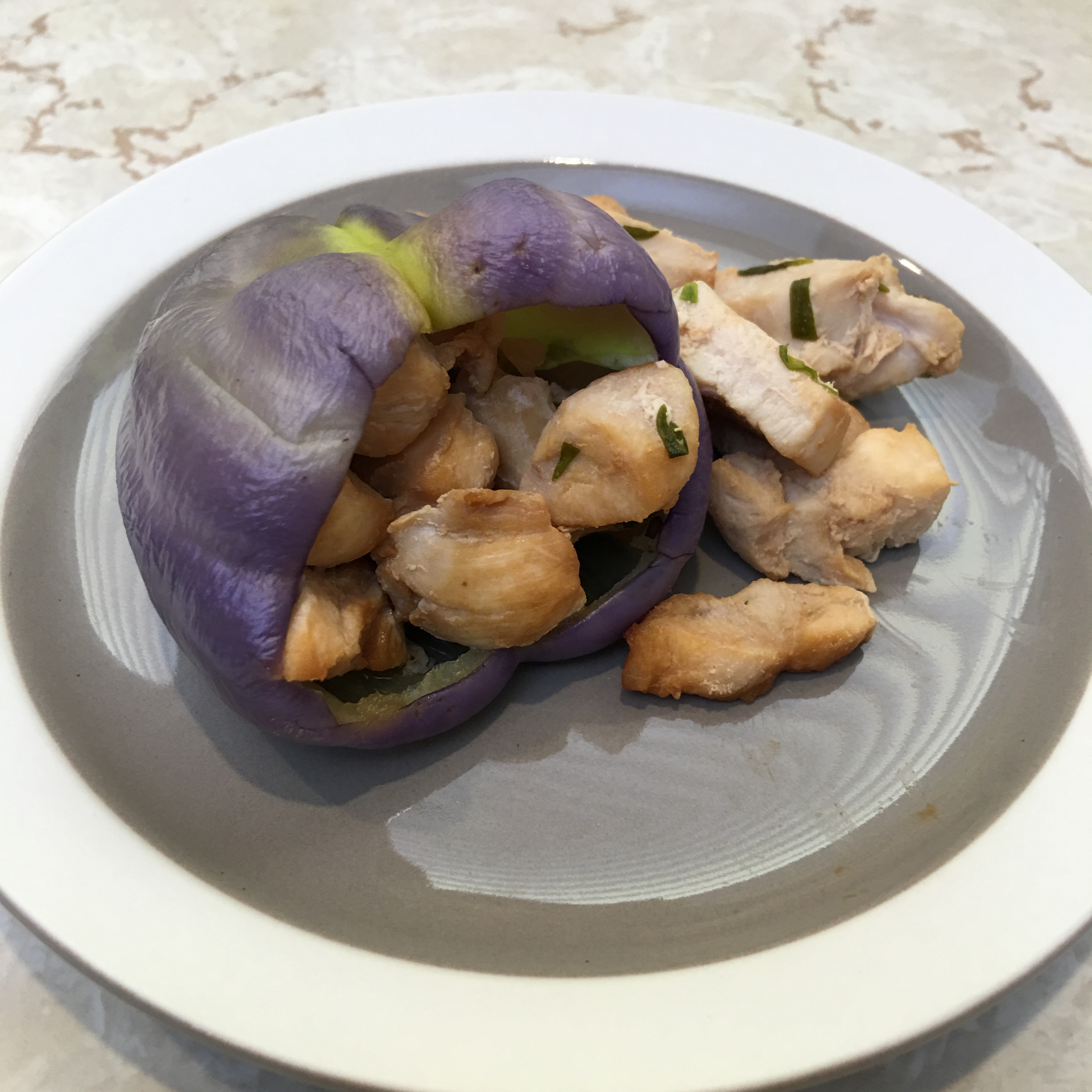 We were had by the peppers. I tell the kids whenever this happens that this is the "price" we pay for organic. You win some, you lose some. You'll see in the image that there are 5 cute little peppers, one for each person. However, much to our surprise, all but one was bad on the inside. What amazed us is that they were all so perfect looking on the outside. Yet, I was able to do a small victory dance because hey, at least I got one to take a picture of.
Allergy Status: Wheat/Gluten Free, Dairy Free, Egg Free, Soy Free, Nut Free, Peanut Free, Yeast Free, Corn Free, Cane/Refined Sugar Free, Sesame Free, Legume Free, Diabetic Friendly, Paleo, GAPs, SCD
For Corn Free: Source safe ingredients.
Ingredients:
9 ounces Organic Chicken Breast, cut into small pieces
1 TBSP Organic Lemon Juice
1/2 tsp Sea Salt
small handful organic French Tarragon
Directions:
The instructions are simple. Start by preparing your peppers, and bake them in the oven on a parchment lined tray. 400 for 12 minutes was perfect. It's long enough to allow the peppers to soften, and given their size, I think they cooked a little faster than normal.
While your pepper(s) bakes, cut your chicken, then cook it in a non-stick pan on medium-high heat (400). Add your seasonings as it cooks, and mix everything together well. This process takes 8 – 10 minutes. When your pepper(s) come out of the oven, fill with chicken, and enjoy.
An interesting note about taste. We had a guest over who loved the chicken. Kid Three also loved it. Kid Two gave me that look of "if you ever make this again, I'm going to lose it." Interesting, right? Guess he's not a fan of tarragon. Luckily for me, the others were. I share that to say this: not everything is for everyone. In addition to dealing with food allergies and special diets, we also have to deal with individual taste buds. Never see it as a bad thing if some love what you make and others don't.
What I personally enjoy about this recipe is the simplicity. You can season your chicken any which-way you like and have an awesome outcome. Cajun? Done. Italian? Done. Greek? Done. It all pairs well with peppers.