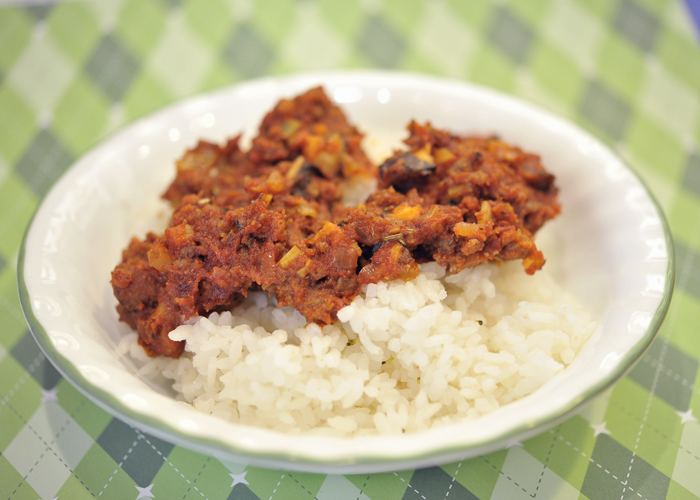 When I made this, it was so good, as the low simmer really gets the flavors to sing. I tried to re-create this after making it a couple of days later, and it was just not the same. I was in a rush that day, and the simmer didn't happen, and I was bummed. So this is your friend letting you know: You gotta let it simmer! This is a dish that would also work well in a slow cooker.
Allergy Status: Wheat/Gluten Free, Dairy Free, Egg Free, Soy Free, Nut Free, Peanut Free, Corn Free, Cane/Refined Sugar Free, Yeast Free, Diabetic Friendly, GAPs, Paleo, SCD
For GAPs, Paleo, Diabetic, and SCD: Serve over cauliflower rice.
Fun Tip: This makes a great topping for both pizza and pasta too.
Ingredients:
2 TBSP Oil for Cooking
1 Organic Medium Mushroom (cut into small chunks)
Organic Onion & Garlic Mix (click here to read all about that)
Organic Corn Free Red Sauce (click here for recipe)
1/3 pound Grass Fed Ground Lamb
Lamb Seasonings:
1/2 tsp Celtic Sea Salt
1/2 tsp Organic Onion Powder
1/2 tsp Organic Garlic Powder
1 tsp Organic Braggs Herb & Spices Season Blend (optional, check ingredients)
pinch Organic Black Pepper
Directions:
Heat a small pan on medium high heat and add your oil. Once hot, add your lamb, and break it into small chunks as it cooks. Season the meat well before it has cooked completely to allow the flavors to permeate.
Once the meat has cooked about 2/3 of the way, add in all of the other ingredients. Mix well, then simmer for at least 10 minutes. Serve over steamed rice, or cauliflower rice.