The great part about the main course for this three part meal is simply how fast it comes together. The flavors in this salad pair so well with the Hasselback Potato. Everyone really enjoyed this, and usually don't like rosemary. If you're preparing the full three courses, start with the Chocolate Ice Cream first while your oven preheats. Then, make the potatoes and get them in the oven. You'll want to get this dish in the pan when there's 10 – 15 minutes left on the potatoes.
Allergy Status: Wheat/Gluten Free, Dairy Free, Egg Free, Soy Free, Nut Free, Peanut Free, Yeast Free, Corn Free, Cane/Refined Sugar Free, Sesame Free, Legume Free, Nightshade Free, Low Histamine, Diabetic Friendly, Paleo, GAPs, AIP, SCD Compatible
For SCD: Use 1 TBSP Date Sugar instead of maple.
For Corn Free: Be sure your chicken is safe.
Ingredients:
2 Organic Chicken Breast, cubed (ours were 17.5 ounces total)
1 TBSP Organic Maple Sugar
2 tsp Organic Rosemary
1 tsp Sea Salt
1 tsp Organic Garlic, chopped or minced
1/2 tsp Organic Ground Ginger
Directions:
Once your chicken is cubed and ready, preheat a non-stick pan on high heat (425). Add your chicken, and break up any pieces that may be stuck together. When the chicken appears to be about half way done, add your seasonings, and mix them in well. Continue to cook until your chicken is fully cooked. This process took me 8 minutes. Serve over salad greens of your choice.
To dress or not to dress, that is the question. This base salad recipe can go anywhere from here. As you know, it's my desire to help you create meals that are safe for you. Want to add more to this salad? Please do 🙂 Suggestions: Shredded Carrots, Raisins, Tomato, Dressing of Your Choice. You get the idea. On the dressing, a vinaigrette would be so tasty in this situation.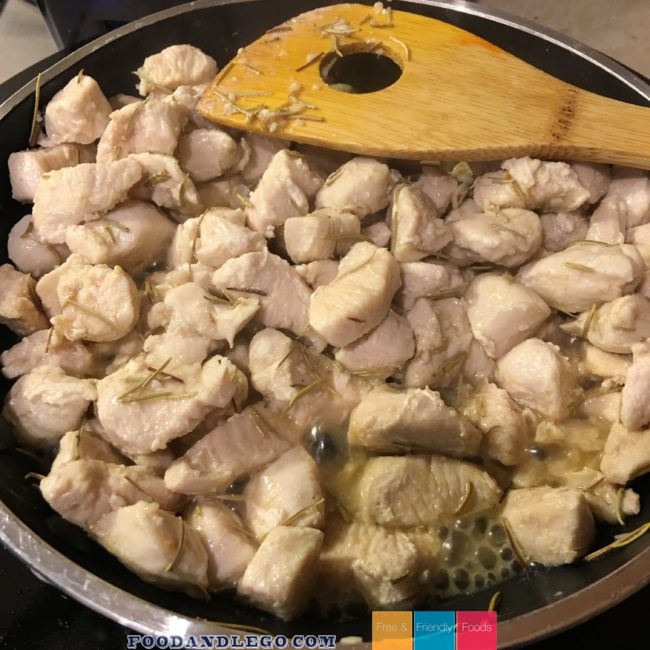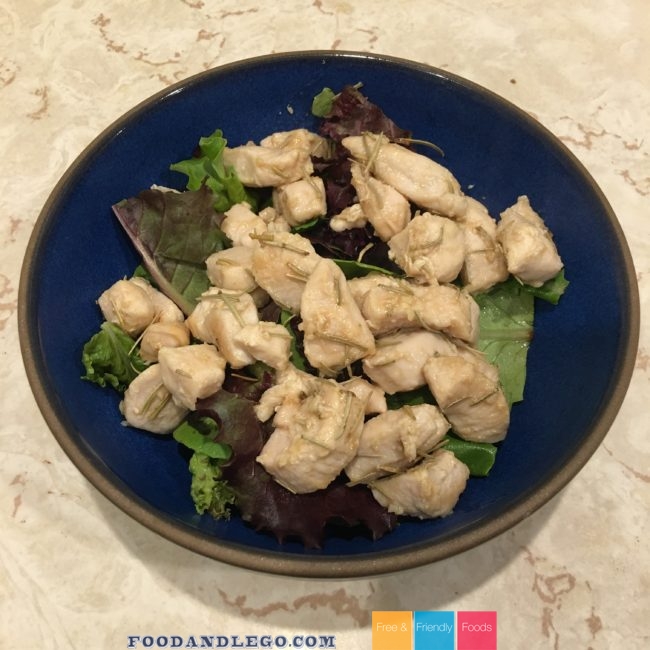 Our Corn Free Cookbook (also Gluten Free and Top 8 Allergy Free) Is packed with recipes and resources to help you thrive when living with a corn allergy, and/or multiple food allergies. Kathlena, The Allergy Chef, is a severe corn allergic, giving us the unique ability to write a book that's accurate. No corn derivatives, no xanthan gum, and all the details you need to enjoy life as a corn allergic.