I don't know what inspired this one. We've done salmon in many different ways, and sometimes, I get tired of doing the same old, same old. Perhaps that's where it came from this time. I also wanted to make sure that this one was really allergen free, so that many people could enjoy it together. I think that's what really gives me a feeling of satisfaction lately. The thought that I've somehow won a competition called, "How Many Food Allergies Can You Conquer in One Dish", while still keeping it interesting, and tasty. I suppose it's like a game show in my head, except I'm the only contestant. And you're the audience.
Allergy Status: Gluten Free, Wheat Free, Dairy Free, Egg Free, Soy Free, Nut Free, Peanut Free, Corn Free, Yeast Free, Cane/Refined Sugar Free, Paleo, GAPs, AIP
For Corn Free: Source safe ingredients, especially the Salmon.
For Strict AIP: You will need to recreate the seasonings in the Sea Kelp Sprinkle without bell pepper. Here's the link for ingredients. Focus on the first five ingredients.
Cauliflower Rice Ingredients:
3 TBSP Organic Extra Virgin Olive Oil oil 400
15 – 20 ounces Organic Cauliflower, shredded
2 tsp Sea Salt
1 bunch Organic Green Onions, chopped
Salmon Ingredients:
3 portions Wild Salmon (approx. 18 ounces)
3 TBSP Raw Organic Honey
1/2 tsp Organic Ground Ginger
1 tsp Braggs Organic Sea Kelp Sprinkle
1/2 tsp Sea Salt + a big pinch (the pinch is optional, but The Papa felt it was needed)
Plan for this meal by thawing your salmon portions. You can do this overnight in the fridge, or in a cold water bath. Alternatively, you can use fresh salmon. We purchase wild salmon frozen in bulk at Costco, because, budget. For low histamine readers, you should use freshly caught fish whenever possible.
I opted to make the cauliflower rice first. With my cauliflower shredded, I cooked it in the olive oil on high heat (425) for 10 minutes. Feel free to use our ingredients as a suggestion, and season your rice of choice however you like.
For the salmon, heat a large non-stick pan on high heat (400). Once the pan is hot, add the fish, and break it apart into large chunks as it cooks. This happens pretty quickly. When your salmon is broken up, add in your seasonings, and continue to mix. Once the salmon is cooked to your liking, you're done. Serve with your rice and enjoy. And of course, enjoy the pictures.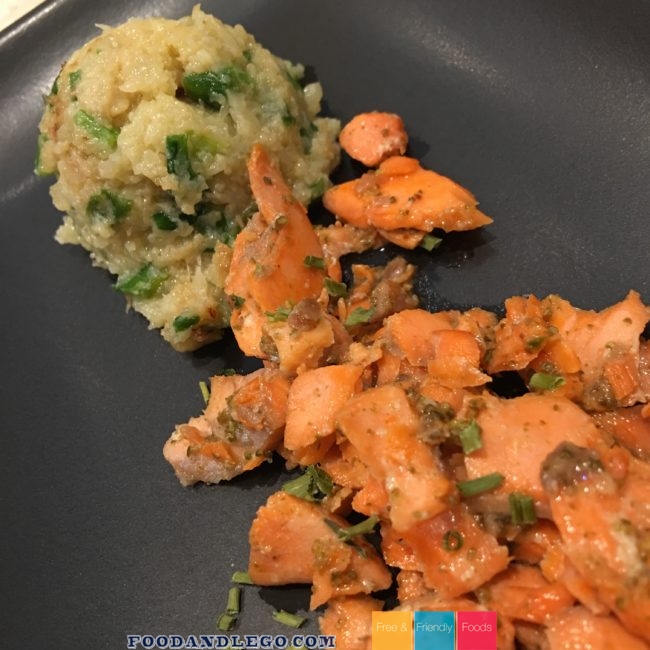 Our Corn Free Cookbook (also Gluten Free and Top 8 Allergy Free) Is packed with recipes and resources to help you thrive when living with a corn allergy, and/or multiple food allergies. Kathlena, The Allergy Chef, is a severe corn allergic, giving us the unique ability to write a book that's accurate. No corn derivatives, no xanthan gum, and all the details you need to enjoy life as a corn allergic.