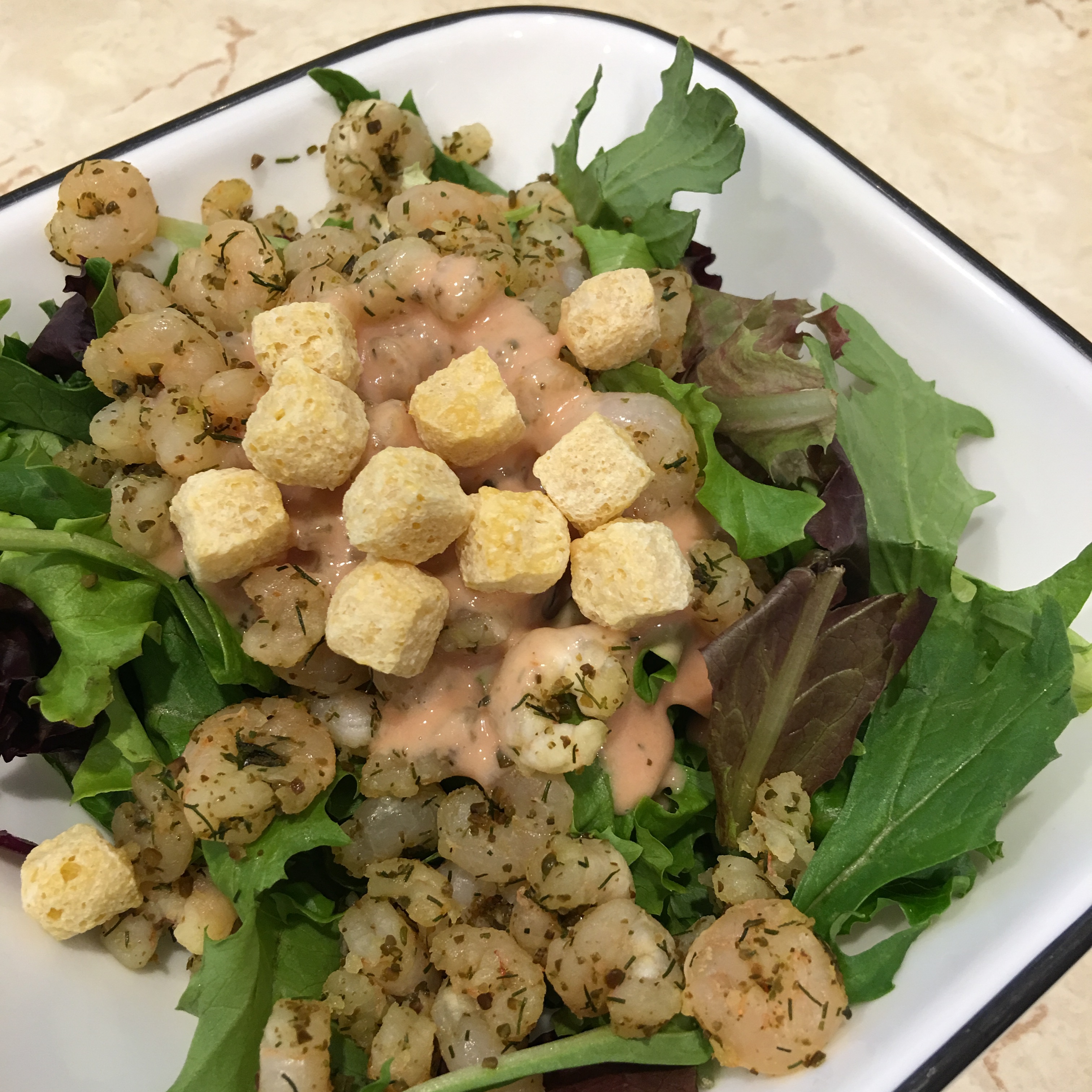 The Papa loves to give me challenges, especially when he knows I've never eaten the food to have a mental point of reference. This was one of those times. He's dropped a few hints over the past several months that he'd love to have a Shrimp Louie Salad. A what? That was my initial response. He told me allll about it using that face that tells you he's eating some in his head, and enjoying it. I let the hints slide, because have you seen how busy we've been lately? However, I did look into it a little to find out what this salad really was all about. It's a good thing I did because it uses baby shrimp. Part of the reason I was avoiding it was because I didn't feel like preparing shrimp.
Then along comes Costco. I really can't say enough good things about that store. It's clean, it's huge, and there's a lot of organic options there. Allergy free options too. Did you know they have baby shrimp? I sure didn't know. So I snagged a bag and put it in the freezer until I had free time to make this salad…
Then came the croutons. I was in Whole Foods one day, minding my own business, when this bag of croutons screams at me, "Hey! Look at me!! I'm allergy friendly, and Kid Two can eat me!!" I did a double take. What's that mister crouton? My child can eat you? Here, please, get in my cart. WAIT. You're basically beans and corn. Really?! You can still get in the cart though.
You see, Kid Two hasn't had croutons in… I can't remember how long, or if he's ever had them. Shrimp, check. Croutons, check. It was time to make a Shrimp Louie Salad come to life!
Allergy Status: Gluten Free, Wheat Free, Dairy Free, Egg Free, Soy Free, Nut Free, Peanut Free, Paleo Compatible, GAPs Compatible
For Paleo & GAPs: Use Paleo versions of condiments.

Shrimp Ingredients:
2 pounds Baby Shrimp, cooked
2.5 tsp Sea Salt
1/2 tsp Organic Dill
1.5 tsp Braggs Organic Sea Kelp Sprinkle
Sauce Ingredients:
4.5 TBSP Mayo (we used Sir Kensington's version which is Vegan and Soy Free)
1.5 TBSP Ketchup
1/4 tsp Organic Ground Mustard
1/4 tsp Organic Onion Granules
Start by cooking your shrimp on medium heat (375). As the shrimp cooks, add in your seasonings. This particular shrimp we purchased was precooked, so in our case, it was a matter of reheating and adding seasonings. As you can imagine, it was a short cook time.
Next, prepare your sauce by combining the ingredients in a bowl, and mixing with a whisk (or fork). That's it! Put your salad greens in a bowl, add your shrimp, and top with the sauce. Enjoy!