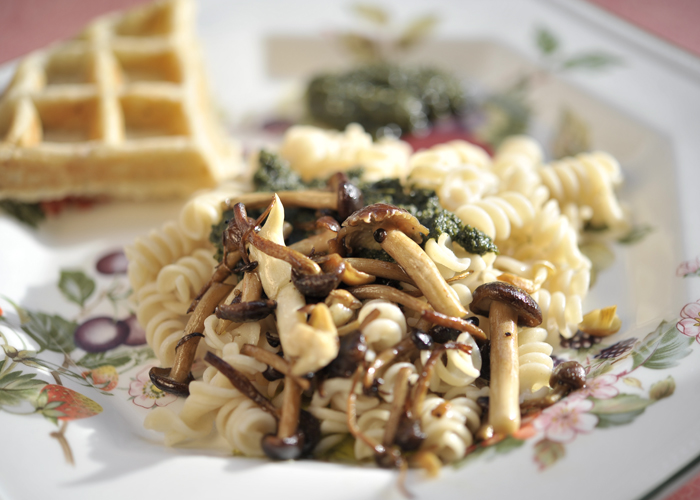 So, here's the idea for this year: start with the Avocado Rice for lunch, then, incorporate this awesome pesto into your dinner. I suspect that you will really enjoy this sauce.
You have to know, I have been dreaming of pesto for some time now, and decided to get brave. I searched quite a bit for a pesto recipe that I could modify, but everything was calling for cheese and nuts (as a dairy free option). I didn't have nuts on hand, and in all honesty, didn't like the sound of it. Needless to say, I had to make something up, and well, it was really good. This recipe has such a nice, natural creaminess to it, as if there were a nice cheese mixed in. It's really exciting actually.
Allergy Status: Wheat/Gluten Free, Dairy Free, Egg Free, Soy Free, Nut Free, Peanut Free, Yeast Free, Corn Free, Cane/Refined Sugar Free, Sesame Free, Legume Free, Nightshade Free, Low Histamine, Diabetic Friendly, Paleo, GAPs, Vegan, AIP Compatible
For AIP: Omit black pepper.
Ingredients:
8 ounces Organic Basil
16 TBSP Organic Extra Virgin Olive Oil
1 1/2 tsp Celtic Sea Salt
3 tsp Organic Dried Minced Onion
1/2 tsp Organic Garlic Powder
light sprinkle of Organic black pepper (Omit for AIP)
Directions:
In a blender, add enough of the oil to cover the blades (be sure to keep a running count of how much oil you're adding). Next, add the basil a bit at time and use a combination of buttons to get the two to combine. I used grate, grind, and liquefy on our blender. As you add more basil, add more olive oil, and continue to mix the two together until all of the basil and oil are in the blender. After it's all blended well, add the seasoning and continue to blend to ensure it gets all over. A food processor would work really well for this as well.
That's it!
Hopefully this will help your St. Patrick's Day dinner be a smashing hit! I served this with organic gluten free brown rice pasta noodles by Lundberg with mushrooms I sautéed in olive oil for 5 minutes. I also created a savory waffle bread that I posted earlier this week. The bread was so delicious dipped in the pesto.