Cookie Dough
now browsing by tag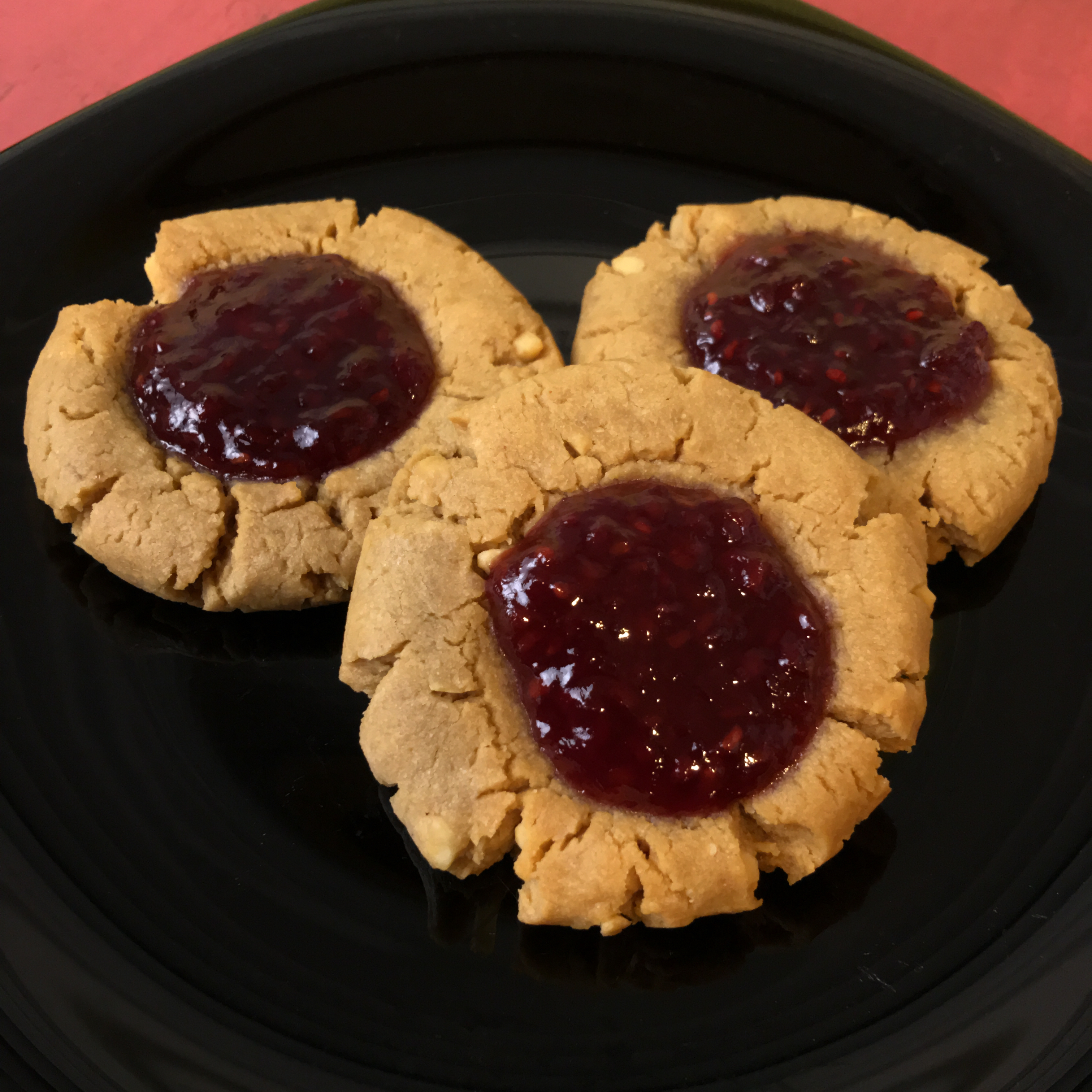 Peanut Butter Jelly Thumbprint Cookies
After having success with the Peanut Butter Dough Ball Bites, I decided to go all in and try something else. That's what it's like with a severe corn allergy by the way. Little baby steps to see if something will make you sick.
As a kid, I LOVED peanut butter and jelly. But here's the thing: I only ate them separately. If you were to make me a sandwich, I'd take it apart. Lick the jelly off the bread, then lick the peanut butter off the bread, then eat the bread, careful to eat the lower right corner last. Yes, I know I was a weird little kid. Point is, I love the idea of PB & J.
About 2 years ago, I discovered Inna Jam, and to my surprise, it didn't make me sick. It has got to be the only jam I've found without extra junk and they source their fruit from a few safe farms that I can eat from. It's worth the $10 + price tag, especially Peach. Oh the joy. I digress.
I normally don't like baked cookies. Both Kid Two and I are much more dough people. However, these were great. I had first thought about just making more dough balls and using the jam as a dip, but I thought I'd go wild and try something else. The Papa loved these, and he's like, wait, these are Paleo? Let me have another one. I can also testify to their goodness, especially after they've cooled completely and the next day too. And yes, I did eat 2 for breakfast.
Allergy Status: Gluten Free, Dairy Free, Egg Free, Soy Free, Corn Free, Yeast Free, Paleo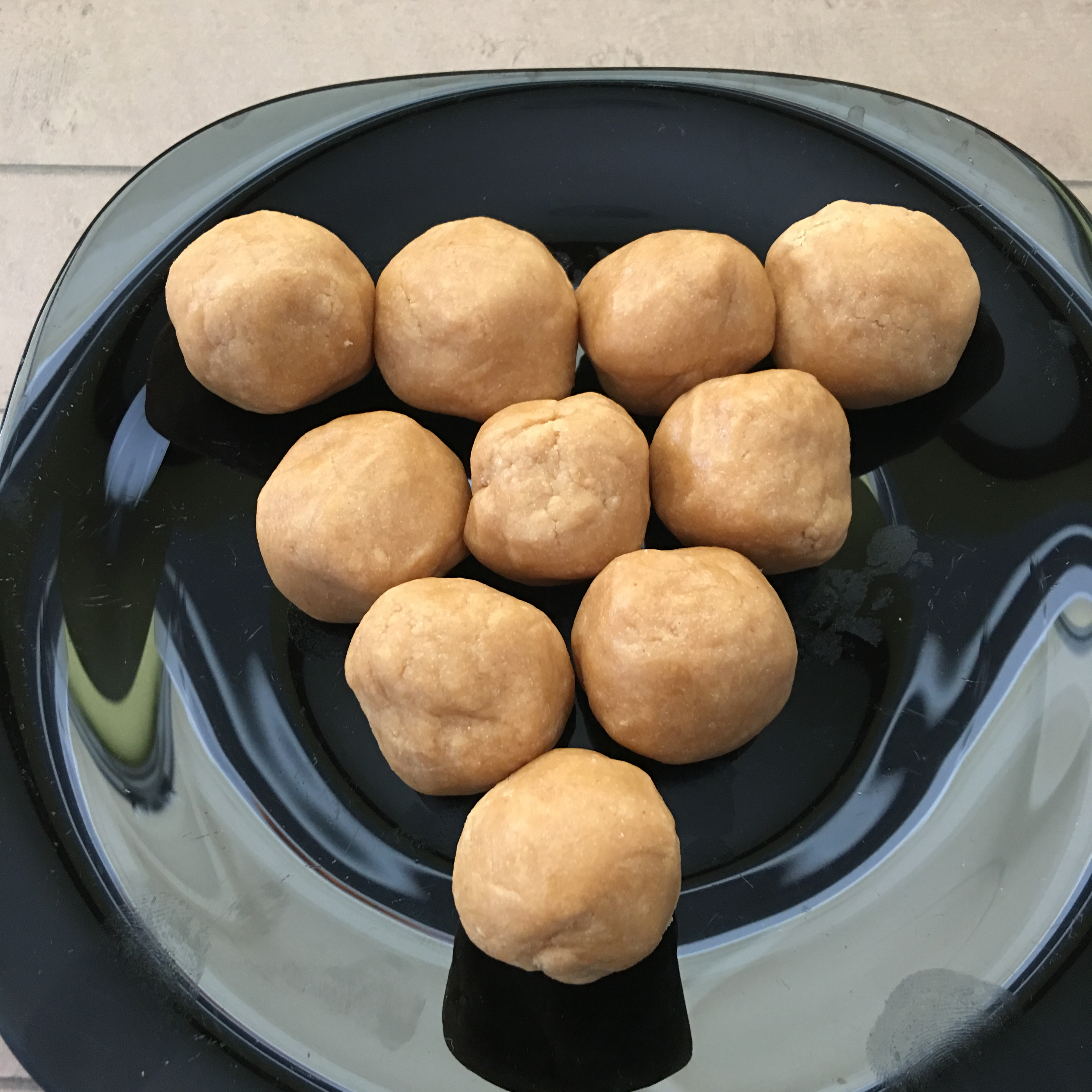 Peanut Butter Dough Ball Bites Recipe
No kidding, I just made theeee most yummy recipe! I started with the thought that I wanted to create something really simply. Also something safe for lots of people. Everyone who ate them seriously loved them, and it was a battle to see who would get the last bite.
If you can't have peanuts, or don't enjoy the taste, this is one of those recipes that I've purposely made simple so those who need to substitute can do so easily. It's a one-for-one exchange for your favorite nut, seed, or legume butter. I wouldn't recommend watermelon seed butter with this recipe.
Full disclosure and fair warning: these are highly addictive. It's easy to eat way more than you intended, and I'm sure some people out there could down the whole batch in one go. Want to have some extra fun with these? Drizzle with or dunk in melted chocolate.
Allergy Status: Wheat/Gluten Free, Dairy Free, Egg Free, Soy Free, Nut Free, Yeast Free, Corn Free, Cane/Refined Sugar Free, Sesame Free, Nightshade Free, Diabetic Friendly, GAPs, Vegan, Peanut Free Compatible, Legume Free Compatible, Paleo Compatible
For Peanut Free, Legume Free, and Paleo: Use 4 ounces of a nut or seed butter of choice. Sunflower Butter would be an excellent selection.
The Allergy Chef
July 21, 2016
Cane/Refined Sugar Free, Cookie Dough, Cookies, Corn Free, Dairy Free, Diabetic Friendly, Egg Free, GAPs, Gluten Free, Legume Free Compatible, Nightshade Free, Nut Free, Paleo Compatible, Peanut Butter, Peanut Free Compatible, Sesame Free, Soy Free, Vegan, Wheat Free, Yeast Free
30 Minutes or Less, Breakfast, Desserts & Sweet Treats, Diabetic Friendly, GAPs Diet, Gluten Free & Dairy Free, Gluten Free Vegan, Legume Free, Nightshade Free, Nut Butter Cookies, Nut Free Paleo, Paleo, Paleo - Vegan, Recipes, Top 8 Free, Vegan
One Comment »