DC Comics
now browsing by tag
LEGO Review – 76040 DC Comics Brainiac Attack
Do you remember waaaay back when, when there was a "contest" that when you purchased a DC item you were entered into? It was through LEGO. I can't remember the details anymore, but needless to say, I didn't win. I also found out after the purchase that you could enter for free, online, daily. I did for a few days until real life got the best of me.
I finally had some time to open the set and build, and it wasn't all that bad. I think I had a little resentment to it simply because I didn't win 🙂
Let me start by saying there were several really cool pieces that I was exposed to, pictured below. I don't think of them are new and fancy, but I still like them. I think what I also like is that you get them in a low priced set.
Constructing the skull was so interesting. I opened the set without thinking about what I was making, and as the white pieces were being put together, I was thinking, where are they going with this? When the final piece was complete, it was way cool. Beyond the white skull, there wasn't anything else to spectacular about the build. I find lately I think my hopes are too high when it comes to these super hero sets. Rather than have builds that are nice and solid, you have sets that seem more hollow, for lack of a better word. This is one of those sets. I think it's easy to forget that when you include licensed figures, and have a low price point, something's going to suffer.
If you're a huge Superman fan, then I think this is a great set. If you still have your old Alien Abduction sets, this would be a great one to add to it. Happy Building!!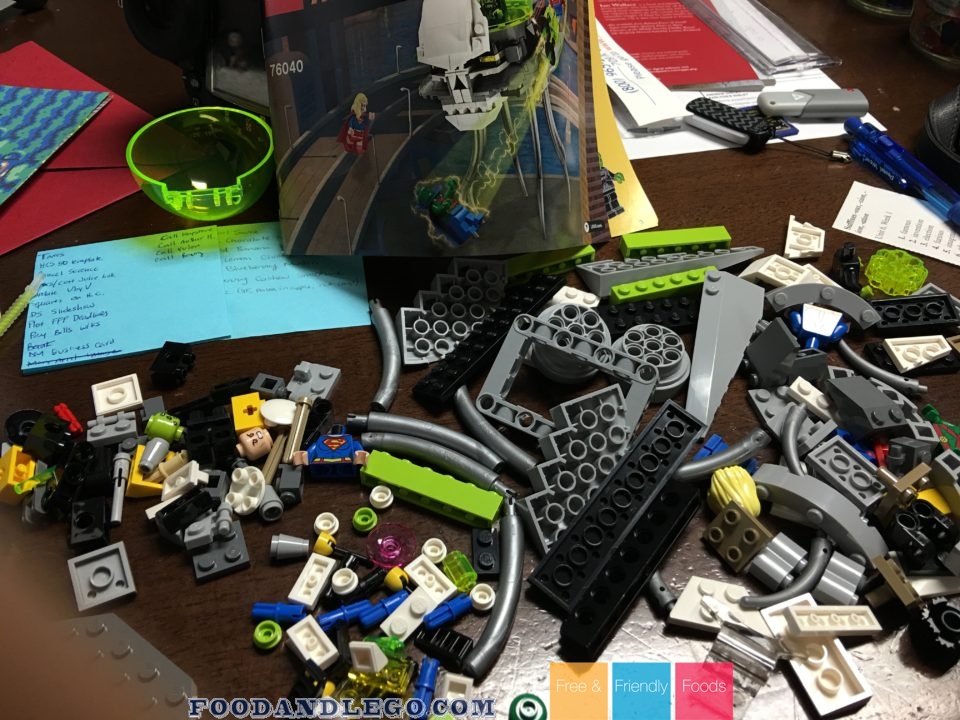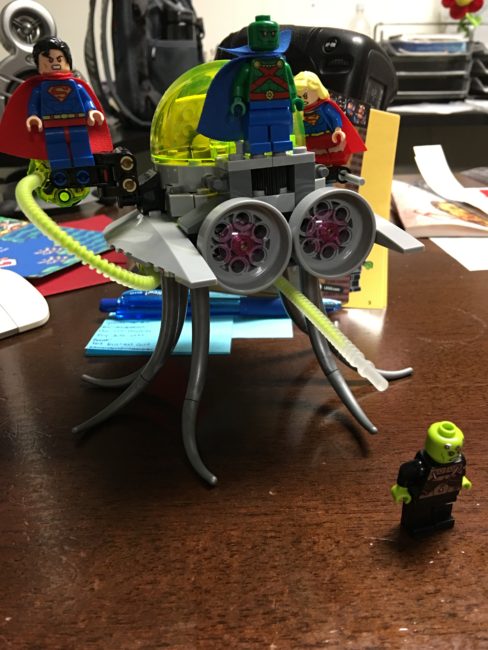 LEGO Review – 76025 DC Comics Super Heroes Green Lantern vs. Sinestro
There are so many pros, and only one con about this set:
Pros:
-The kids really enjoyed playing with the new jumper, using a non essential minifigure of course (I've read things online…)
-I LOVE the Batman in the white suit!
-I really appreciate the pre-printed logo.
Con:
-Maybe the plane is a little small?
I have to say, this is a great build. LOVE LOVE LOVE the missiles. The method to deploy them was well thought through, and just so much fun to play with. I also like the new pieces for the little gun-stud firing "thingy".
I was a little disappointed by the overall size. I did see a post online where someone purchased two of these sets to make a beefier set. For as much as I like the idea of that, I wouldn't do it because then it would defeat the purpose of having such a cool set (and characters) at such a great price point. I can say that's something I was quite surprised about this time. You get 3 figures and a decent amount of pieces for about $20. Totally worth it. Let me say that again: TOTALLY worth it.
I'm not a huge Green Lantern fan, but I really liked the way the plane came together, and the build for the lantern holder. Truth be told though, I'm still trying to figure out why Batman was there, not that I'm complaining about the white suit, because I'm not.