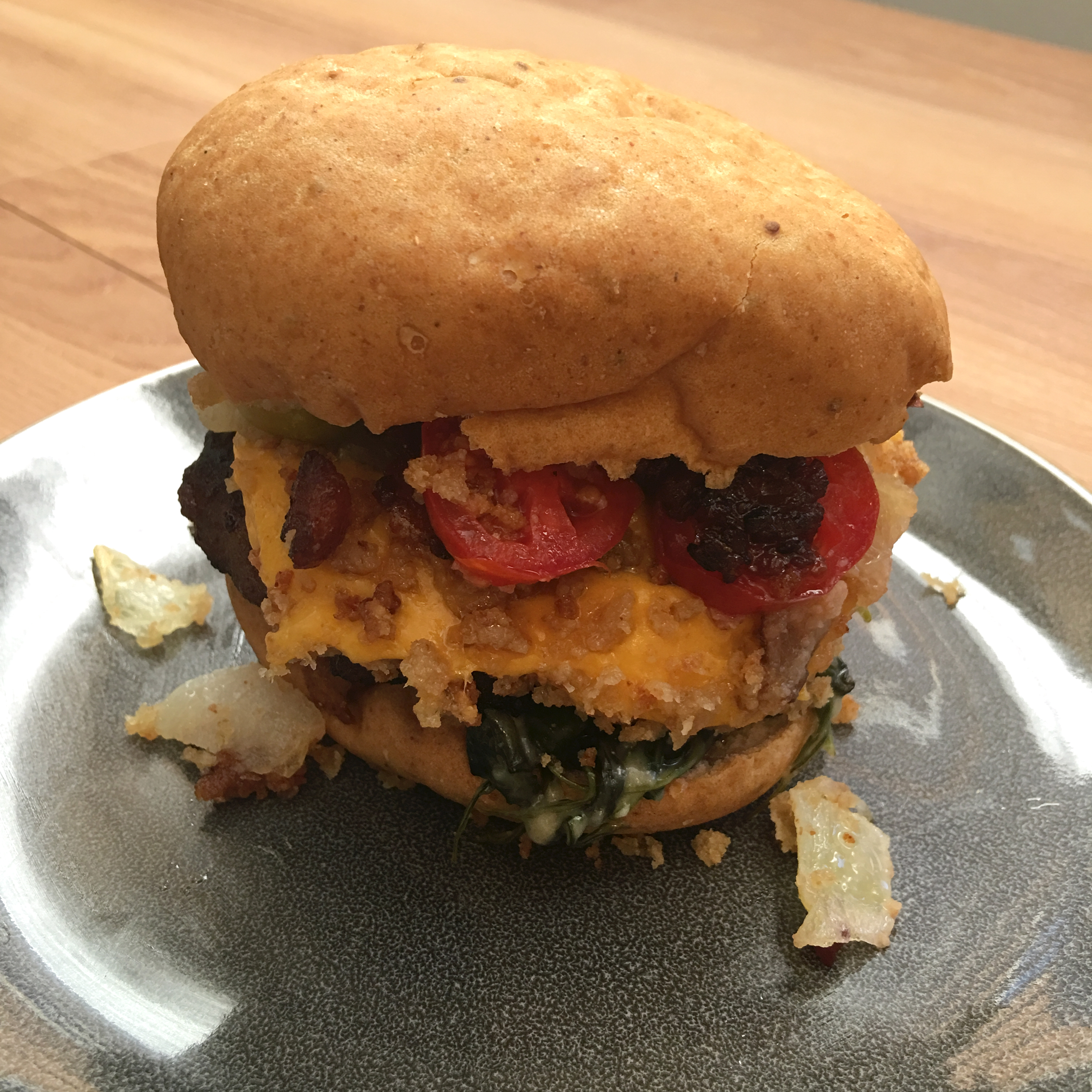 Before I jump into things, I have to share this quote with you. It's from Kid Two who is GF, DF, EF, and more. When he was served his burger he said, "I'm kind of afraid to eat it. It looks like a real cheese burger." My heart melted and I was SO happy to hear this. I told him it's moments like these that make me do what I do. There isn't a restaurant anywhere so far that could have served him something like this safely, and I take joy in giving him these one-of-a-kind experiences.
The inspiration for this burger was simple: I wanted something huge and delicious. It also had to have a lot of moving parts like something you'd see on TV, or in an upscale restaurant. I think our mission has been accomplished.
I was so excited about this one, we made an assembly video. Click here to watch the video on Youtube.
This burger does come with a little warning: it's time-consuming to make, but worth every minute. It took us about 90 minutes from start to finish.
Allergy Status: Gluten/Wheat Free, Dairy Free, Egg Free, Soy Free, Nut Free, Peanut Free, Coconut Free
Pork Burger:
2 pounds Ground Pork
2 tsp All Seasons Salt
1 tsp Organic Smoked Paprika
4 tsp Organic Onion Granules
1/2 cup Organic Light Brown Sugar
1/4 cup Gluten Free Bread Crumbs
In a mixing bowl, combine all of the ingredients with your ground pork. Mix very well, and don't be afraid to use your hands and get them dirty. We made each burger using a bit more than an ice cream scoop of mix. You can make these as thick or thin as you'd like. Shape them into patties, and cook with your preferred method. We opted for pan frying, although, I wouldn't have minded using the Foreman Grill for this.
Fried Onion & Jalapeño:
1 large Organic Onion
3 Jalapeños
1/2 cup Organic Oat Flour
1 tsp Sea Salt
3 TBSP Milk of Choice (we used Good Karma Foods Unsweetened Flax)
Dice your onion into large pieces. Next, slice your jalapeños thin. I opted for thin because the kids are pretty wimpy when it come to spicy foods. Combine with your flour and milk. In a medium-large pot, heat oil for frying on high. When it's ready, add your onion and Jalapeño, and fry until crispy golden brown. Some of your breading will sink to the bottom of the pot. Be sure to fish it out to add extra crunch to your burger.
Cheese Sauce:
1 bag Daiya Yellow Cheese Shreds
6 TBSP Unsweetened Milk of Choice
In a small sauce pan on medium heat, add your cheese and let it cook/melt a bit before adding in the milk. Once the milk is in, whip them together. You'll really need to put your elbow into it to achieve a super smooth cheese sauce. I made the cheese sauce last to prevent it from setting as it cooled.
Candied Bacon:
2 tsp Dairy Free Butter
1.5 ounces Uncured Bacon Bits
1 TBSP Organic Maple Sugar
In a small non-stick pan, add all of your ingredients. Cook on medium heat until the sugar caramelizes to create a candied bacon.
Parmesan Kale:
8 ounces Baby Dino Kale
8 tsp Dairy Free Butter
1/8 tsp sea salt (optional)
1 tsp Organic Garlic, minced or finely chopped
2 – 4 ounces Follow Your Heart Vegan Parmesan Cheese (or your choice)
Melt your butter in a large non-stick pan, and add all of your kale. As it cooks down, add the salt and garlic. Mix well, then add all of the parmesan at once. When the cheese has melted, remove the kale from the heat immediately to prevent separation of the oils.