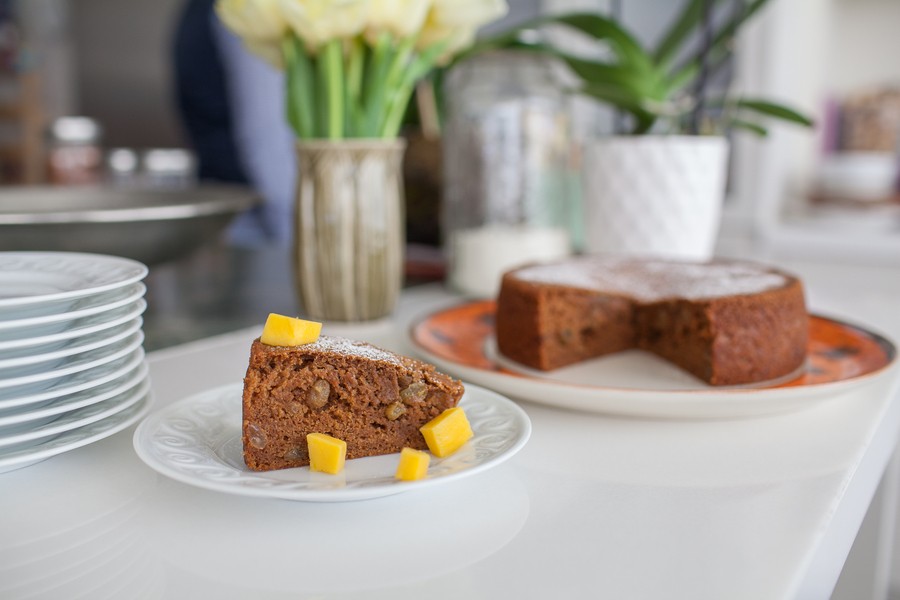 Today we have a special treat for you, a guest blog post by Shikha from Veggiecurean. Her site is simply gorgeous, and full of allergy friendly, all vegan, recipes. You can also follow her on Instagram, @veggiecurean. Enjoy!
Who doesn't like tropical fruit? My kids absolutely love mangoes, so much so that we often have mangoes in all three major meals of the day — in our smoothies for breakfast, in our salads for lunch, and in our Thai curry for dinner. It seems like I can never buy enough mangoes at the store!
It became obvious to me that my kids wanted to add mangoes to their dessert, too, specifically in the form of cake, their favorite kind of dessert. So, being the amazing mother and spice queen that I am, I decided to make a Vegan Mango Cake and add a spicy ginger kick to it.
Allergy Status: Dairy Free, Egg Free, Soy Free, Nut Free, Peanut Free, Yeast Free, Vegan
Ingredients:
All-Purpose Flour
Ground Cinnamon
Ground Ginger
Baking Soda
Salt
Fresh Mangoes (or Frozen Mango Chunks)
Sugar
Sunflower Oil
Apple Cider Vinegar
Golden Raisins
Powdered Sugar
Preheat your oven to 350 degrees and coat an 8-inch baking pan with cooking spray. In a large bowl, whisk together 2 cups of all-purpose flour, 1 teaspoon of ground cinnamon, 1 teaspoon of ground ginger, 1 teaspoon of baking soda, and ½ a teaspoon of salt. Puree your mangoes (2 if you're going with the fresh mango option, 2 cups if you're going with the frozen chunks). In another bowl, whisk together the mangoes with 1 cup of sugar, ½ a cup of sunflower oil and 1 tablespoon of apple cider vinegar. Stir in the flour mixture, mixing well, then fold in ½ a cup of golden raisins. (This prep should take about 15 minutes.)
Spread the batter mixture into the prepared baking pan. Place the baking pan on the middle oven rack and bake for about 35 minutes, until a toothpick inserted into the center of the cake comes out clean. Remove the cake from the oven and let it cool on a wire rack for about 2 hours before serving. Dust the cake with a light coating of powdered sugar. Bon appetit!